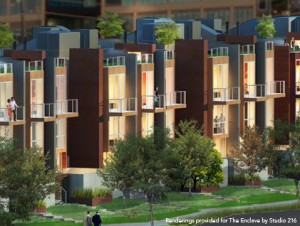 The Enclave :: Eastlake / Lake Union
The Enclave is hosting an open house this weekend to coincide with Opening Day of boating season on May 1st. The Enclave is part of the Wards Cove master plan community that's comprised of townhome-styled condos starting from $1.3 million with occupancy expected in 2011.
Ruby Condominium :: Eastlake
Ruby is down to its final three units that are priced between $284,500 and $304,500. Compared to many other newer projects, sales at Ruby have done well in this down market.
Decatur :: First Hill
Decatur Condo, on the other hand, has had a bit of a struggle since coming on the market over 3 years ago. However, the project is now more than 2/3rds sold and occupied. This FHA approved building is part of Condo Bulk Buy's inventory with units available up to 35% off original pricing — starting from $184,950.
1111 E. Pike :: Capitol Hill
The Tom Kundig designed 1111 E. Pike development reports they're 70% sold with only 10 homes remaining for sale. Located in the heart of the Pike/Pine Triangle, prices at 1111 E. Pike start at $244,950.
The Danielle :: Ballard
Ballard's newest condominium development, The Danielle, is nearing completion and reports they've already sold 4 homes. The Danielle is located kitty corner from the new QFC on 24th Ave and the Ballard Commons Park.
Hjarta :: Ballard
Hjarta is reporting that they're now 51% sold and is FHA approved. As part of Condo Bulk Buy, Hjarta's pricing is up to 35% below their original level.
Florera :: Greenlake
Like its sister project, Hjarta, Florera was off the market for a while before becoming part of Condo Bulk Buy. Sales have been slower with only 30% of the building sold, but it is FHA approved with prices starting from $244,950. Florera is located just 1.5 blocks from Green Lake Park.
1521 Second :: Downtown
Now 70% sold, 1521 Second, received 4 additional sales in April. Homes at these premium residences start from $1.1 million.
5th & Madison :: Downtown
It appears that 2 of the units that went under the gavel at the 5th & Madison auction are back on they market again by Kennedy Wilson:
Unit #1102, the last unit auctioned, had a winning bid price of $350,000. It's now available at $365,000.
Unit #1805, a fully furnished unit, had a winning bid price of $331,000. It's now for sale at $370,000.
Additionally, the penthouse, which had been withdrawn from the auction is on the market at $1,595,000. It was previously offered at $1,995,000.
If you have questions about any of these condo projects, please drop us a line.