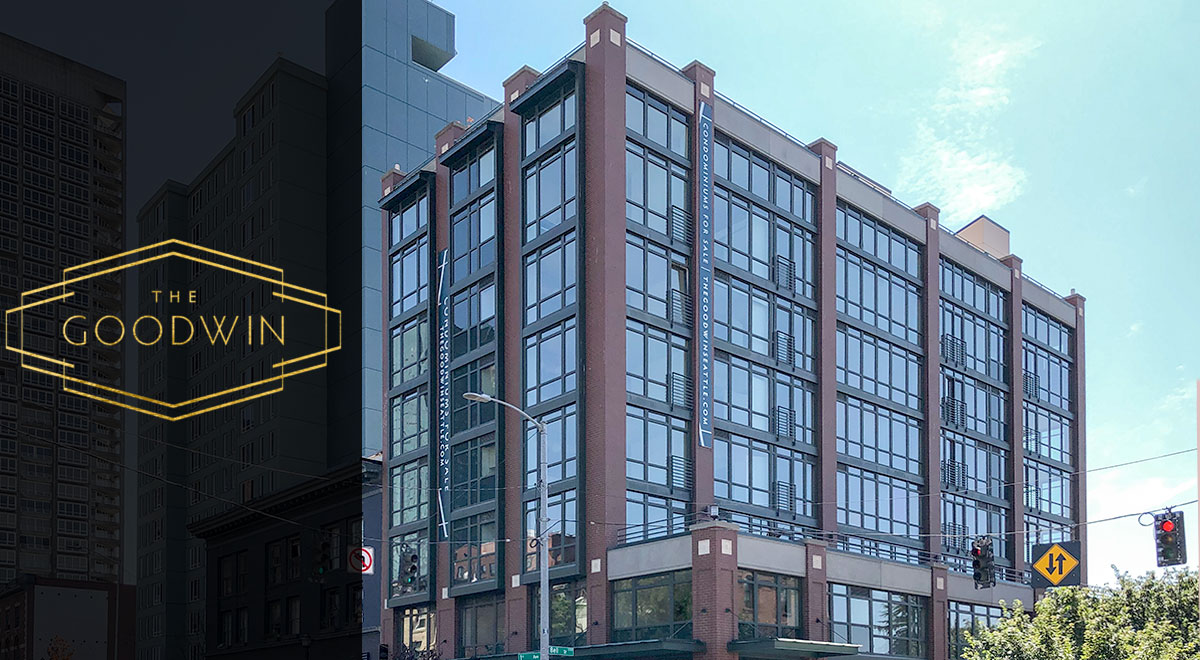 The Goodwin Condominium, a boutique 34-unit building at 1st Avenue and Bell Street in Belltown, is finally coming into its birthright.
The Goodwin has somewhat of a long history. Originally breaking ground in 2007, the building started life as the Alex Condominium by Saltaire, who also developed the Leona Condominium on Queen Anne.
Still under construction in 2010, the project was rebranded as the Volta Condominium before eventually being foreclosed upon. In 2011, it was purchased by its current owner, The Connell Company, and completed as apartments.
Fast forward a decade, it's come full circle being converted back to condos and rebranded as The Goodwin.
Reservation and Sales
The Goodwin is currently accepting reservations for purchase with a $5,000 deposit. Once they pass a 30% reservation threshold, the reservations will be converted to purchases. As of this writing they have reservations on 11% of the units.
Fortunately, buyer tours have been brisk according to the sales staff and I have no doubt they will meet the threshold requirement in no time.
For buyers looking to finance their purchase, the only lender presently available is Caliber Home Loans. Typically for new construction only select lenders are available until sales pass a certain percentage.
The Goodwin has been reticent on revealing price ranges for the various homes, though pricing on their website and in the NWMLS suggest homes will range from the $400,000s to over $1.4 million for a penthouse unit.
Homes and Amenities
The 9-story concrete and steel building is comprised of only 34 units with a variety of one-bedroom and two-bedroom floor plans.
The homes are abundantly sized with exceptionally spacious bedrooms and nicely-appointed bathrooms.
Most of the units are single-level flats, though there are a few loft spaces. Homes on the 4th floor and two penthouses have private outdoor terraces.
During the conversion from apartment to condos, the homes are being refreshed with updated fixtures, backsplashes, accents and appliances, though they mostly remain the same as when they were originally completed. Luckily, both developers incorporated thoughtful design components and finishes. Homes feature:
Floor-to-ceiling windows with roller shades
Quadruple glazed four layer windows for noise reduction
High ceiling heights, up to 16′ for the penthouse units
Slab countertops with waterfall kitchen counters
Miele and Bosch kitchen appliances
Whirlpool washer and dryer
Laminate and tiled flooring throughout
Most homes include parking (smaller urban one-bedrooms do not)
Pet-friendly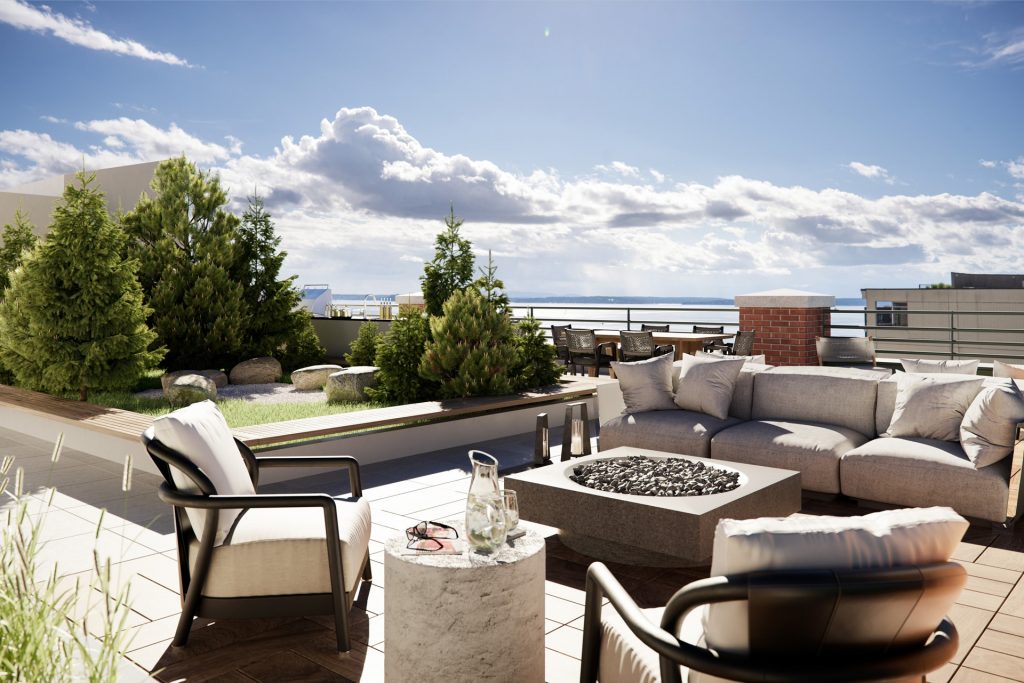 Being a small building, amenities on are the sparse side with just a roof top deck and a comfy library space on the main floor. However, they are contemplating adding a bicycle storage space. The roof top deck is situated on the 1st Avenue side of the building, rather than the more scenic waterfront side.
Homeowner Association (HOA) dues are still being determined, but it may likely run between $0.87 to $0.97 per square foot of the unit size. That may seem to be a tad bit on the high side given the limited amenities, however, it is a smaller building with fewer owners contributing to the HOA compared to the large highrises that can distribute costs over a greater number of owners.
The Goodwin is in the Seattle Waterfront LID assessment tax area. This an assessment on downtown condos for the redevelopment of the waterfront and may be something that potential buyers may wish to contemplate. Fortunately, it does not appear to be a significant amount.
Location
Located at 2233 1st Avenue, The Goodwin is conveniently situated in Belltown with a plethora of urban amenities and businesses just outside its front door. Residents will enjoy a number of restaurants, cafes, shops and nightlife nearby. The Pike Place Market is just 3-blocks away, not to mention its proximity to the new waterfront promenade.
Request more information about The Goodwin or to schedule a tour
or View current Goodwin units listed for sale (MLS listed)
Seattle Condos and Lofts provide condo buyer services and representation and is not affiliated with The Goodwin Condominium.