Mid-century elegance is the most apt description of the Decatur Condominiums on Seattle's historic First Hill neighborhood.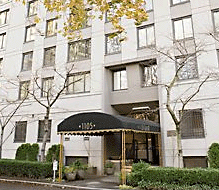 Designed by the famed Space Needle architect John Graham Jr. in 1950, the Decatur is being restored and converted to condominium homes by the Wysong Group (e.g. Tobira, The Press).
The 13-story building at 1105 Spring Street (corner of Boren Ave) features 146 one- and two-bedroom homes. (map)
All homes include the following features:
Brazilian cherry wood floors in the entry & kitchen
Plush carpeting in the living and bedrooms
Slab granite countertops (dark or light) in the kitchen
Stainless steel electric appliances
Pedestal sinks and custom subway tiling in the bath
Octagonal rosette-patterned tile floor in the bath
There are four floor plans to choose from:
The Dean – one-bedroom units ranging from 520 to 560 sq ft
2-7th floor, $219,950 to $279,950
8-13th floor, $254,950 to $314,950
The Taylor – one-bedroom units ranging from 590-650 sq ft
2-7th floor, $229,950 to $289,950
8-13th floor, $264,950 to $324,950
The Monroe – one-bedroom units ranging from 680-700 sq ft
2-7th floor, $249,950 to $274,950
8-13th floor, $279,950 to $304,950
The Kelly – two-bedroom units ranging from 780-800 sq ft
2-7th floor, $334,950 to $359,950
8-13th floor, $364,950 to $389,950
Overall, the Decatur conversion exudes sophistication and elegance, from the rich entry lobby to the beautifully designed interiors. Its location is central to the financial district, Capitol Hill's eccentricities and Madison Avenue's business establishments.
Though, there are some peculiarities which may not appeal to all buyers.
While the kitchen includes quality appliances and cabinets, it's a narrow galley design. It would be nearly impossible for two average sized people to be in the kitchen at the same time. If you open the oven door, you must stand to the side as there's not enough room to stand in front of the oven with its door open.
None of the units come with a washer or dryer. Each floor will be equipped with two washer/dryers off the hallway (free usage) and there is a laundry room in garage.
Closet/storage space in the units is minimal.
There are only 63 parking spaces available on a first come basis with a $35,000 price tag.
The Decatur will not appeal to everyone. But, if you're a true urbanite who live, work and play in the city, and you don't have a car, this may be a very good option.