While the sun and rain battled outside, the auction was brisk amongst the bidders vying for the 16 condo units inside the Grand Hyatt Seattle. Auctioneer Kennedy Wilson conducted another smooth and fast-paced auction.
The 5th and Madison Condo auction differed a little from the prior events in that the starting bid was not the minimum reserve amount. Instead, 5th and Madison had an unpublished reserve for each unit. It's unclear at this time whether the winning bids exceeded the unpublished reserve price; there was no mention of it during the auction. Winning bids less than the reserve price are subject to seller acceptance, counter offer or rejection. I'm sure bidders were informed once they were whisked away to the separate purchase contract room.
Winning bids ranged from $331,000 for an 808 square foot 1-bedroom to $719,000 for the 1,241 square foot 1-bedroom + den. The average price per square foot was $428. On average, the units sold at 65% of their last offer price and 57% over the starting bids.
Units #1803 and #1805 were model units and the winning bid price included furnishings. Units #2105 and Penthouse #2 were withdrawn from the auction.
The chart below identifies the winning bid amount. Once units begin closing I'll update the chart with the actual sale prices.
Click image to download (PDF):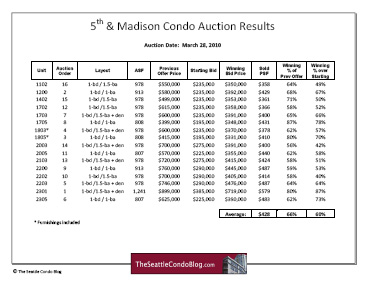 View available 5th & Madison condos for sale
____________________
The Seattle Condo Blog