Updated 2/11/2011: revised pricing and financial assistance info.
The Pontedera Condominium (website) is south downtown's newest mixed-use development. Located just east of the International District, the Pontedera is a minutes to Pioneer Square, the King Street Station (light rail) and the Financial district. Developed by Homesite, a Seattle-based non-profit development company, Pontedera offers affordable market rate home ownership opportunities along with tax incentives and assistance programs for qualified buyers.
The six-story building is comprised of 94 residential units and 8 live/work commercial lofts offering an array of floor plans to meet most everyone's needs. Besides the live/work units, the Pontedera offers one-, two- and three-bedroom homes: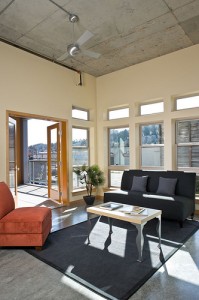 8 live/work commercial lofts along the street front ranging in size from 941 to 1,659 square feet. Seven feature roll-up garage doors. With the exception of the sales office, these are offered as shells and are priced from $292,000 to $387,000.
9 residential lofts (1st floor units) with 13′ ceiling heights, concrete floors, exposed duct work and private decks. These have either a one+den or two+den confirguration with the upgraded finish package. They range in size from 780 to 1,209 square feet and are priced between $279,500 and $424,900.
25 one-bedroom homes, of which 13 have dens. With the exception of a top-floor unit, all have the standard finish package and range in size from 545 to 758 square feet. The one-bedrooms start from $199,500.
61 two-bedroom homes that range in size from 771 to 867 square feet, of which, five have the upgrade package. They are being offered from $269,500 to $469,500.
8 three-bedroom homes between 1,056 and 1,206 square feet and priced from $369,500 to $389,500.
Prices current as of February 2011.
Standard home features include GE stainless appliances, laminate counter tops, bamboo, vinyl & berber carpet flooring, front loading washer and dryers, storage units and parking. A number of homes come with an upgrade package that includes hardwood floors, granite-tile or soap stone counter tops with glass-tile blacksplashes, fireplaces w/granite surround and GE Profile appliances including gas ranges. Additionally, the building features a community room, outdoor terrace and bike storage rooms and an electric car charging station.
The top floor west-facing units also have air conditioning and a few have huge outdoor decks — up to 720 square feet, which is larger than most one-bedroom units. Speaking, of which, the bedrooms were generously sized…something we don't see much with new construction.
My only reservation is its proximity to Rainier Avenue, which may generate traffic noise during rush hour for the west-facing homes. However, with the windows closed, it was quiet. The area around Pontedera has been redevelopment with new townhomes and apartments. Adjacent to Pontedera is Artspace Hiawatha Lofts, which provides affordable live/lofts units and commercial space for artist-related businesses.
Public transportation improvements are on the way. When light rail is expanded to the east side, a station is currently planned less than 1/4 mile from The Pontedera. In 2013, the Capitol Hill/Pioneer Square streetcar will have a stop just four blocks away, at Jackson and Rainier.
The Pontedera is Built Smart certified and uitlized energy efficiency construction and materials including Energy Star appliances, water conserving fixtures like dual flush toilets, low VOC paints and Green Label carpeting for improved air quality. Additionally, Homesite used locally manufactured or sourced products where possible such as windows, flooring, siding, concrete, doors, bath tubs/showers, wall heaters and tiles.
Financing Assistance & Tax Exemption
Eligible first-time home buyers who earn 80% or below the median income level may receive up to a $70,000 loan from the City of Seattle's Purchase Assistance program. The note, accrued interest (3% simple interest) and shared appreciation are paid back when the unit is sold or refianced. Additionally, HomeSite is offering further assistance up to $50,000. When combined with the city's purchase assistance program, a qualified buyer may receive up to $120,000 in purchase assistance loans. When buyers using Homesite's program are ready to sell, Homesite will purchase the unit to ensure that it's re-sold to another income-qualified buyer. Like the city's program, the principle and interest are recovered when the home is sold or refinanced. There are no monthly payments for these assistance programs.
The Puget Sound Revolving Loan Fund allows Homesite to provide an amortizing 2nd mortgage in order to eliminate mortgage insurance. This is essentially an 80/20 loan for households earning up to 120% of median income that allows for a down payment as low as 1% of the purchase price.
Eligible buyers may also benefit from the city's tax exemption program. Under this program, property taxes on improvements are exempt for 12 years, which can save the average homeowner thousands of dollars annually. To qualify for the exemption, a buyer of a one-bedroom home may not earn more than 100% of the area's median income; for a two- or three-bedroom home, buyers may not earn more than 120% of median income. However, considering the area's median income, most buyers will likely qualify. For instance, the income limit for a single occupant purchasing a one-bedroom unit is $59,000, while a family of three purchasing a two- or three-bedroom home may earn up to $91,050.
View available Pontedera condos for sale
Top floor, west facing home: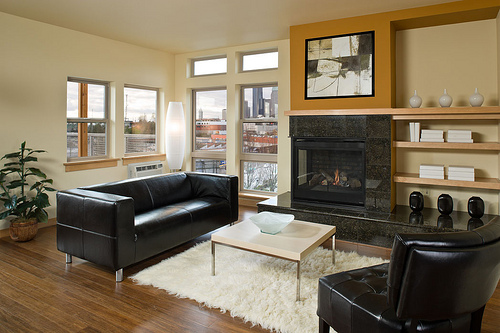 Upgraded, open kitchen: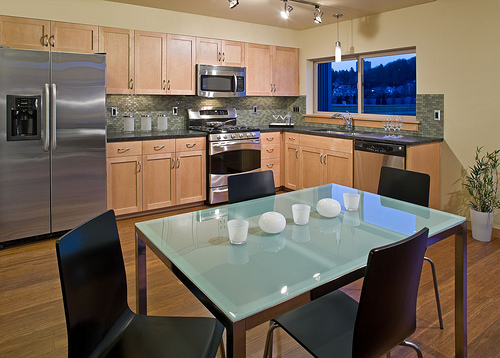 Standard living room: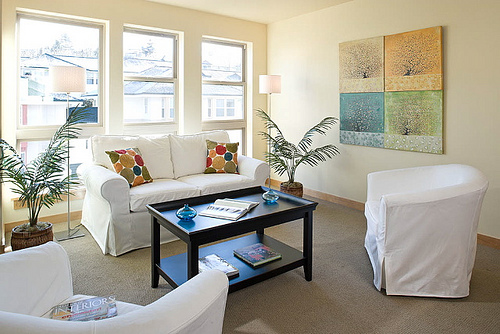 Standard kitchen: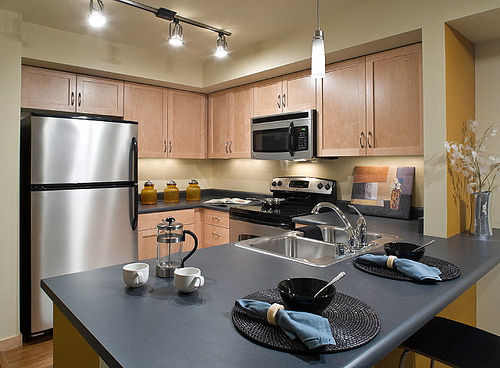 To view more photos, please visit Pontedera's Flickr photostream or Facebook page. Pontedera's sales office is open daily from noon to 6 pm at 827 Hiawatha Place South (at Dearborn). www.PontederaCondos.com
For additional information about the Pontedera, the financial assistance programs available or to tour the property, please drop us a line.