This week's condo wire digest – Gallery buyer promotion, 1521's milestone, Escala's up to 50 closings, Eleven Eleven looks to close out, Hjarta and Decatur keep on going.
Gallery Condominium
The Gallery Condominium in Belltown (2911 2nd Ave) has reintroduced a 3% buyer bonus, up to $10,000 maximum, for homes purchased by October 31, 2010 and closed by November 30, 2010. Additionally, open one-bedroom home buyers may select either a slider or a closet combo build out.
Gallery is now 75% sold with prices starting from $239,000. The development is FHA and VA approved. www.liveatgallery.com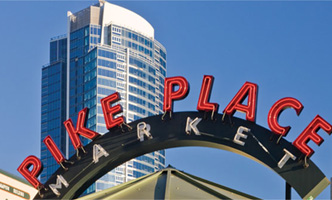 1521 2nd
Downtown's luxurious Fifteen Twenty-One Second Condominium (1521 2nd Ave) reached a milestone with its 100th closing; the building is 70% sold.
1521's large upscale homes, which overlook the Pike Place Market and Elliott Bay, are available starting from $1 million. www.1521second.com
Escala Condominium
The Escala Condominium reported they've just closed on their 50th home with 80 sales total (30 units in escrow). So, they've sold 30% of the building and are 19% closed. No bad considering the competition from Olive 8 and Enso. Escala is FHA approved. www.somethingischangingatescalaseattle.com
Eleven Eleven East Pike
Eleven Eleven (1111 E. Pike St) is making a push to close out the development with its final 10 homes. Prices now start from $239,950. The 27-unit Tom Kundig designed condo building fits snuggly in Capitol Hill's effervescent Pike/Pine Triangle neighborhood. www.1111eastpike.com
Hjarta Condominium
The LEED Silver certified green constructed Hjarta in Ballard (1530 NW Market St) is now 50% sold. Unlike other recent Ballard condo developments, Hjarta is green constructed with a mind towards energy and water efficiency as well as indoor air quality. Further, Hjarta is a concrete and steel building, not wood frame like most of the other newer Ballard condos. I know a number of people have commented about the higher prices at Hjarta compared to other developments, but it has a superior construction quality, which may save $$ over time. The development is FHA approved. www.hjartaballard.com
The Decatur Condominium
Slowly but surely First Hill's Decatur Condominium (1105 Spring St) keeps on closing with 3 sales in the past week. The building is now 70% sold with homes starting from just $189,950. The Decatur is part of the New Home Council's Fresh Ideas Tour. www.ownthedecatur.com