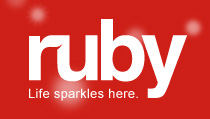 The Ruby (website), Seattle's newest condominium development in the Eastlake neighborhood, has just completed construction and is celebrating with a Grand Opening event scheduled for the weekend of February 7th & 8th.
Located in the north end of the Eastlake at 2960 Eastlake Ave E, the 5-story Ruby features 52 large one-bedroom and open one-bedroom homes that range in size from 621 to 934 square feet. Many of the homes face West, which provides abundant light and exceptional views of Lake Union, Wallingford and beyond.
Home and building features include:
9′ ceiling height with floor-to-ceiling windows
Slab granite countertops with undermount sinks
Many homes include an expansive kitchen island
Whirlpool stainless appliances with gas range
A/C ready (most homes are West facing)
Parking & storage for each home
Courtyard terrace with BBQ area
Built Smart™ construction
Ruby's high ceiling height combined with the open layout of the homes create a rather spacious and flexible living space. Plus, homes on the 2nd floor (100-level homes) offer private and semi-private terraces, many of which open to the common roof terrace. For the chef at home, the units provide the prefect gourmet kitchen space, including an expansive island with eating bar. The finishes and appointments are standard for new construction condominiums at this price point and residential amenities are spartan – lobby and a courtyard terrace.
One issue that may come to mind for potential buyers is Ruby's location to I-5. The building is well insulated and environmental noise is kept to a minimum. Homes on the north side, along East Alison Street, are exposed to the I-5 traffic noise, particularly with the windows or sliders open. Fortunately, most of the homes face Lake Union and are shielded from I-5. With the sliders open in the middle of the day I-5 traffic noise was not discernible over the hum of everyday in-city ambient noise.
Lake view homes are currently priced between $329,990 to $379,990 while the bridge view homes range from $259,990 to $479,990. Homeowner dues are approximately $.44/square foot, which seems high given the lack of residential amenities and services. On the other hand, the association will be well-funded, managed and maintained. The development has obtained FHA approval which will allow buyers to purchase homes with as little as 3.5% down.
Ruby is celebrating its Grand Opening with a special promotion. For the first ten sales, Ruby is offering buyers 3% in concessions. All homes are available for purchase.
Update 2/20/09 from Ruby:
As of today, Ruby has partnered with a local lender (Seattle Mortgage) looking to actually lend money! They have committed to close homes now, ie, we are move-in ready with no pre-sale requirement. We are also working with other regional lenders for additional commitments to close homes with no presale requirements. Ruby on Eastlake is both FHA and VA approved, so buyers can take advantage of every financial opportunity to get into new home ownership.
View available Ruby condos for sale.
[simpleviewer=4,480,640]