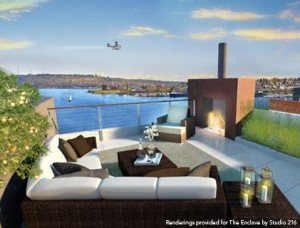 Trinity Real Estate filed construction applications, and announced its plans today, for a 21-unit townhome-styled boutique condominium development called The Enclave on the 2800 block of Fairview Avenue East, adjacent to Lake Union.
The Enclave (website) will consist of three-level, two bedroom plus den, fee-simple residences ranging in size from 2,500 to more than 3,000 square feet – each with private garages and options for private elevators. All homes boast a large roof top terrace with views of downtown Seattle, Lake Union and the surrounding Eastlake waterfront.
As a part of the Wards Cove master planned community, residents will have access to the Wards Cove Marina Club, which includes a fitness center, a conference facility, a guest suite and full-service moorage for larger vessels up to 110 feet in length. Alternatively, owners can choose nearby dry-stack boat moorage across the Montlake Cut by using a small tender on the dock. An adjacent beach is also ideal for launching kayaks and canoes or taking a swim in the lake – all at the doorstep of future homeowners.
Homes at The Enclave are expected to start in the low $1 millions.
A first phase of just nine homes will require presales before groundbreaking this fall but Trinity's Investment Manager, Michael Yukevich, remains confident that buyers will realize the value.
"We plan to release a limited number of homes at introductory pricing this summer and will likely hold off selling the balance until completion in 2010," said Yukevich. "Early buyers will enjoy preferred selection and numerous options for home personalization – it's an attractive opportunity for homebuyers seeking truly collectable real estate that's unlikely to be replicated ever again."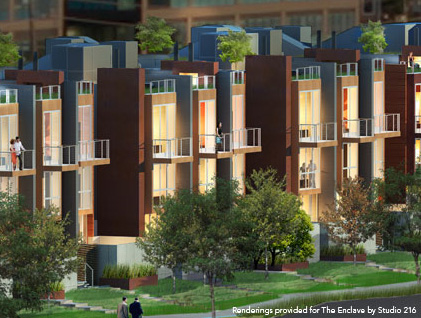 Adapted from Enclave's press release.