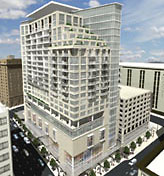 1 Hotel & Residences – Downtown
1 Hotel & Residences broke ground this past week. The $200 million project states they are more than 50% reserved on condo homes and oversubscribed on city suites (hotel / condo units).
AVA Condos – Downtown
AVA Condos will begin scheduling private preview events in July for interested buyers. At 445 feet, AVA will be Seattle's tallest residential tower.
aZul Flats – Fremont
aZul Flats is offering a $7,500 buyer bonus on 2 bed / 2 bath homes for a limited time.
Fini Condos – Phinney Ridge
Fini announced that interested buyers still have time to select their color scheme. The color scheme selection deadline is July 1st.
CityView – Leshi
CityView reduced prices on select homes and are still offering paid HOA dues for a year and a $5,000 buyer bonus.
The Parc – Belltown
Parc is 85% sold and approaching completion. Homeowners will be able to start moving in later this Summer. Units are still available starting from the mid-$300,000s.
Escala – Midtown
Escala reports they passed the $50 million sales mark during the 1st month of sales.
Trace Lofts – Capitol Hill
Trace reports they have sold over 60% of their homes and have released 10 additional units. The buyer's lounge is now open in the Gun Club 4-9 PM on weeknights and 10 am – 6 pm on weekends.
For additional information or questions about condo or loft projects, please contact us.