Please see our AVA Condo Preview and Reservation events post.

First Look – Ava Condominium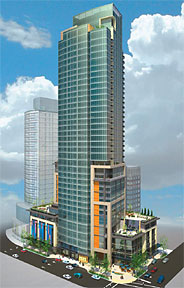 The newest project from Urban Condominiums is AVA. Formerly known as 8th & Pine, AVA will be the newest hotel / condo project to grace the Seattle skyline following on the heels of 2200, Olive8, Madison Tower, The Four Seasons, 1 Hotel, 2nd & Pike and 600 Denny.
Developed by the Executive Group (hotels) and the FANA Group, the 38-story tower will include 211 condominium homes called "The Residences" situated above the 190-room luxury hotel. The hotel will reside on levels 10 through 17.
Homes are expected to range in size from 700 to more than 2,000 sq ft and are topped by an 8,000+ sq ft penthouse. The upper level homes will be known as "The Estates". Residential units are expected to be priced from the low-$400,000 to over $5 million.
Homes will feature European-inspired interiors, 9.5 to 12 foot ceiling heights, large balconies / solariums and air-conditioning.
Hotel amenities will include an outdoor heated-swimming pool terrace with cabanas, a Skybar, fitness club, spa, business center and a "signature" restaurant. Residents may also partake in hotel services – housekeeping, valet parking, in-suite catering and account privileges at the restaurant and bar.
AVA has a lot going for it. Its location places it close to the retail core, the convention center and the Paramount Theatre (map). Yet, with its location, potential buyers should consider that a number of other buildings will be developed in close proximity such as Olive8 and the Olivian Tower which may hinder views.