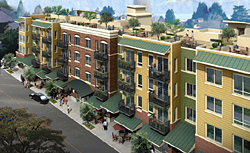 Fini Condominiums (website) is the latest condo project in the Phinney Ridge / Greenwood neighborhood, just up the hill from Green Lake.
The building features 51 spacious one-bedroom (6), one + den (31), two-bedroom (3) and two + den (11) homes ranging from 728 to 1,417 sq ft. The top-level 1,417 sq ft penthouses also features a 715 sq ft private terrace. Prices at Fini are expected to start in the low-$300,000s to more than $1 million. Occupancy is anticipated for early 2008.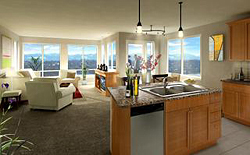 Home features include:
Oversized windows
Designer floor tiles in entry & kitchen
Custom shaker-style cabinets in kitchen
Granite tile countertops in kitchen
GE stainless steel appliances
Whirlpool Duet washer & dryer
Marble tiled countertops in bath with dual vanities
Many homes have Olympic or Cascade Mountain views
Electric fireplaces
Large balcony or patio
Select homes feature high ceiling heights
Preview Event & Pre-Sale
Fini will host its VIP Preview event this coming weekend, May 5th & 6th, at their presentation center located at 6802 Greenwood Avenue N (map) from 11:00 AM to 6:00 PM. Homes will be available for pre-sale purchase with a 5% earnest money deposit.
I arrived at the sales center at exactly 11:00 AM on Saturday morning to a line of anxious buyers. The sales center is located in a mobile unit so space is a bit tight but included a kitchen, bath and closet vignettes, interactive screens, representative images of views and finish samples.
By 11:15 AM, 5 units were sold and by 1:00 PM, 10 units had been sold, including two of the the three penthouses. Prices were available but not made public (unless you purchased), though Fini did provide a price range sheet.
Fini has two interior finish & color schemes, Nutmeg and Walnut, both fairly warm & earthy. The one item I found disappointing was that all homes, except for the penthouses, have carpeted flooring. Hardwood flooring is not an option. For pricing (per sq ft) that rival downtown projects, I would have expected partial hardwood flooring as standard, or at least available as an upgrade option.
Homeowner dues run approximately $.53/sq ft. It's more reasonable than Sapphire's $.56/sq ft, but still rival downtown projects which offer more amenities. However, the cost to maintain common areas is shared by a considerably smaller number of homeowners than the downtown projects, and so it's not unreasonable. Fini provided a information sheet called Demystifying Home Owner's Dues.
Overall, Fini provides a welcome alternative to the more urban lifestyle choices around the downtown core.
View available Fini condos for sale.
View images of Fini.
Neighborhood
The Phinney Ridge neighborhood is situated on the hill West of Green Lake, extending from the Woodlad Park Zoo area to Greenwood. The project is situated in the heart of Phinney's commercial district and is a short stroll to many fan-favorite businesses including Red Mill Burgers, Starbucks, 74th Street Ale House, Herkimer Coffee and the neighborhood True Value hardware store.
Related Story: Seattle PI article