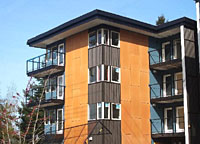 aZulflats (website) is the latest project from Williams Marketing. Located in Seattle's funky Fremont neighborhood at 120 NW 39th Street near Leary Way (map), aZulflats is close to all the action that the Center of the Universe provides.
aZulflats is comprised of just 30 studio, one- and two-bedroom homes ranging in price from the mid-$200,000s to high $400,000s.
Homes feature:
Unique floorplans
Walking distance to downtown Fremont
Canal views
Stainless steel appliances
Hardwood floors
Slab granite countertops
Tile accents
Secured parking garage
Large decks & patios
aZulflats is hosting their Grand Opening the weekend of April 14th from 11:00 AM to 6:00 PM.