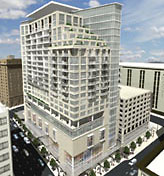 Update: This project is essentially dead.
The Second + Pine project (website) will be instrumental in the rejuvenation of the Market District in Downtown by bridging the area between the Westlake retail district and the Pike Place Market.
The development will include a world-class hotel brand called "1" by the Starwood Capital, considerable retail space and several residential tiers appealing to a variety of buyers. Other amenities will include an urban grocer, health club and a day spa. Steve Hanson's B.R. Guest restaurant and NY-based gym, Equinox Fitness, will anchor the project. Equinox will occupy approximately 35,000 sq ft with monthly dues around $140.
Located between floors 9 to 16 will be 176 "City Suites", a combination condo and hotel room, ranging from 700 sq ft to more than 1,200 sq ft. These homes will be fully furnished, including two flat-screen TVs, linens and artwork. Owners have the option of renting the rooms to the hotel for hotel guest when not in use. City Suites start at around $560,000.
Above the hotel/City Suites are 51 full condominium homes which will range in size from 1,200 to 6,800 square feet. These exclusive homes are being offered from $1 million to $11 million.
Occupancy is scheduled for 2009/2010.
The sales center is located at 217 Pine Street. Reservations are currently being accepted by appointment.