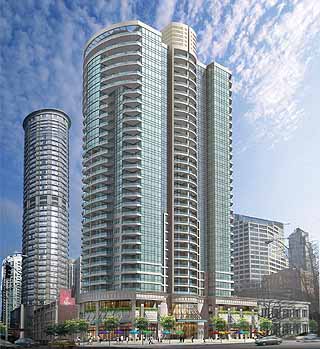 The Escala Condominium is planned for the "Midtown" district near the Westin Hotel. Midtown is snuggled between the downtown core, Belltown and Denny Triangle…a marketing concoction rather than a place name.
The 330 foot luxury highrise will include 280 homes and will break ground this year with a planned Summer 2008 occupancy.
Planned units will range between 900 sq ft to 4,500 sq ft. However, the open floor plans are customizable and buyers can combined units to create a larger space. Penthouse units can be as large as 16,000 sq ft. Exterior decks will make up approximately 15-20% of the square footage.
The building will feature a spa, library, billiard room, theatre/screening room, fitness center with a lap pool, a catering kitchen, a formal dining room and an events center. Private residential elevators will open to private and semi-private vestibules that are completely customizable to residents' design tastes. All parking will be located below grade.