John L. Scott Real Estate rolled out its new home search feature allowing users to pinpoint their home searches to a specific neighborhood or block. The feature, called "Neighborhood Wizard", allow users to use a polygon tool to draw any shape search parameter they desire.
For condo searches, this is a great tool to narrow down specific areas, including a specific project.
Here's a screen print of the new feature in action (highlighting Belltown):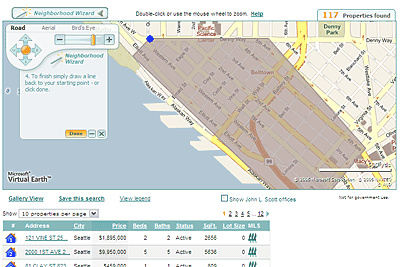 For more information, additional screen prints and step-by-step instructions, please view the John L. Scott's New Search Feature article at Seattle Housing Buzz.