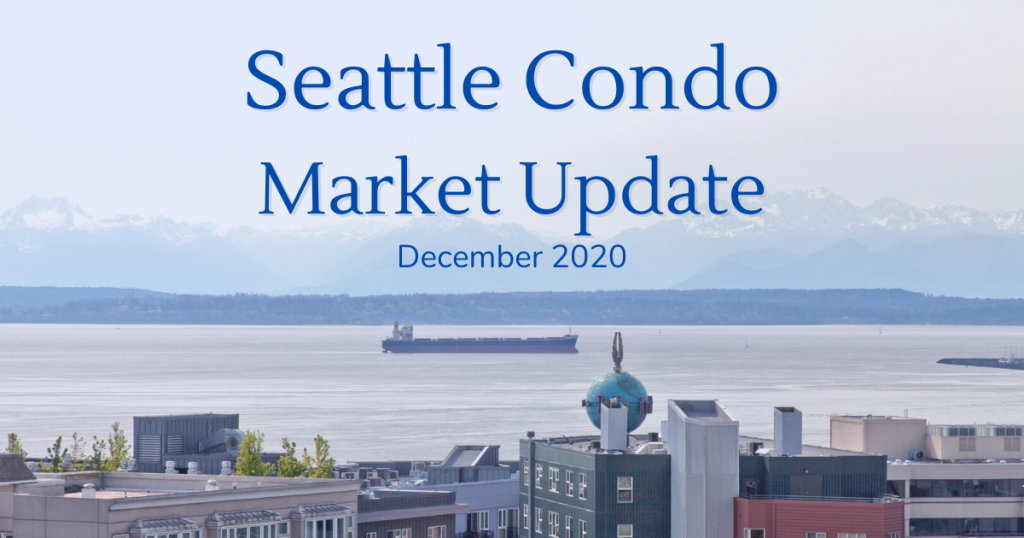 Seattle's condo market closed out 2020 on a high note with a late surge in unit sales, even as inventory and prices were buoyant.
The citywide Seattle condo median sales prices dipped to $466,500 in December reflecting a one-month and year-over-year decrease of 6.7% and 4.3% respectively. Not unexpected considering we typically see fewer sales and lower prices in December. However, it did reverse a 5-month run of YOY increases.
By NWMLS neighborhood areas (see table at bottom of post), the YOY median price decrease was apparent throughout the city. Prices in Downtown, Northwest Seattle and West Seattle did improve over the prior month, however.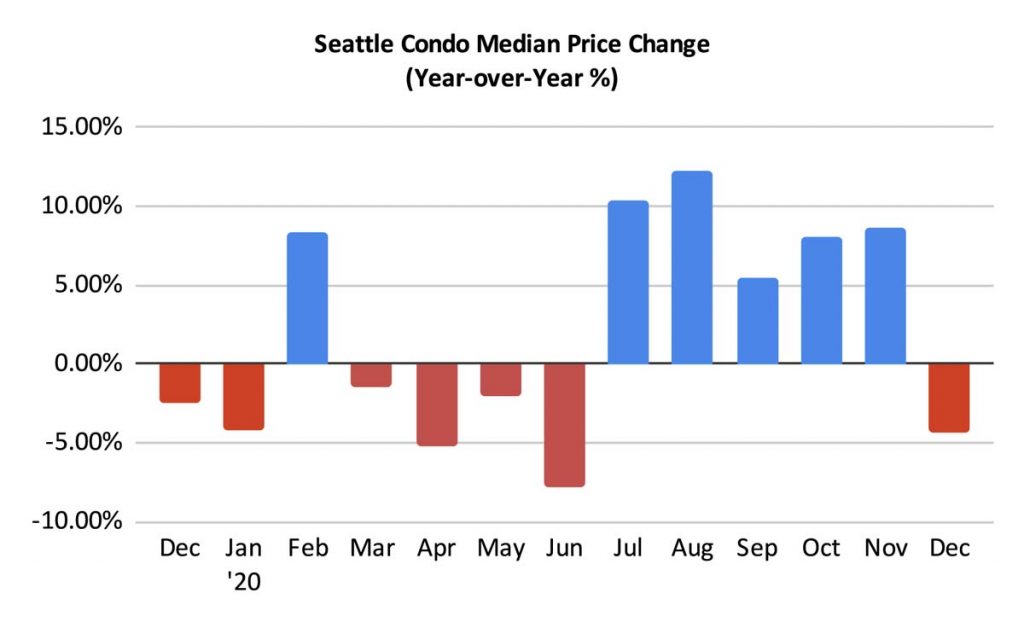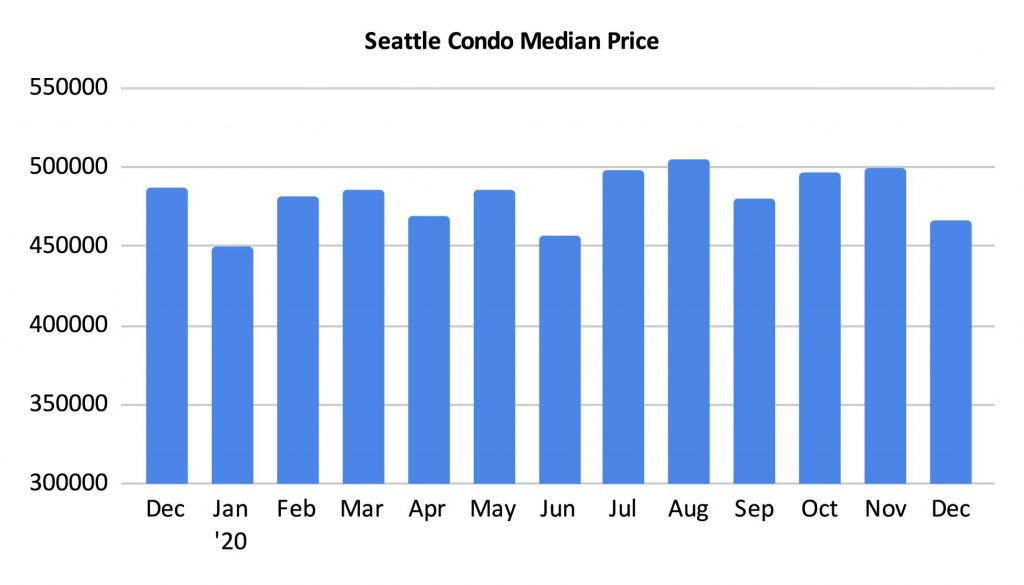 Seattle's condo inventory reduced in December to 583 units that were listed for sale in the NWMLS, a reduction of 27% from November, as expected for the slowest month of the year. On the other hand, we had 72% more Seattle condo listings for sale than we had last December.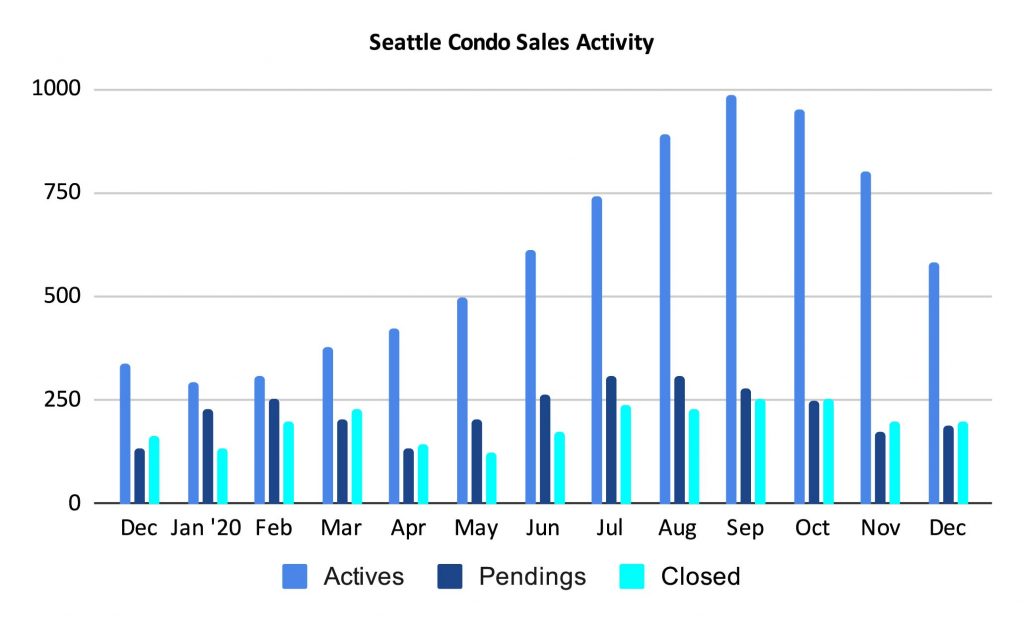 The inventory supply rate dropped last month to 3.1-months of supply as a result of the strength of year-end condo sales and the dip in active listings for the month.
This moves us from a balanced market back to a seller's market, at least for December. We'll likely continue to fluctuate on the borderline between a seller's and balanced market for the time being.
Contemplating the already completed (but not listed units) and pre-sale opportunities from a number of new construction condo buildings, the true inventory is considerably higher. With those in mind, Seattle should technically be in a buyer's market. For this report, however, we base our statistics on NWMLS' listing and sales information.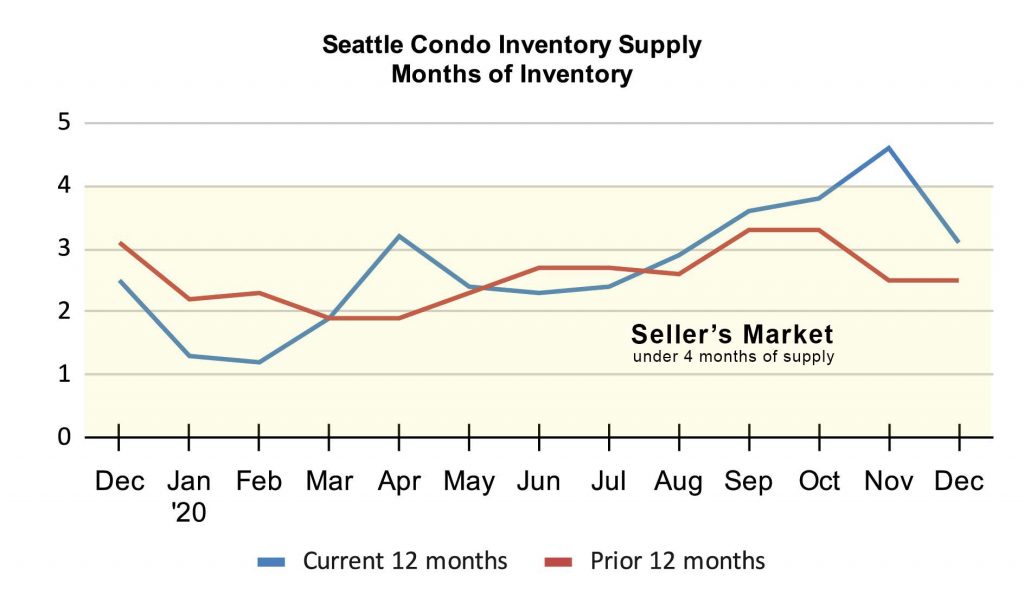 Pending sales activity was greater than we normally experience in December with 189 units going under contract, which reflected a whopping 41% increase YOY and 8% more than the prior month. That was our best December for pending condo sale transactions since 2006.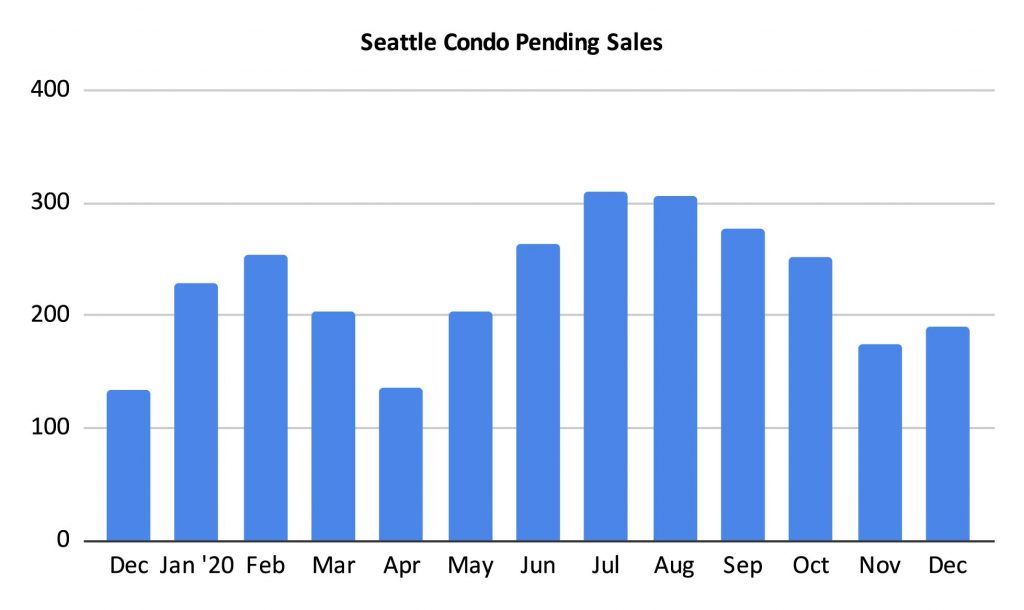 Also impressive was the number of closed condo sales in December. The 200 units that closed represented a one-year increase of 20.5% and remained on par with November. With closings outpacing pendings for the past two months, I expect we'll see a dip in closings for January.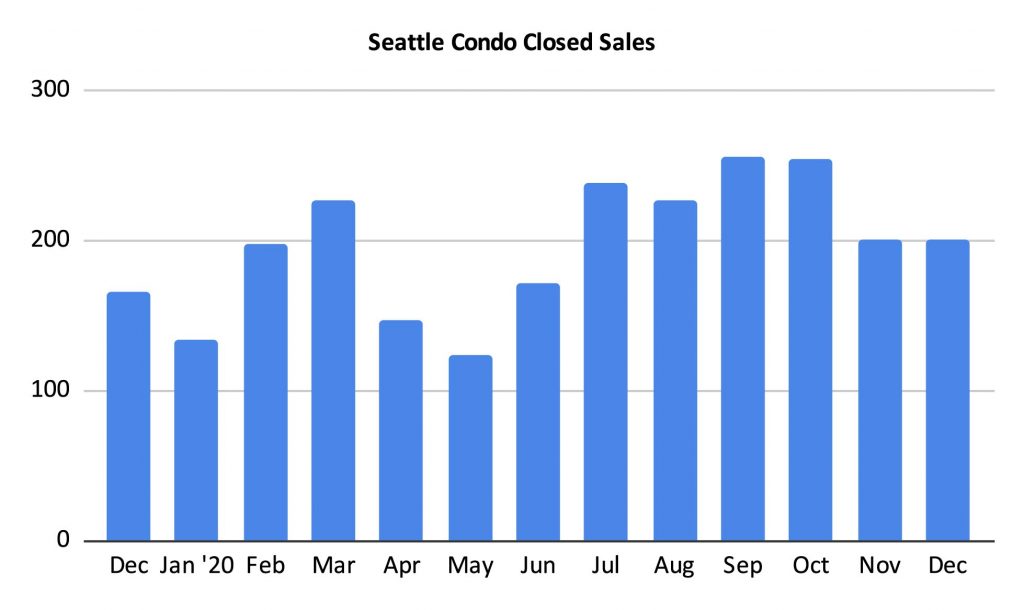 Even as the coronavirus pandemic raged through the world this past year and had irreparably consequences for the economy, the real estate (purchase and sales) sector was unscathed and prospered in 2020.
Locally, the Seattle market was on fire, particularly for single family houses and townhomes. Buyers experienced fierce competition, bidding wars, escalating selling prices and fewer purchase protections. Sellers walked away with positive equity and net proceeds.
Seattle condo buyers and sellers had a slightly difference experience as the condo market was less robust than it was for single family properties. For the most part, Seattle teetered on the cusp between a seller's market and a balance market. However, that was dependent on Seattle's neighborhood micro-markets.
Condo dense areas such as downtown, Belltown and Capitol Hill exhibited a softer market environment with abundant inventory, slower sales and in quite a few cases, reduced prices. Work-from-home options, the protests and new construction affected city core condo sales.
Conversely, North Seattle and West Seattle experienced tighter market conditions with buyers facing competition amongst one another for the limited inventory available.
For 2021, we may simply continue on. For buyers, you'll fair better in the condo dense city core neighborhoods. For sellers, it may require some patience as it is taking longer to sell and often below the list price.
Teaming up with an effective condo specialist will help take the stress out of navigating through the condo buying and condo selling process. Learn more on how out how we can help you.
Source: Northwest Multiple Listing Service. Some figures were independently compiled by Seattle Condos And Lofts and were not published by the NWMLS.
© SeattleCondosAndLofts.com