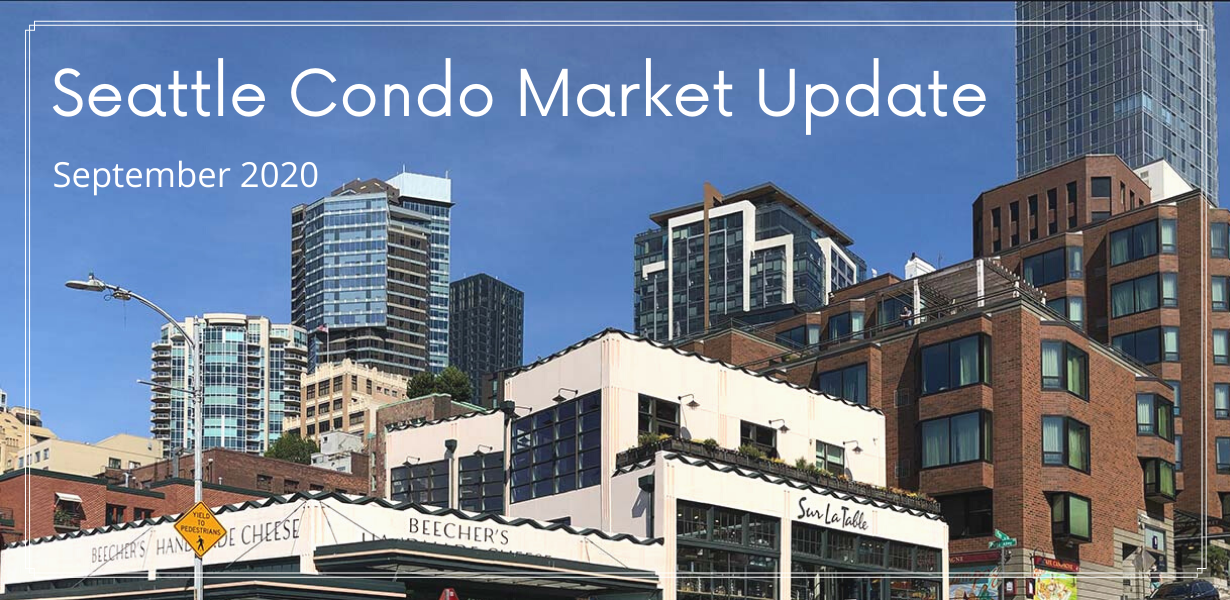 Seattle's condominium market surpassed expectations in September. While not record setting the condo market excelled on all year-over-year measures – number of sales, closings, selling prices, and supply.
The citywide median condo sales price rose 5.49% year-over-year (YOY) to $480,000. The sale price increases were felt throughout city with all MLS neighborhood areas exhibiting YOY improvements in median selling prices (see table at end of the article).
On a month-to-month basis it decreased by 5%, though that is to be expected as we move into the cyclically slowest period of the year for condo sales.
For comparison, the median sales price for a single family home (including townhomes) in Seattle was $820,000.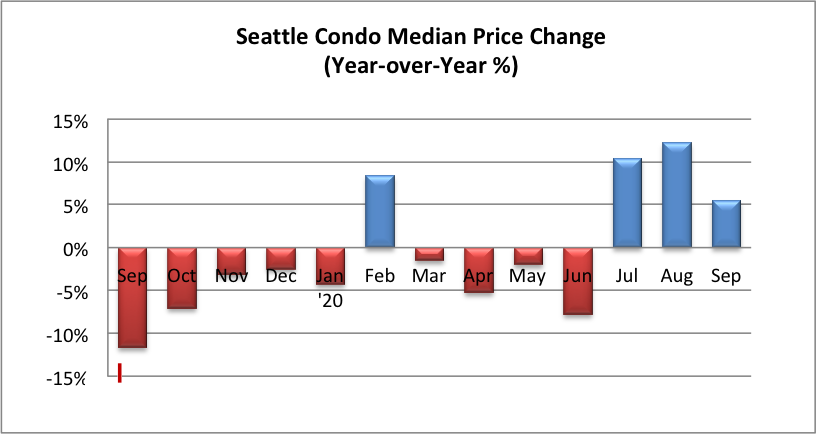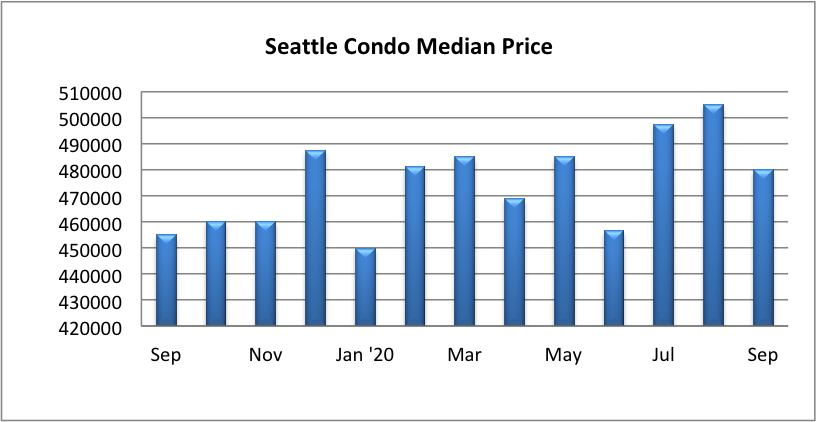 Inventory also rose last month with 983 Seattle condos listed for sale in the NWMLS, reflecting a one-year and one-month gain of 47.8% and 10.2%, respectively. That's a significant increase in inventory considering the drought we've been in.
And, as new condos buildings under construction are completed, Seattle's inventory will continue to rise.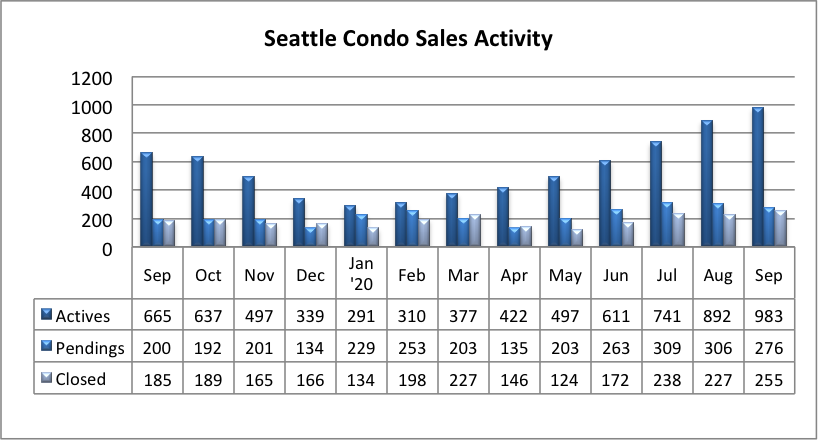 With more condos available, the inventory supply rate rose to 3.6-months of supply in September, moving Seattle's condo market into a balanced / normal market environment…overall.
But, that's not quite the whole picture. Most of Seattle remain in a seller's market with less than 3-months of supply, particularly north of downtown.
However, downtown, which accounts for one-third of all condos for sale ratcheted up a 7.2-month inventory supply rate, placing it squarely in a buyer's market. And, this will only grow exponentially with the upcoming completion of the new condo towers, the seasonality of our market, and tech workers no longer feeling the need to live near corporate offices in the downtown core.
That is a striking difference to single family homes, which had a meager 1.1-months of supply, and is still exhibiting exhaustive competitive multiple offer bidding wars.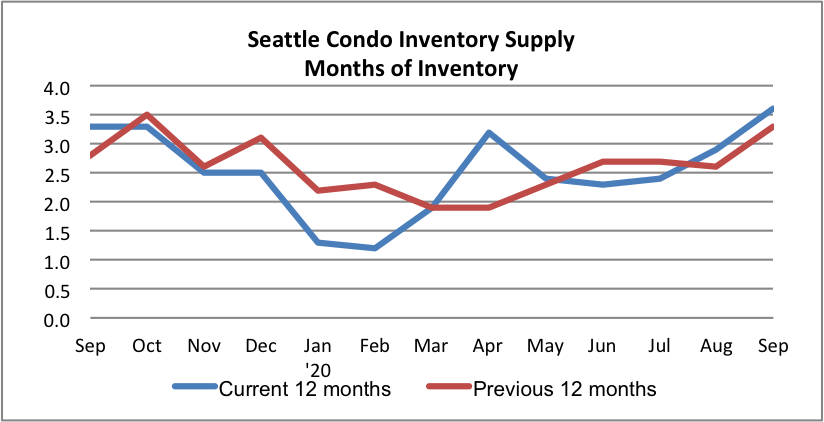 Pending sale transactions improved 38% YOY to 276 units in September, but down 9.8% from the prior month, which is to be expected with the end of summer. Pending sale transactions are properties with accepted offers that are in the escrow process.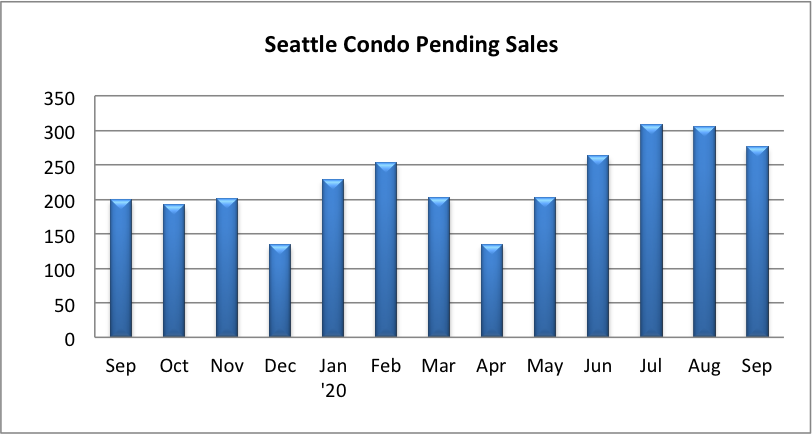 The number of closed Seattle condo sales increased 37.8% YOY, and 12.3% over August, to 255 units. Historically, as we progress into the fall season, we will see fewer condo sales and closings, so they'll trend downward through the end of the year.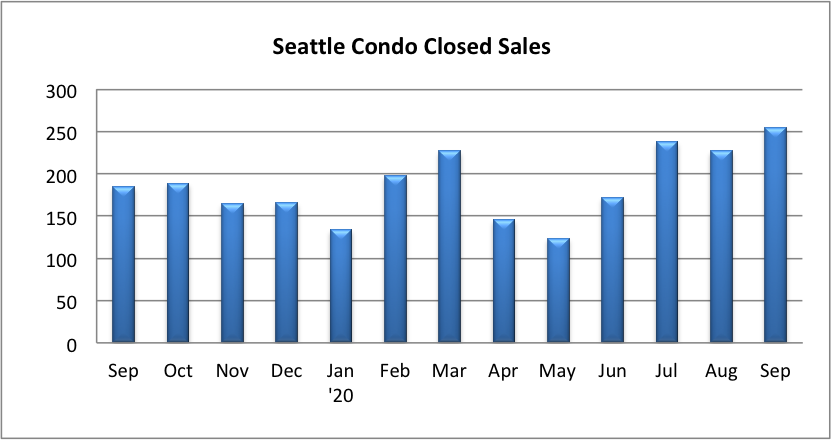 September's condo activity was the highlight of Seattle's condo market for 2020, exhibiting strong sales velocity and selling prices through the city.
But, that may be short-lived with the fall season now upon us; the housing market will cyclically slow a bit reducing sales volume and softening prices.
For buyers, it'll provide more favorable conditions with greater inventory options, less competition from other buyers and palatable selling prices.
For sellers outside the downtown, the market will slow further come November, but I don't anticipate anything drastic. For sellers in downtown, it will continue to be challenging, more so for resale sellers who will be up against the plethora of new construction properties.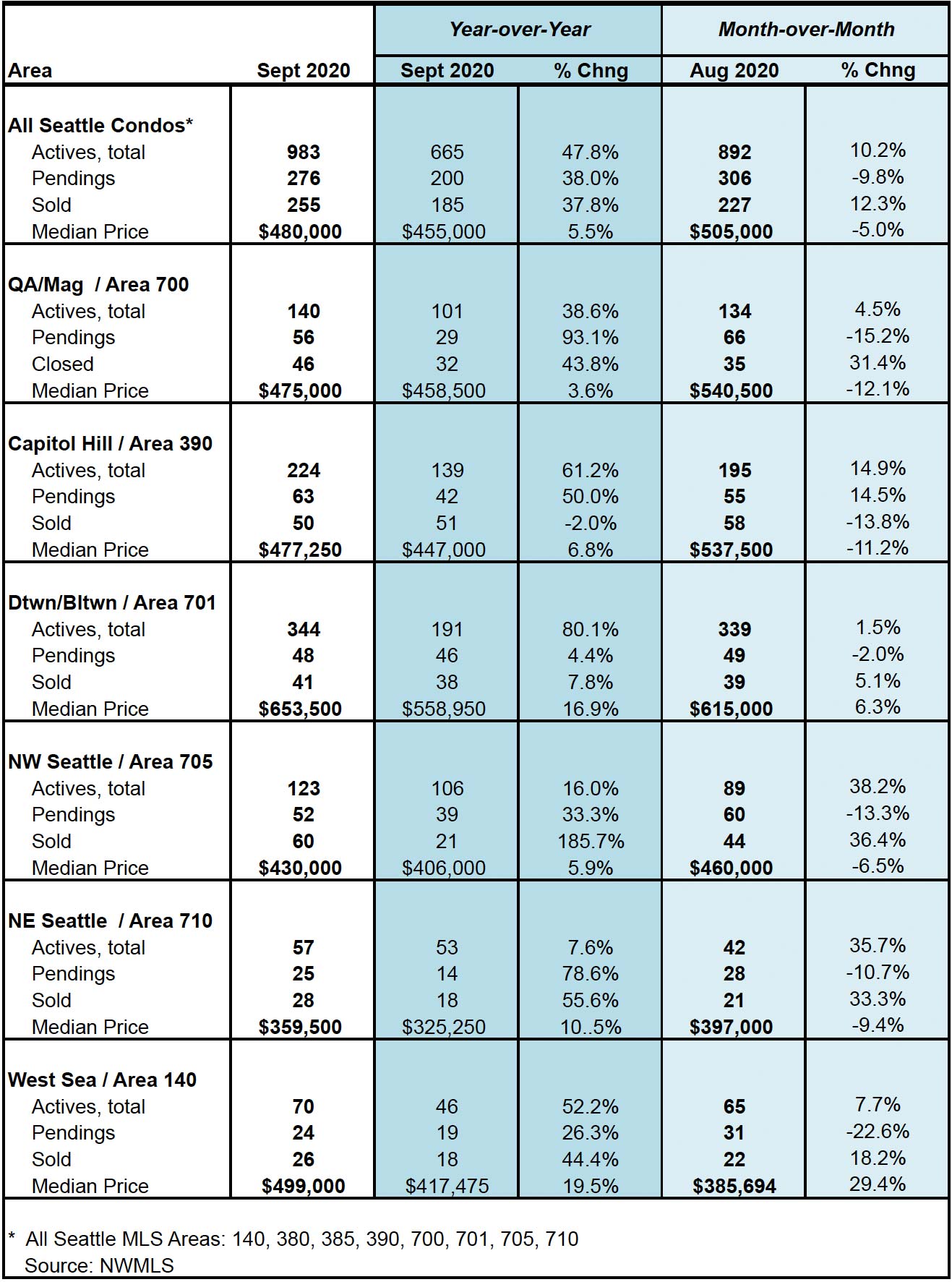 Source: Northwest Multiple Listing Service. Some figures were independently compiled by SeattleCondosAndLofts.com and were not published by the NWMLS.
© SeattleCondosAndLofts.com