Seattle's condo market ended on a strong note in December, which is typically the worst month for home sales. Condo unit sales volume and median sale prices exhibited an active market place.
The citywide median condo sales price was $310,000, reflecting a year-over-year and one-month increase of 5.08% and 4.38%, respectively. Not only was December's median sales price the second highest all year (albeit barely), it was the second highest dating all the way back to February 2011. Most areas of the city showed year-over-year improvement in values last month with the exception of NW Seattle and West Seattle (see chart at bottom).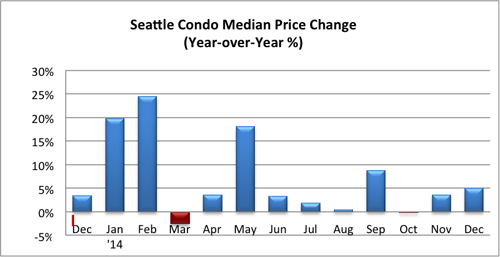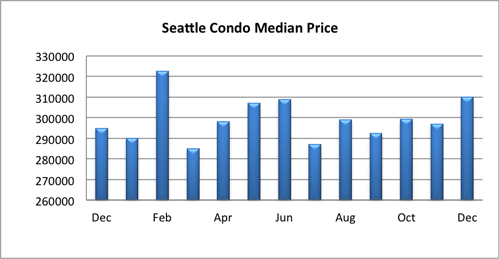 As we expect, Seattle's condo inventory reduced to its lowest level in December, down to a paltry 244 units (excluding under-construction pre-sales). That's 22.5% fewer from November and 30.5% fewer compared to last December. To provide some historic perspective, December marked the fewest number of Seattle condos available for sale since at least January 2006, just as the last construct cycle got underway. I began keeping track of condo inventory as of January 2006 when there were 486 units for sale, and don't have monthly figures prior to that.
The Seattle condo inventory supply rate dipped slightly to a 1.5-month rate, which presents the number of months it would take to sell out of inventory based on the current rate of sale (pending transactions) if no new inventory came on the market. This rate is used to identify the market place characteristic. With a 1.5-month supply rate, Seattle remains ensconced in a strong Seller's market.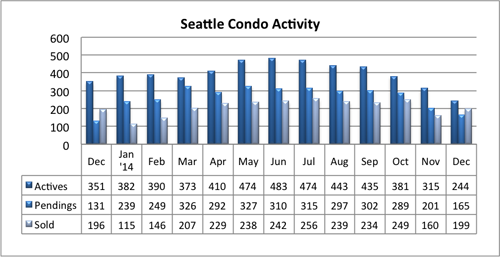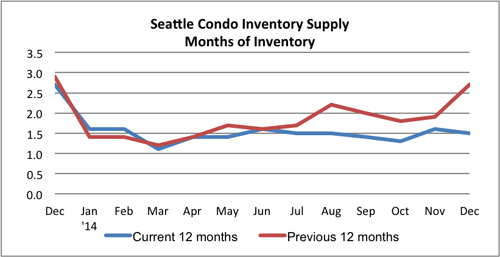 Though there were fewer unit sales in December compared to November by 17.9%, year-over-year the number of pending sales transactions (sellers accepting offers) rose 25.9% to 165 units during the month. Provided that sellers can provide the needed supply to fill demand, condo sales normally pick back up at the start of the year.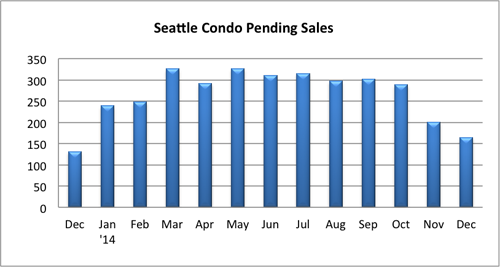 The 199 closed Seattle condo sales represented a one-month increase of 24.4% and a year-over year improvement of 1.5%. That's unusually high considering there were only 201 pending sales in the prior month. It looks like a good number of the closings were from October pendings, indicating a longer than typical closing/escrow timeframe during the end of the year season.
Customarily, the housing market takes off at the beginning of the new year, coming into full-swing by mid-to-late February. With inventory expected to remain constrained for a bit longer until additional new construction condo projects come online, Seattle's condo market will remain a tight seller's market and with continued upward pressure on prices in the near term.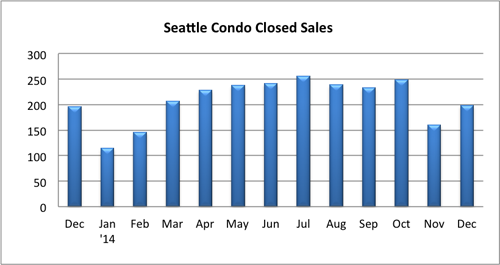 Source: NWMLS. Some figures were independently compiled by SeattleCondosAndLofts.com and were not published by the Northwest Multiple Listing Service.
________________________
© SeattleCondosAndLofts.com