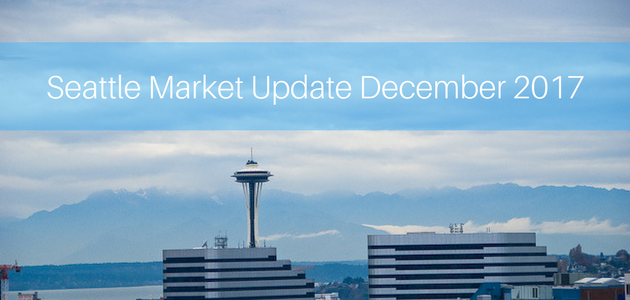 Depending on which side of the real estate market you're on December's Seattle condo results were either fantastic (for owners/sellers) or dispiriting (for buyers).
Seattle's citywide median sales price for condominiums rose to a record high of $489,500, while available condo listings fell to under 100 units. For the month, all areas of the city realized double-digit year-over-year improvement in median sale prices with the exception of the Capitol Hill/Central area, which dipped slightly (see table at bottom of post).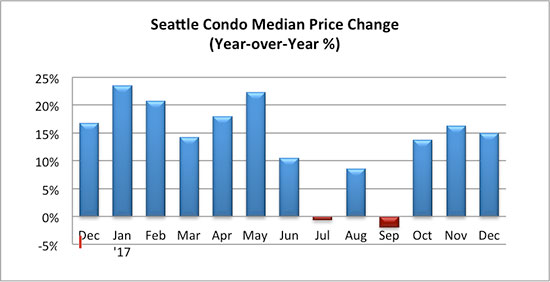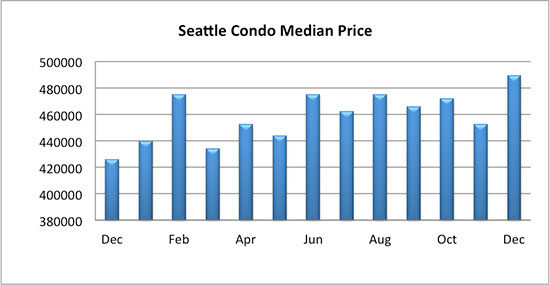 Compared to a year ago, available Seattle condos listings for sale dropped 27.5% to 87 units. I don't have data to determine the last time it was this low, but for the past 14 years that I've been keeping track, it's the first time we fell to less than 100 units for sale.
Fortunately, based on pending sales, the inventory supply rate remained on par at 0.8-months of supply. On the other hand, based on closed sales, the supply rate dropped to just 0.4-months of supply in December.
The supply rate is a market environment metric. Typically, a supply rate up to 3-months of inventory is classified a seller's market, between 4 to 6 months a balanced market, and more than 7-months being a buyer's market.
We have neither had a balanced market since 2011 nor a buyer's market since 2010. For 2018, only two new condo medium sized condos are scheduled for completion – Gridiron and Hendon – both are currently in pre-sales, plus a couple of small units, that will add only approximately 150 new units to inventory.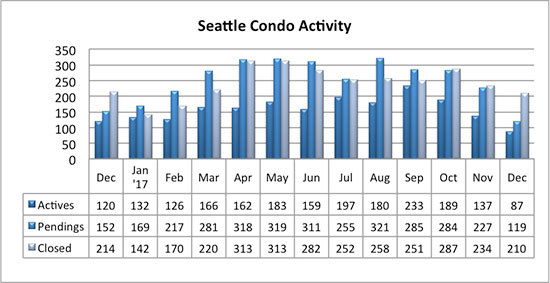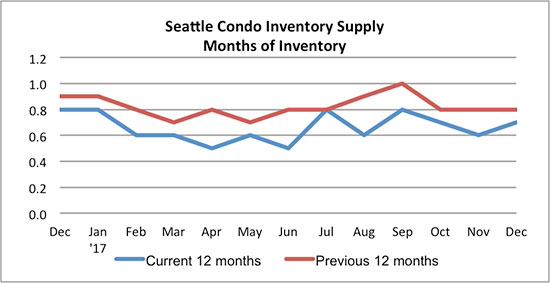 The number of pending sales transactions, that is listed under contract but not yet closed, fell to 119 units, a year-over-year and one-month decline of 21.7% and 47.6%, respectively. That's not too surprising given December is the slowest month for sales and inventory is well below the prior year's level.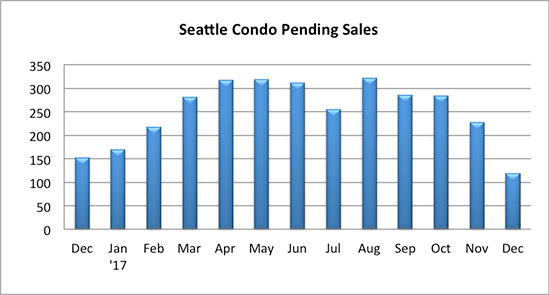 Closed condo sales also dropped to 210 units, down 1.9% from last December and -10.3% from November.
How will Seattle's condo market fare in 2018?
Well, that depends on which side of the market place you're on. For buyers, expect a tougher, more competitive environment than 2017 with prices that'll continue to rise.
With only 150 new units being added to Seattle's overall condo inventory, we'll rely predominately on sellers relocating out of area or looking to up/downsize, or investors cashing out. I expect we'll have fewer units come on the market for sale this year compared to 2017.
For sellers, it may be one of the best years to sell your condo unit. Limited competition and strong buyer demand will propel Seattle condo values up further. A caveat, though, rising prices, increased competition among buyers, and uncertainly with mortgage rates will drive some buyers out of the housing market.
If you're a owner, the ongoing market conditions and buyer demand presents a terrific opportunity to sell your Seattle condo. Want to know what your condo is worth or how we can get you top dollar?
If you're a buyer, let us help you navigate through Seattle's crazy housing market with our effective buyer strategies.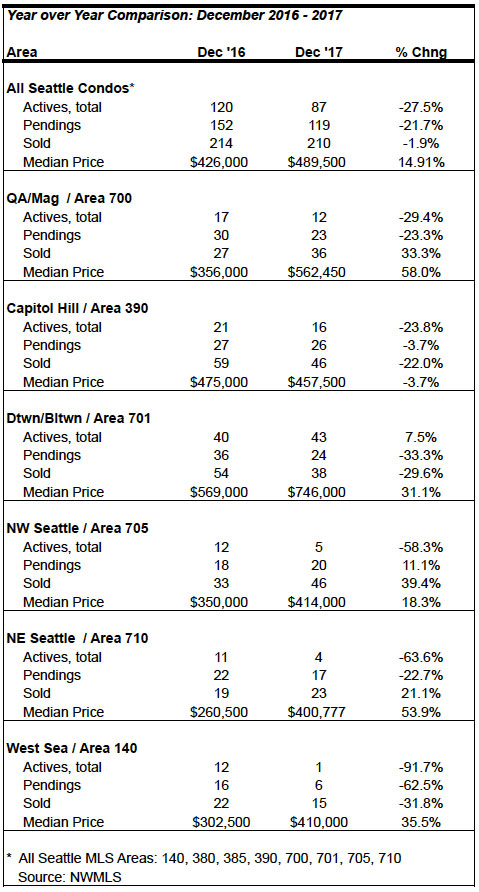 Source: NWMLS. Some figures were independently compiled by SeattleCondosAndLofts.com and were not published by the Northwest Multiple Listing Service.
________________________
© SeattleCondosAndLofts.com