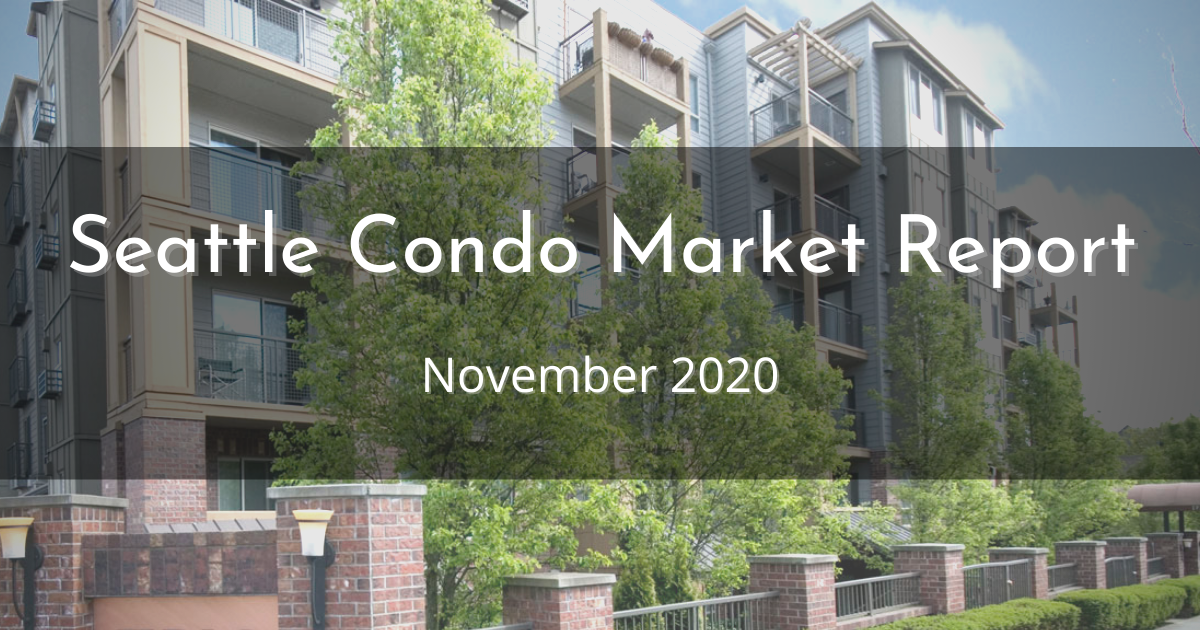 November's Seattle condo market results were quite respectable. The median condo sales price improved even though unit sales decreased and inventory rose during the month, shifting Seattle towards a balanced market.
The citywide Seattle condo median sales price rose 8.69% year-over-year to $499,975, which also reflected a 0.6% increase over October. Interestingly, for the last half of 2020, it has been holding relatively steady averaging around $495,000. Not too shabby given the condo segment has been underperforming this year.
By area of the city, all neighborhoods with the exception of West Seattle realized increased median sales prices and most by double digits. West Seattle dipped 9.1% last month. See table at bottom of post for full details.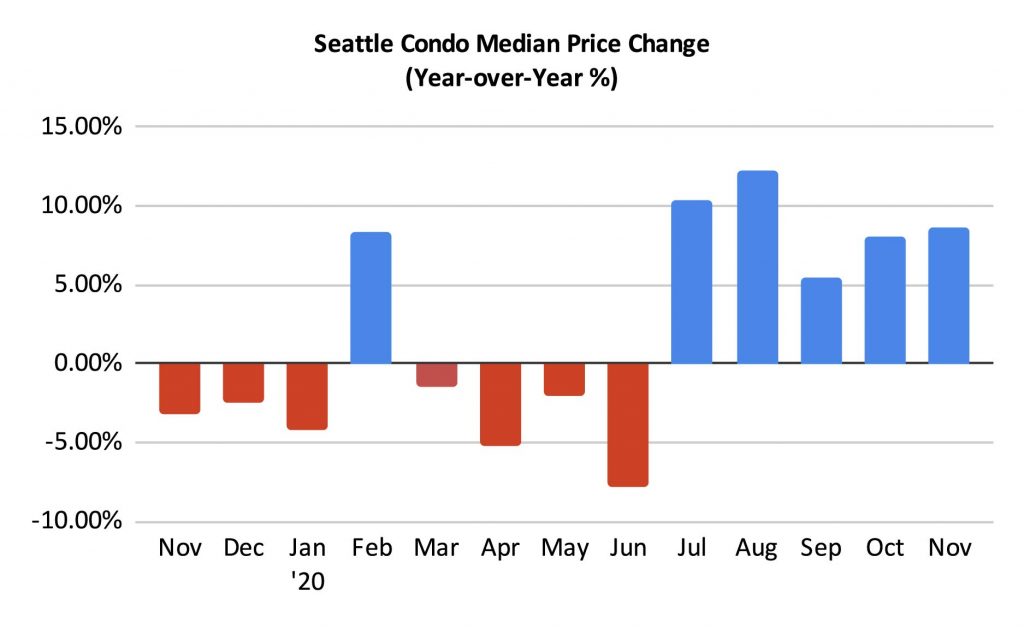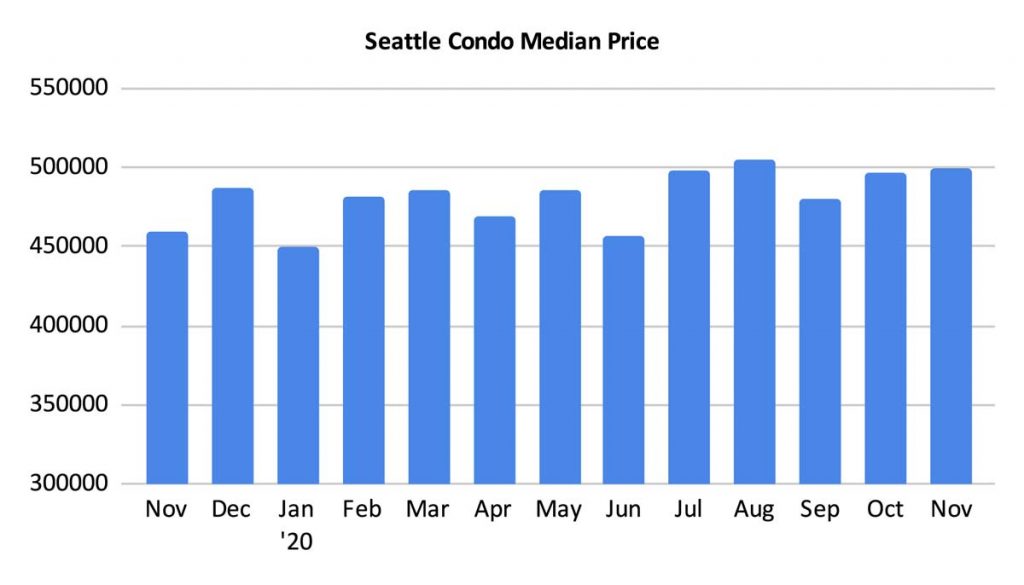 Inventory is trending downwards, which we'd expect as Seattle's real estate market is very much cyclically seasonal with the end of the year holiday season and fall weather. Fewer people list their homes for sale during this time period.
That said, inventory remained abundant as was noted with a 60.8% year-over-year increase in available units that reflected 799 Seattle condos listed for sale in November.
Capitol Hill had nearly doubled its number of condo listings compared to a year ago (+98.9%), with downtown/Belltown and Queen Anne trailing at +69.4% and 67.1%, respectively (see table at bottom).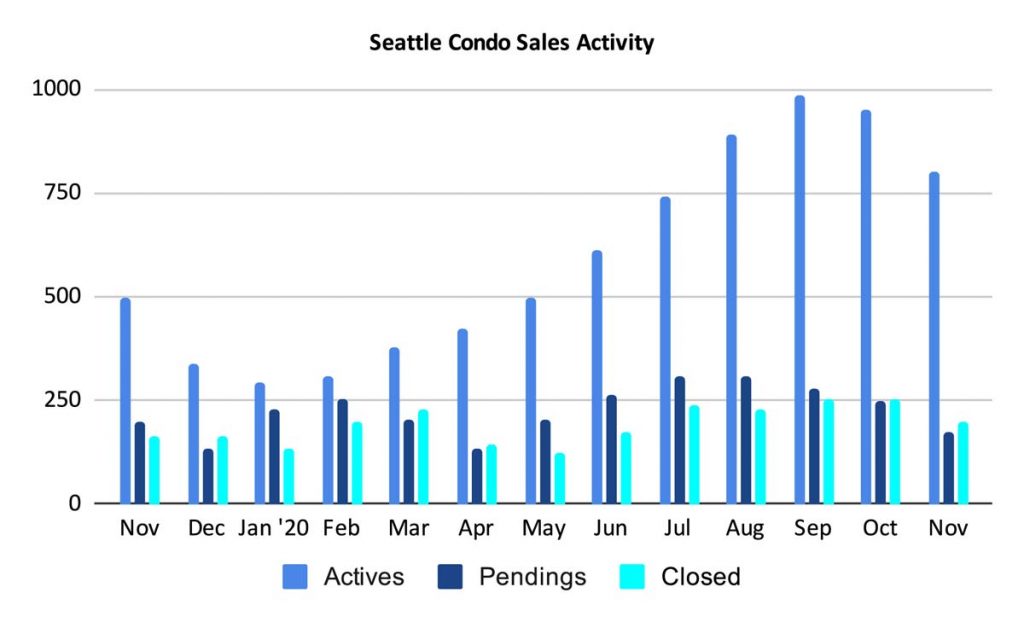 The result of having more listings available, combined with a drop in sales activity, pushed the Seattle condo inventory supply rate to 4.6-months of supply, or a balanced real estate market.
This is the highest supply rate since September 2011. For historical perspective, the condo market bottomed out in February 2012 following the 2008 market crash. Seattle's extraordinary 8-year seller's market run may be coming to an end.
With Seattle's geographic micro markets, the buying and selling experience will differ by area. The condo dense neighborhoods of downtown, Belltown, Queen Anne and Capitol Hill are exhibiting normal to buyer market conditions. In particular, downtown had the highest supply rate at 9.3-months in November, which is a definite buyer's market. And, that's just with NWMLS listed units, it does not contemplate the 1000s of new construction units.
On the other hand, North and West Seattle are still experiencing a seller's market with supply rates under 3-months.
An inventory supply rate of less than 3 months is considered a seller's market, 4 to 6 months is a balanced or normal market, and over 6 months is a buyer's market environment.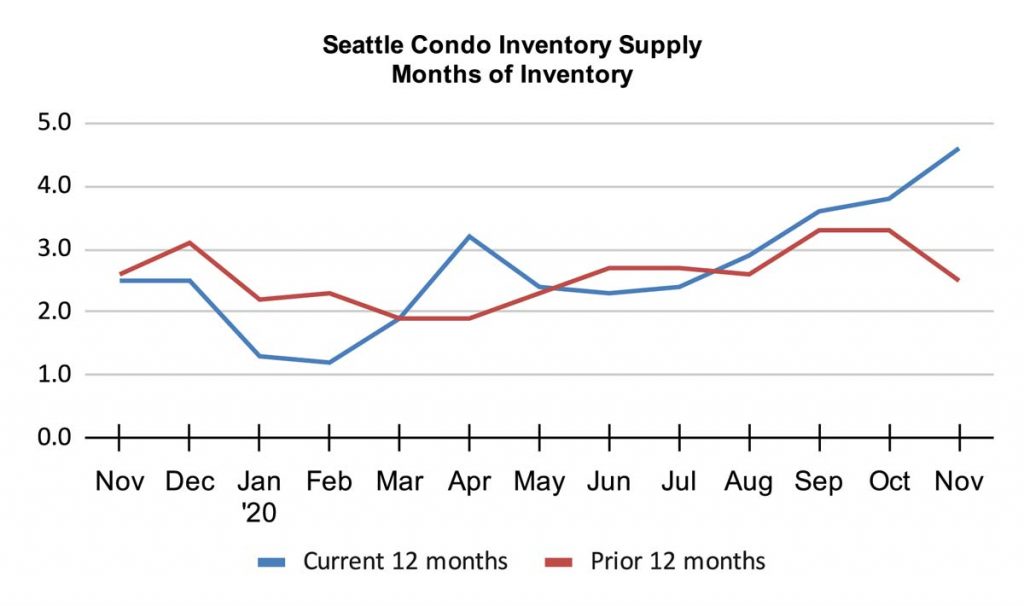 Pending sales transactions, accepted offers in escrow, declined in November by 12.9% compared to the same period last year, and 30.3% compared to the prior month, to 175 units.
Again, the drop in pending units follow our cyclical, seasonal market so the number is expected to decrease through December, then reverse with the start of the new year.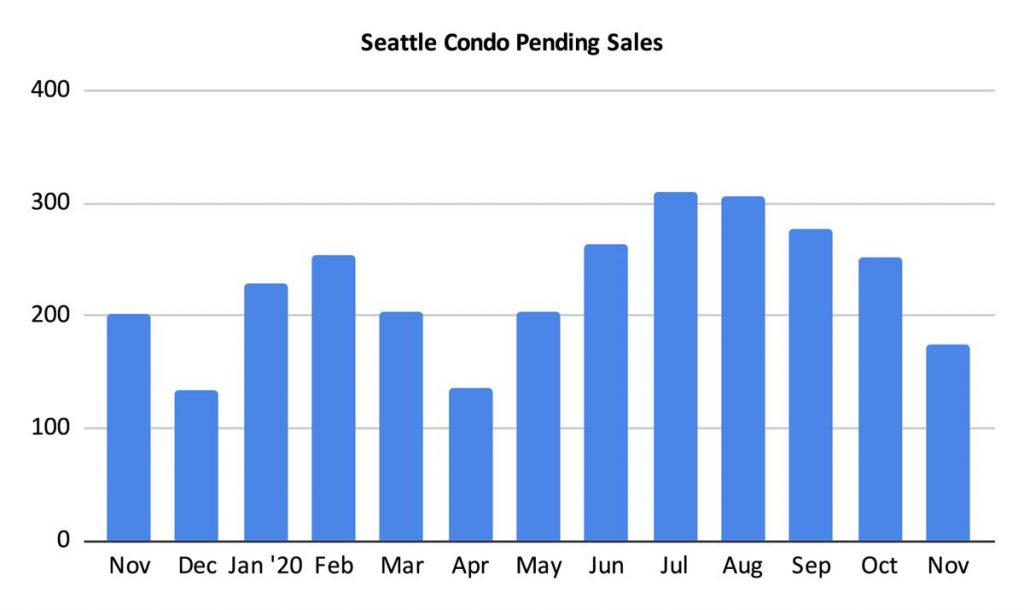 The number of closed condo sales also decreased with 200 condo closings in November. Although that was 21.3% fewer closings than last month, it was also 21.2% more than last November.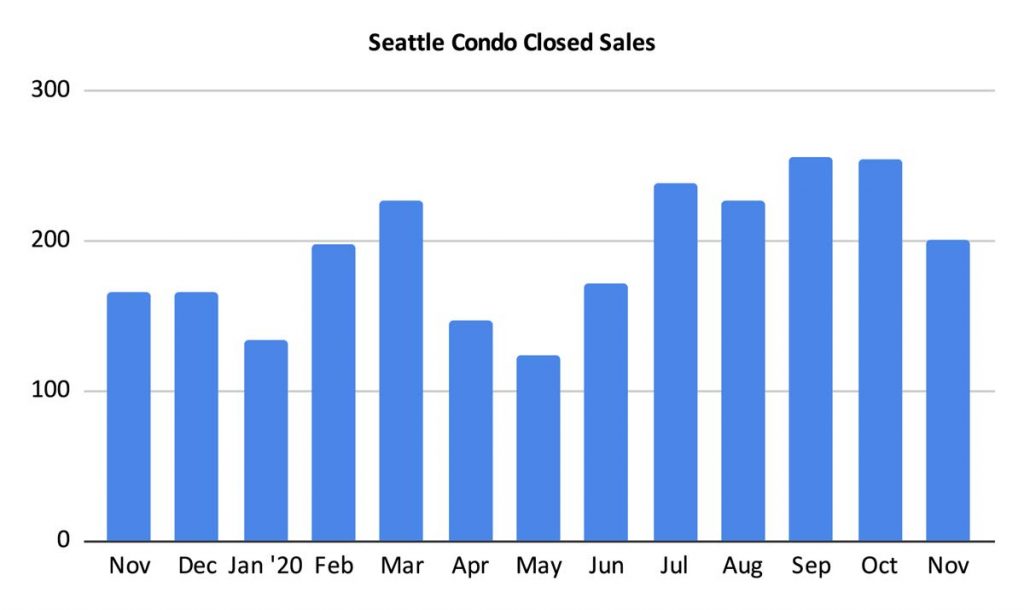 For the remainder of the year, the market will be relatively slow, though will gain traction once January rolls around.
With increasing inventory and slower sales in the condo dense downtown area, buyers may find solid deals, particularly with those who are time constrained and need to sell during the holidays. Most sellers will be holding off until the new year, however.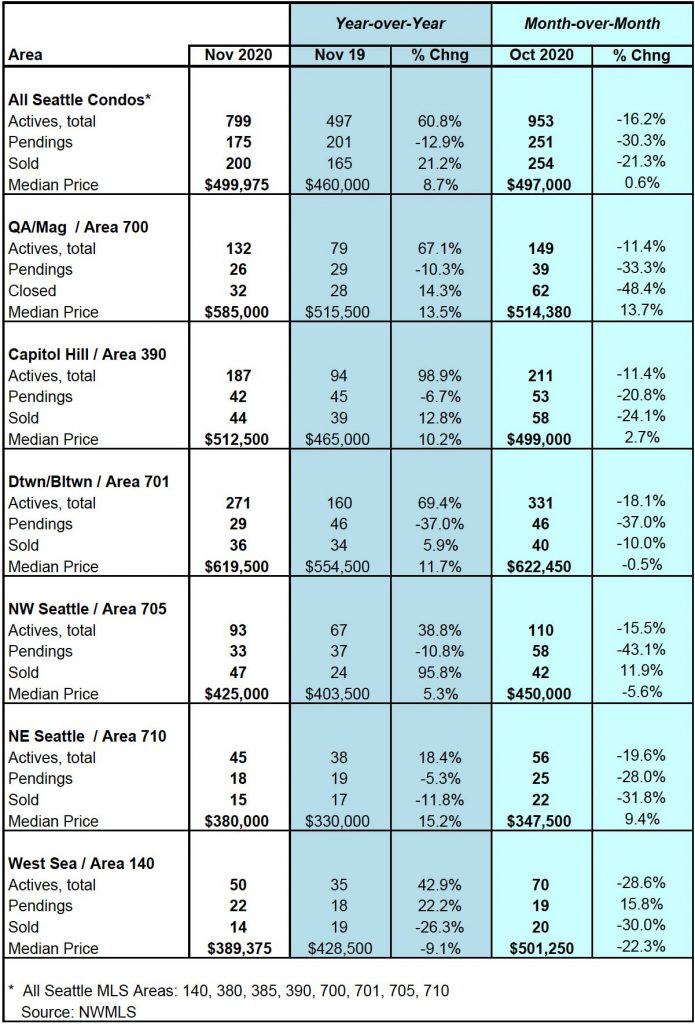 Source: Northwest Multiple Listing Service. Some figures were independently compiled by SeattleCondosAndLofts.com and were not published by the NWMLS.
© SeattleCondosAndLofts.com