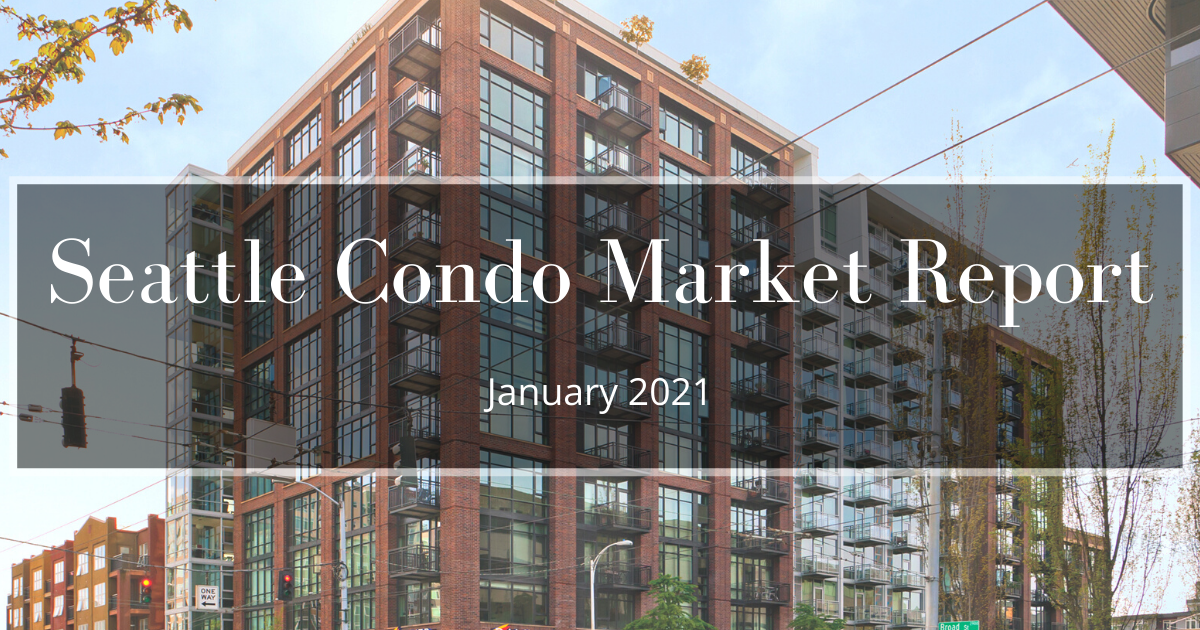 Seattle's condo market started 2021 with a little attitude, shedding off the doldrums of 2020 in its wake. January market figures exhibited a revitalized market with a jump in sales activity and selling prices.
The Seattle citywide median condo sales prices rose 9.76% year-over-year (YOY), and 5.9% over the prior year, to $493,880. By comparison, the median sales price for a single family house was $745,500.
By NWMLS neighborhood area, all areas throughout Seattle, with the exception of Queen Anne / Magnolia and Northeast Seattle, realized YOY increases in their median sale prices. The biggest increases were the downtown area and West Seattle with a YOY increase of 11.2% and 10.3% respectively. See table at bottom of post for complete information.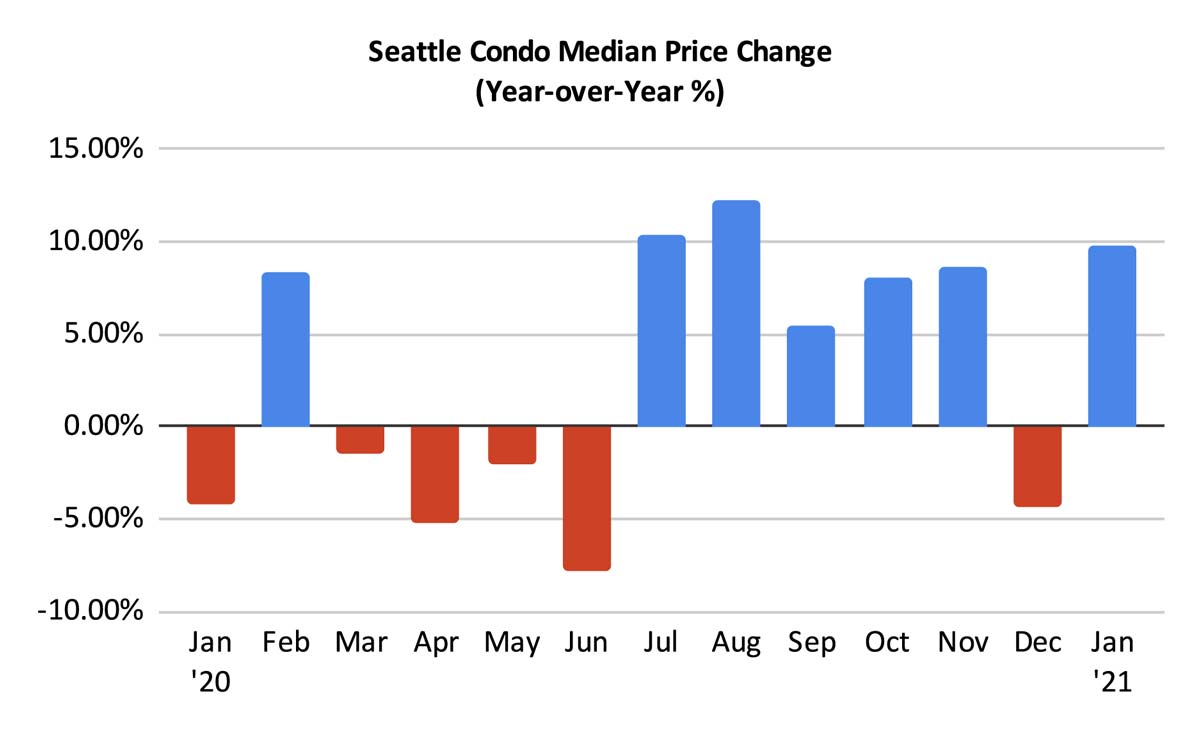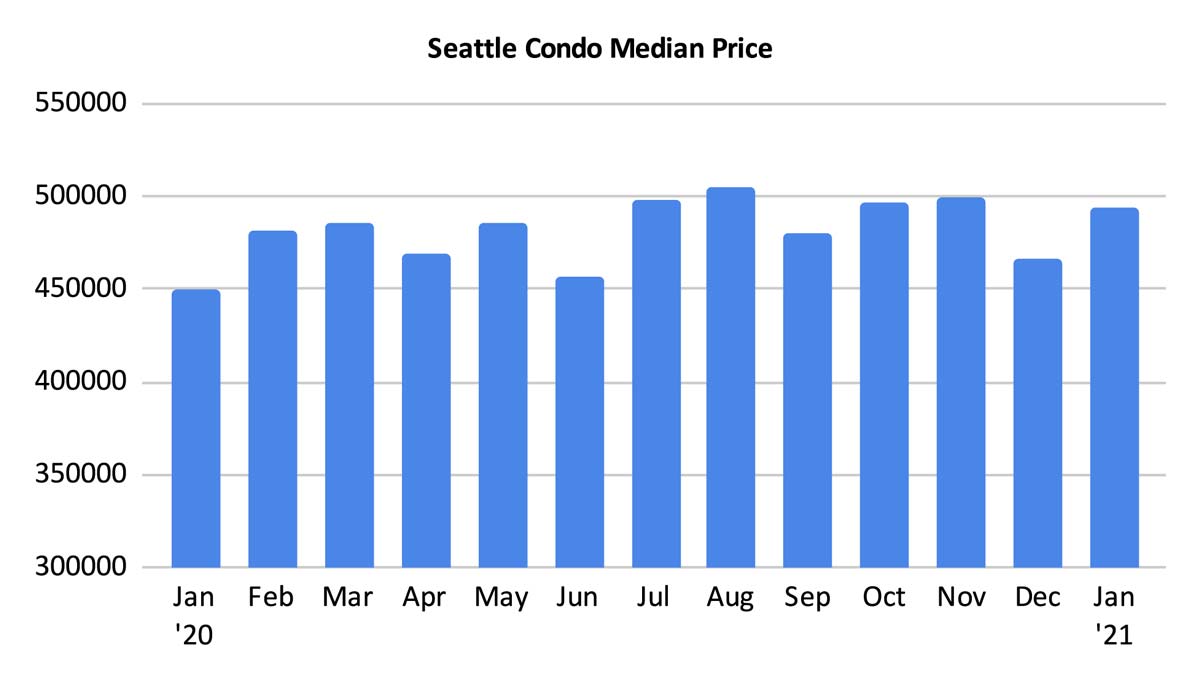 Condo inventory rose in January by 95.9% more than the same period last year to 570 units for sale. However, that was slightly fewer than we had in December by 2.2%. Inventory will continue to rise through the spring season.
Keep in mind, this reflects Seattle condo units listed for sale in the Northwest MLS. It does not include a significant number newly completed condo units or those still under construction that are available through presale purchase.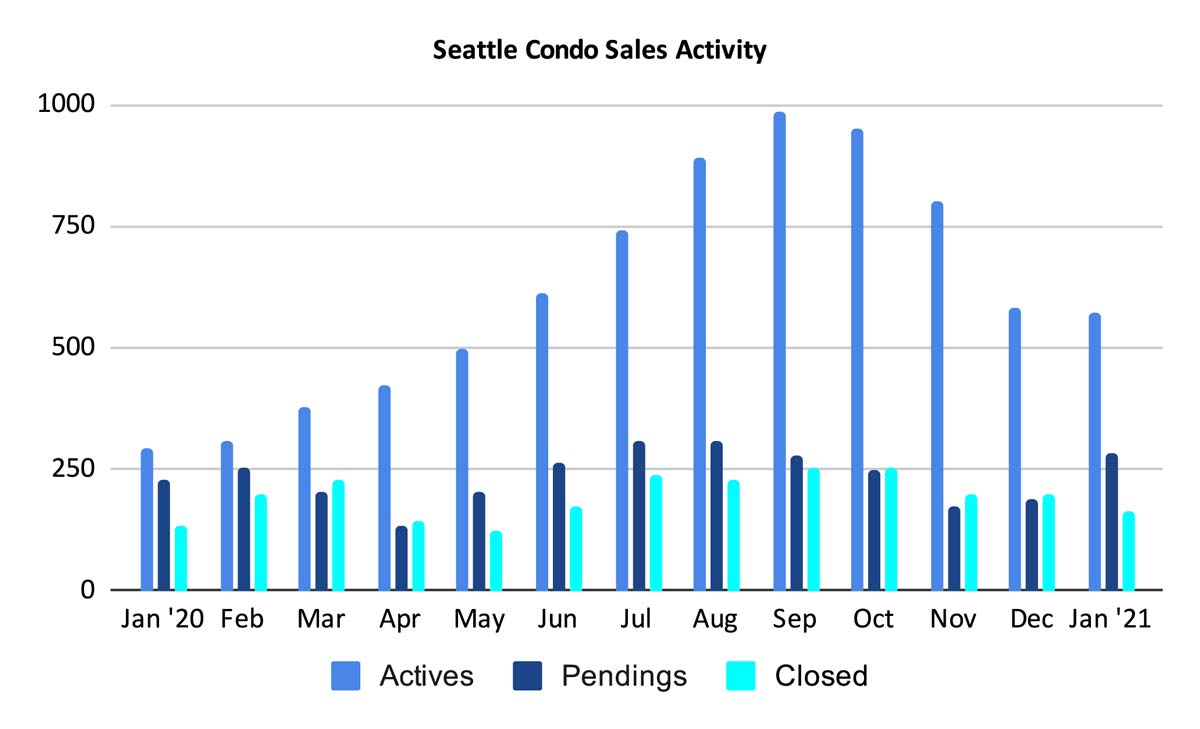 Taking into consideration the listed available units against pending sales, the Seattle condo inventory supply rate dropped precipitously in January to 2-months of supply, keeping Seattle in a, technically, strong seller's market.
That will differ by Seattle's neighborhood micro-markets, with North Seattle (ie Ballard) and West Seattle, having tighter market conditions than Capitol Hill or Queen Anne. Contemplating available but unlisted new construction inventory, downtown reflects a buyer's market.
The inventory supply rate is a metric utilized to determine market conditions. A rate of under 3 months is classified a seller's market, between 4 to 6 months a balanced market, and over 6 months is a buyer's market.
Seattle, as a whole, has only experienced a balanced market for one month over the past eight years. We've been in a seller's market since the start of 2012.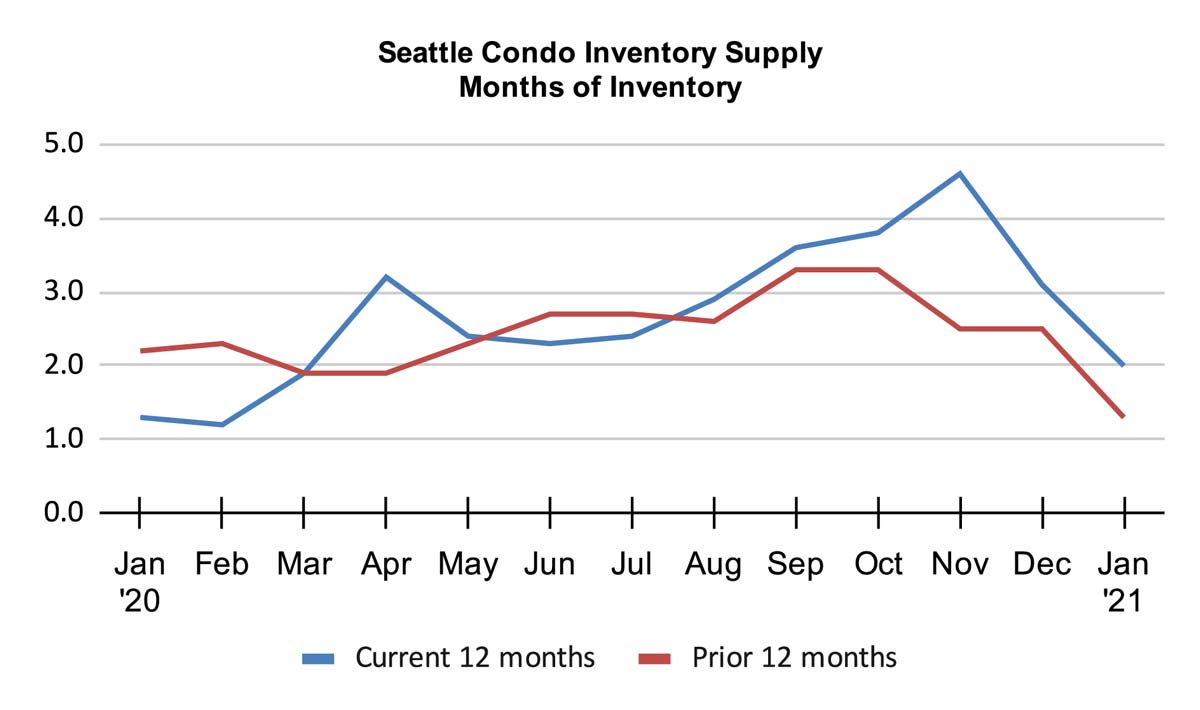 Pending sales transactions, units with accepted offers in escrow, skyrocketed in January to 282 units, which reflected a one-year and one-month increase of 23.1% and 49.2%, respectively.
That was an incredibly strong start for the year. And, historically, sales should continue to rise through the peak spring months (2020 pandemic notwithstanding).
The number of closed condo transactions also improved YOY by 23.1% to 165 closed units. Though, that was 17.5% fewer than we had in December.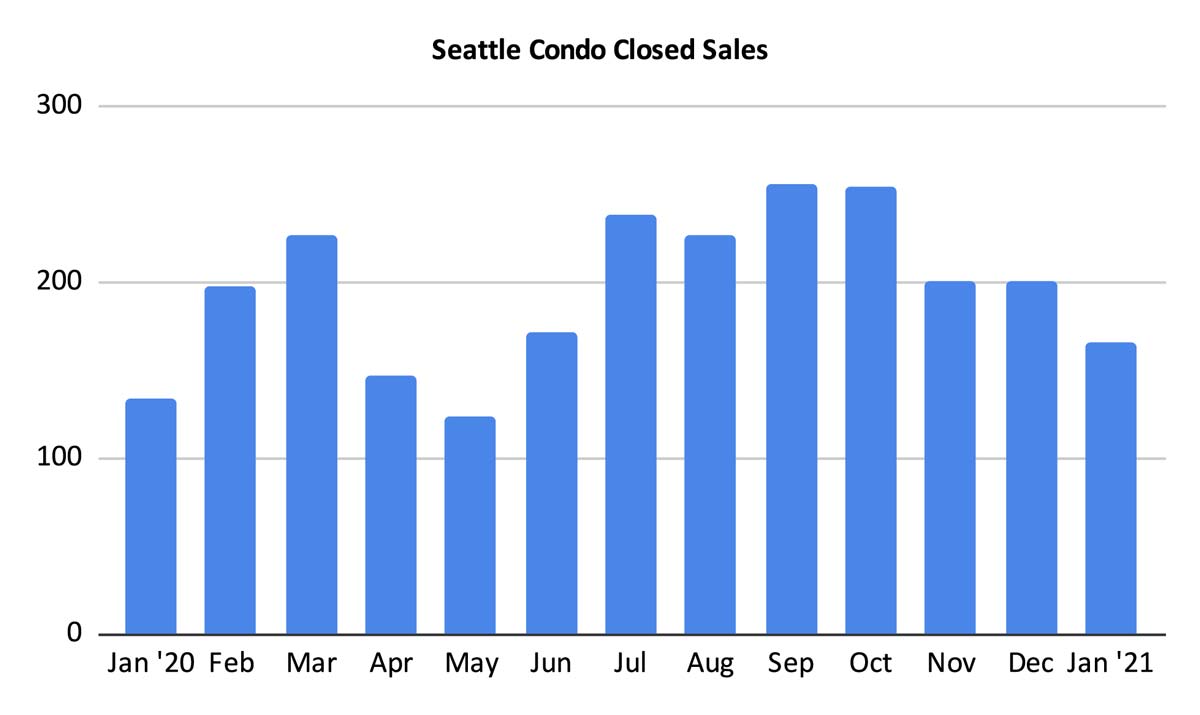 After a sluggish 2020 that underperformed expectations, especially in light of how competitive the single family housing market was last year, Seattle's condo market is starting off the new year strong.
Condo inventory is expected to rise further, but the velocity of sales in January and so far through the first week of February, indicate sales is starting to outpace new listings.
That is good news for sellers, who had experienced long market times and price reductions last year. Again, though, that'll vary by neighborhood area. The downtown / Belltown area remains the slowest selling neighborhood in Seattle, although it does have the highest density of condos.
For buyers, you'll still experience a less competitive market compared to single family houses, but that likely will tighten as we progress towards spring.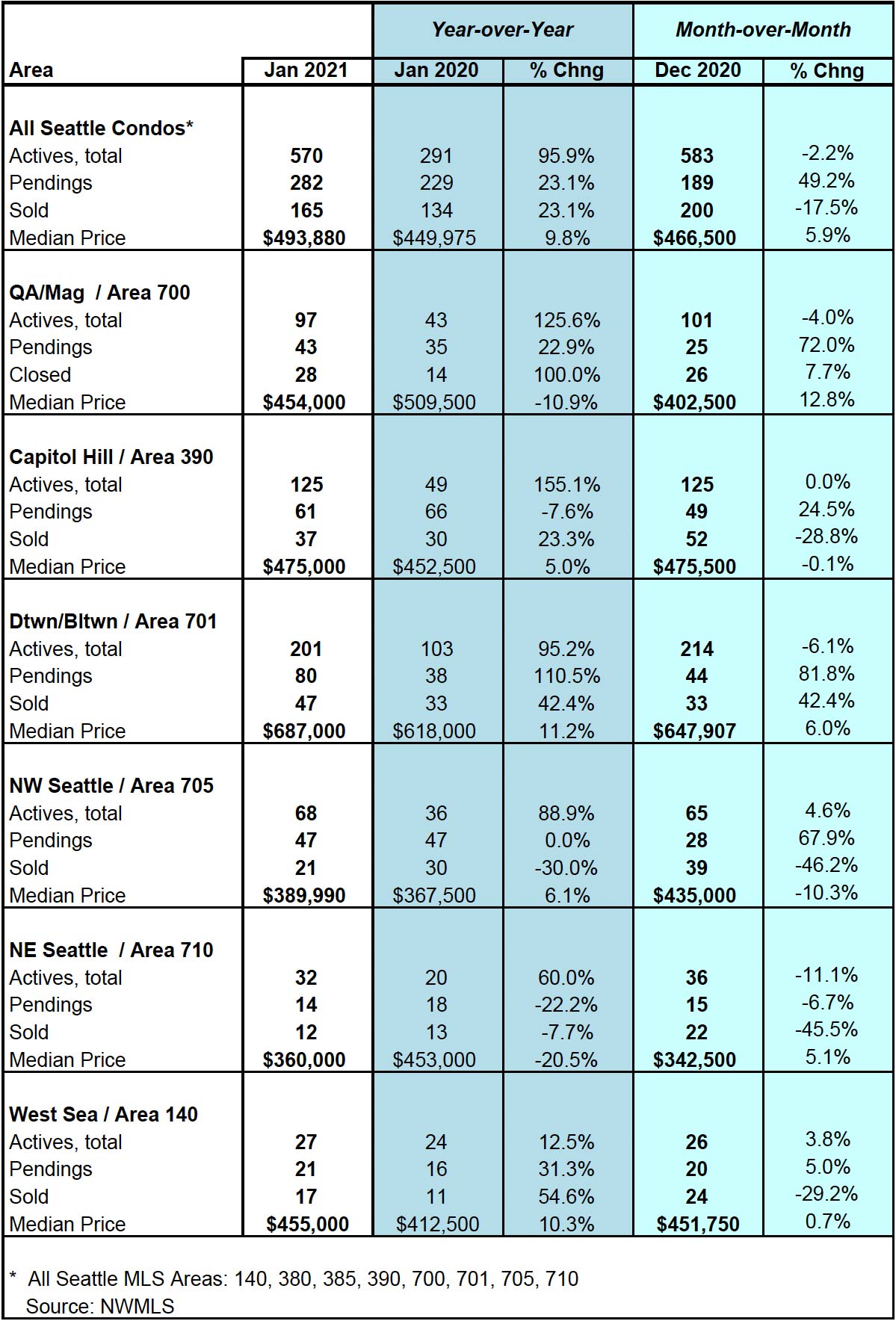 Source: Northwest Multiple Listing Service. Some figures were independently compiled by SeattleCondosAndLofts.com and were not published by the NWMLS.
© SeattleCondosAndLofts.com