February, traditionally the start of the busy real estate season, was a phenomenal month for Seattle's condominium market with double digit increases in condo values and sales volume.
The citywide condo median sales price was $393,400, up 33.36% from a year ago and 10.4% over January. This was the second highest monthly median sales price on record. The highest was $430,000 last August, though that was buoyed by the initial closings at the high-end Insignia Condo development.
Interestingly, Seattle had twelve consecutive months of year-over-year increases in condo values, which we hadn't seen since before the condo implosion nine years ago.
Queen Anne and Northwest Seattle realized the largest increases, up 68.5% and 43.6% year-over-year, respectively. The Northwest Seattle median sales price was bolstered by closings at the Vik last month. Northeast Seattle, on the other hand, realized a slight decrease of 1.6%. See table at bottom for complete neighborhood figures.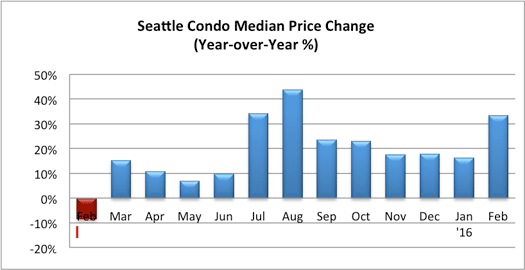 Available inventory rose moderately by 14.3% to 224 Seattle condo units for sale, but still 15.5% fewer than we had last February…and even fewer considering all the new construction units that have been absorbed since then.
While we historically anticipate inventory to increase as we progress into the peak spring season, robust buyer demand will keep the supply rate flat. And, many potential sellers are holding on to their condos since their options, as buyers, are also limited. Seattle remains entrenched in a tight seller's market.
As for the remaining new construction pre-sale inventory, there are approximately 200 units remaining between Insignia (Phase 2) and Luma, which will be completed later this year. Plus, another 130 or so between Gridiron and Hendon, both on target for a 2017 completion.
The Vik in Ballard is now essentially sold out (they have a couple left at this writing).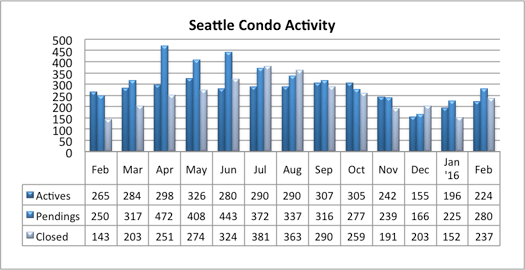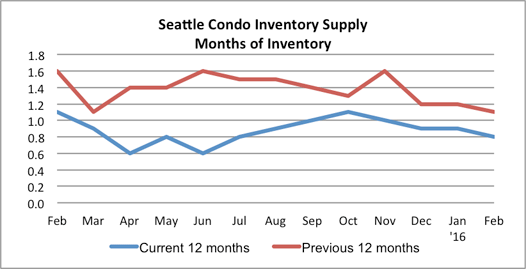 Condo sales activity improved considerably with 280 units going under contract (pending transactions), a 12% increase year-over-year and 24.4% more than in January. This should continue provided there is adequate inventory for buyers.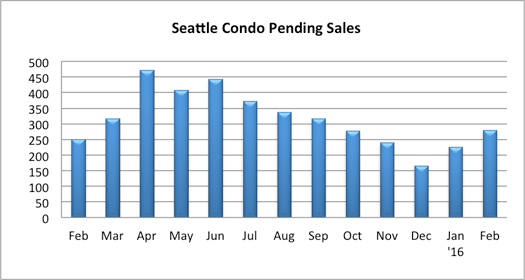 The number of closed condo sales spiked 65.7% last month to 237 units, which was also 55.9% more than January. However, Vik's completion and closings contributed to that spike with 65 of its units having closed in February.
Going forward, we'll see more of the same. New construction pre-sale units will continue to be absorbed and we'll likely see a constrained level of resales units available as well.
On the other hand, higher condo values may be the incentive for sellers to take advantage of the market and sell their Seattle condo this spring.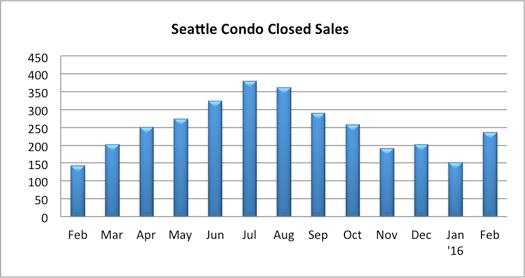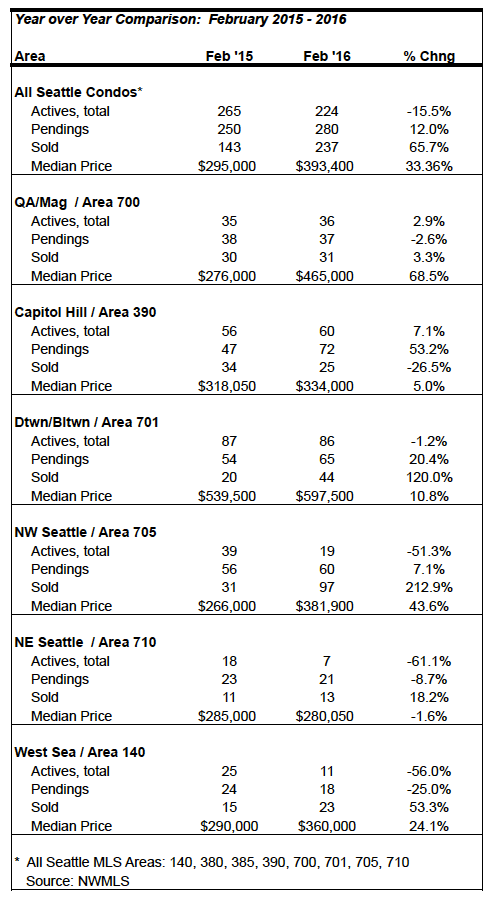 Source: NWMLS. Some figures were independently compiled by SeattleCondosAndLofts.com and were not published by the Northwest Multiple Listing Service.
________________________
© SeattleCondosAndLofts.com