With one exception, the metrics reflected a very active and forward moving condo market in February. If you're a condo buyer, it was a pleasant exception. The median Seattle condo sale price fell to $202,000, a 35.41% drop from last February and a one-month slide of 2.9%. The market was very close to breaking a nine-year median price record. As a comparison, single family home sale prices in Seattle increased 2.82% in February.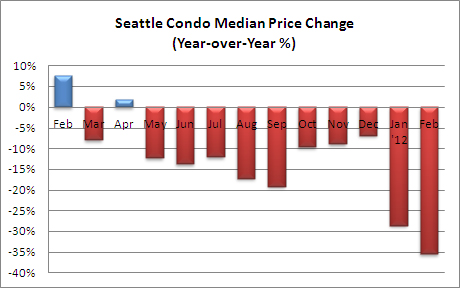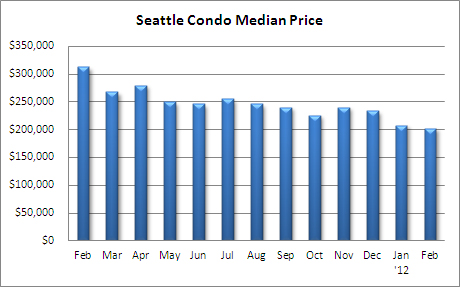 Median price aside, the Seattle condo market was very robust last month. Pending sales (properties going under contract) increased 52.7% over last February to 252 units, which also reflected a 45.7% rise over the prior month. This was highest number of sales since April 2010, the deadline for the last home buyer tax credit. Excluding the tax credit deadline periods, February reflected the highest volume of monthly unit sales since May 2009.
Closed sales also improved in February. The 128 closed Seattle condo units reflected a one-month increase of 4.1% and a 16.4% boost over the same period last year.
Normally, we experience a noticeable bump in the number of active condo listings for sale in February, but not this year. Active listings declined last month to 672 units citywide, down 38.9% from a year ago …nearly 49% from just two years ago. There were fewer units available last month than there were in December, which is significant.
The drop in available listings, combined with the sharp increase in condo sales, reduced the inventory supply rate (absorption) down to 2.7 months. That is technically a seller's market – short supply and higher demand with fewer properties for sale and increasing occurrences of multiple offers – except prices continued to fall.
Prices can only go so low, and with inventory & interest rates down, we may very well see the bottom of Seattle's condo market this year.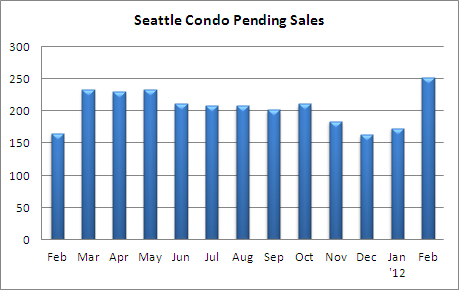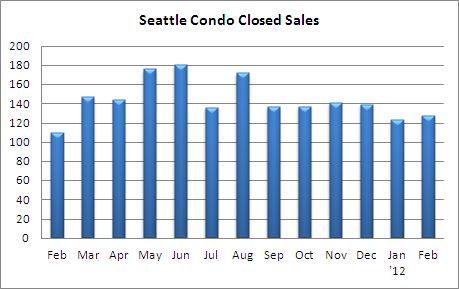 Seattle condo inventory supply reflects a seller's market across the board throughout the city. Under three months of inventory is considered a seller's market environment.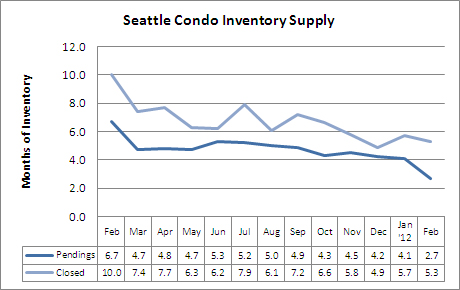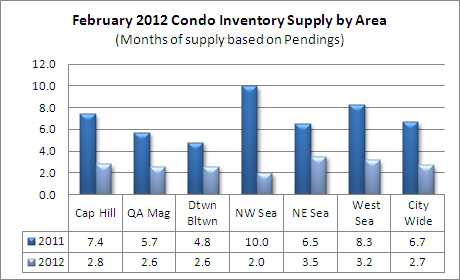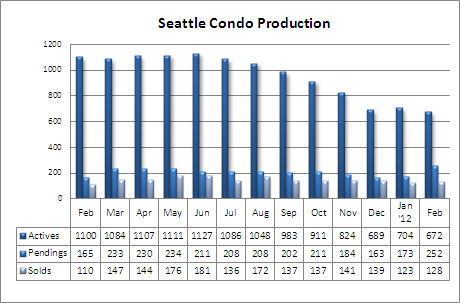 Queen Anne, Capitol Hill and North Seattle exhibited year-over-year improvement in pending and closed condo sales last month.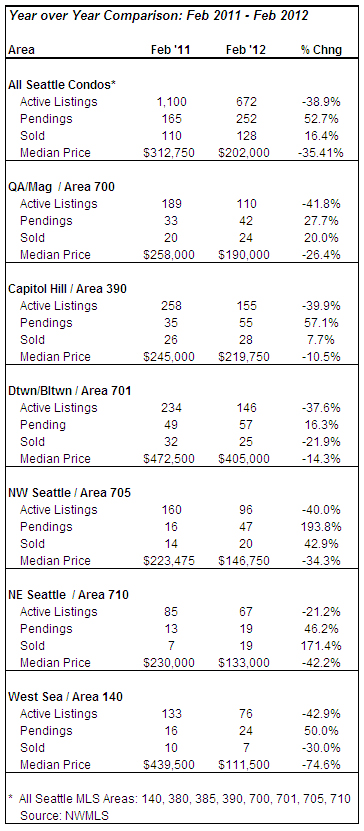 Source: NWMLS. Some figures were not compiled or published by the Northwest Multiple Listing Service.
_______________________
© Seattle Condos And Lofts