The Seattle condo market ended on a high note to close out the year with a bump in the median sales price even as sales activity slowed for the holiday season.
Seattle's citywide median condo sales price in December rebounded to $426,000, reflecting a 16.9% year-over-year and a 9.4% one-month increase.
Though, that's still inflated by a number of closings at LUMA and Insignia. If we exclude new construction sales, then the resale results would reflect an 8.2% year-over-year increase and a more modest one-month improvement of 1.5%.
By neighborhood (MLS areas), all areas of the city except the downtown area experienced median sale price increases last month (see chart at bottom).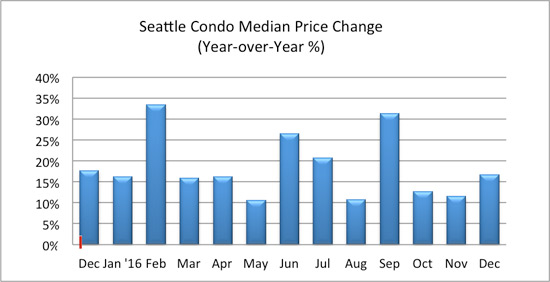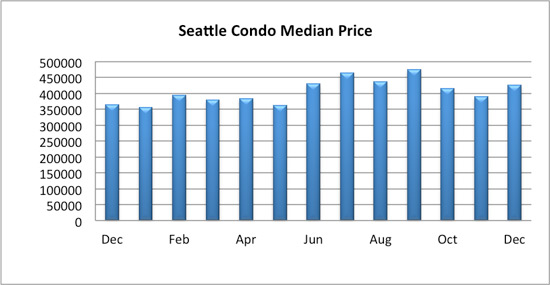 The market tightened further in December with the total number of Seattle condos for sale (MLS listed) throughout the entire city at just 120 units, that's 22.8% fewer than a year ago and 29.8% less than November. This was the fewest number of condos for sale going back at least the past 11 years.
With three small-to-medium sized projects currently under development and only a handful in the pipeline over the next 3-4 years, 2017 will see further constriction to inventory levels. Buyers will likely have fewer options and experience more competition in 2017.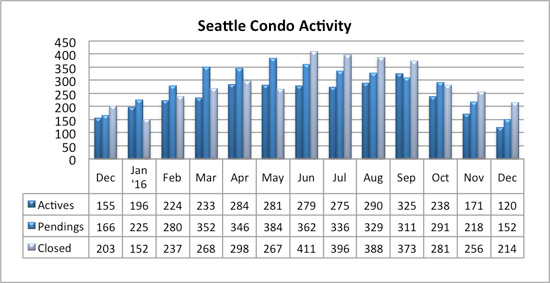 Even though there were fewer units for sale, with a reduced number of sales last month, the supply rate remained even at 0.8-months of supply.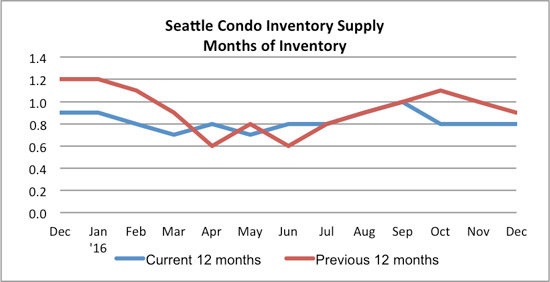 The number of pending transactions (listings with accepted contracts) declined in December to 152 units, an 8.4% drop from last year and 30.3% less than a month ago. This is not unexpected as there were fewer condos for sale in 2016 compared to 2015 and December is seasonally the slowest month for real estate sales.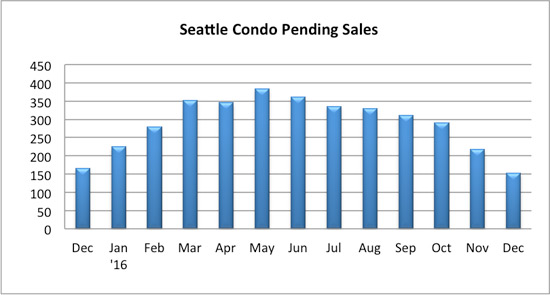 Closed sales, on the other hand, did see a slight increase of 5.4% to 214 units compared to last December, though 16.4% less than November.
With the start of a new year we'll see the condo market begin to pick up steam around late January / early February. I suspect the market will be tighter in 2017 than it was last year with fewer listings and robust demand from buyers buoyed by Seattle's strong economy and population growth.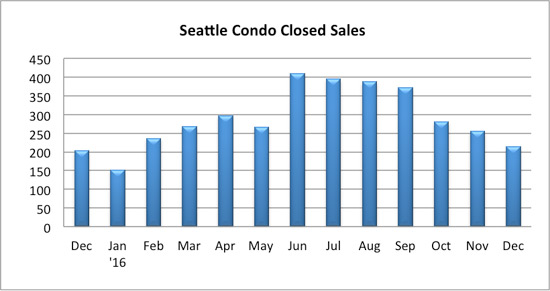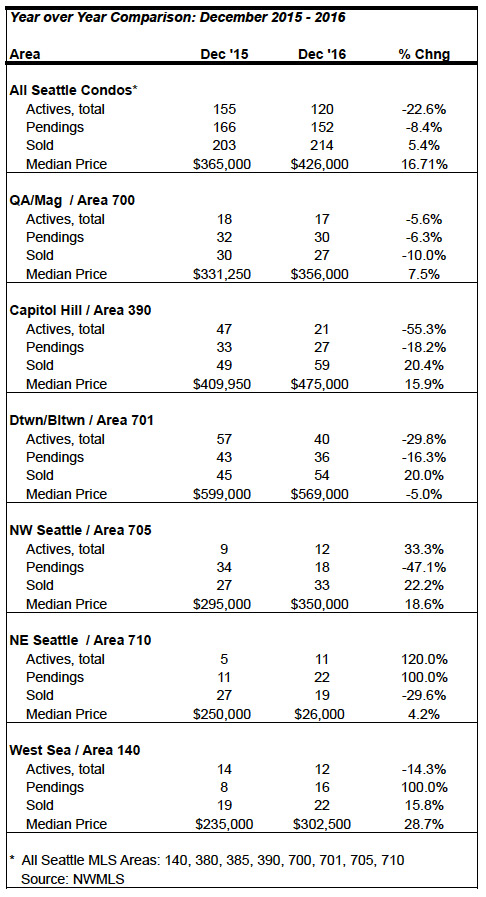 Source: NWMLS. Some figures were independently compiled by SeattleCondosAndLofts.com and were not published by the Northwest Multiple Listing Service.
________________________
© SeattleCondosAndLofts.com