Condo sales activity in Seattle started the year off solidly in January. The citywide Seattle condo median sales price increased 16.28% from last January to $356,500. That did reflect a slight decrease from December by 2.3%, though that's mostly based on December sales when values are seasonally at their lowest.
Year-over-year median sale prices rose by double-digits throughout Seattle with the downtown, Queen Anne and NE Seattle areas increasing by over 30% over the same period last year. The exception was West Seattle, which exhibited a 9.1% decrease, see chart at bottom of post.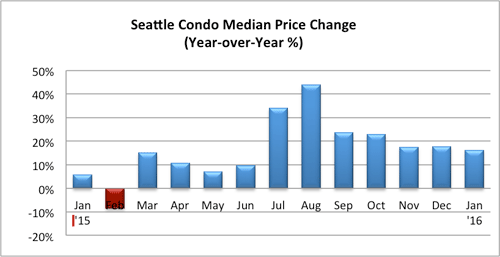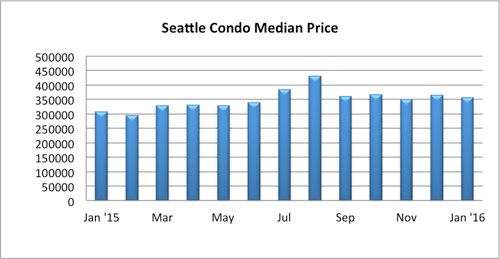 As we expected with the start of the new year condo inventory began ticking up, increasing 26.5% to 196 units over December. However, that's still 28.2% fewer than we had a year ago, leaving buyers with limited options and robust competition for units.
Even with more Seattle condo units for sale last month, the inventory supply rate remained unchanged at 0.9-months of supply due to swift sales activity, keeping Seattle in a very strong seller's market.
Typically, an inventory supply rate of less than 3-months is classified as a seller's market. Between 4-6 months is a normal or balanced market, while more than 6-months is considered a buyer's market.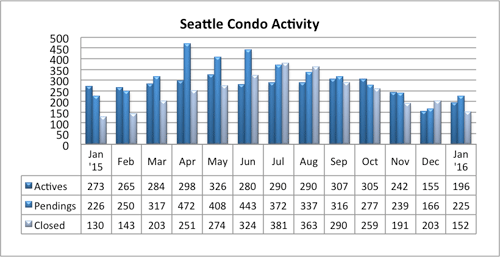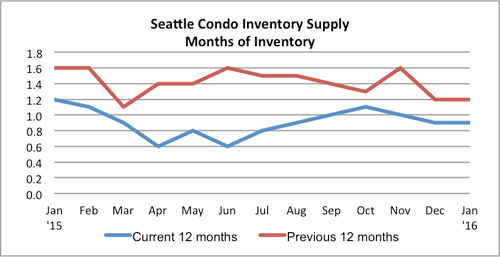 Sales activity picked up at the start of the new year with 225 units going under contract (pending transactions), reflecting a one-month improvement of 35.5% and remaining on par with last January.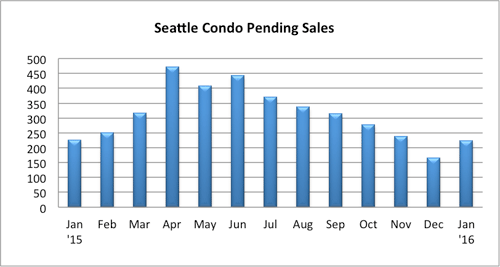 There were 152 closed Seattle condo sales in January rising 16.9% over the same period last year, but 25.1% less than December. Though, that's to be expected as closed sales lag pendings transactions by a month or so…thus, January closings are based on December sales, which is the slowest period of the year for sales.
Progressing forward into Spring, inventory levels will trend upwards giving buyers a little bit more options. On the other hand, more buyers will enter the market place increasing the competitiveness for available properties.
Rising values may help convince owners to sell their condos that may help relieve demand…slightly.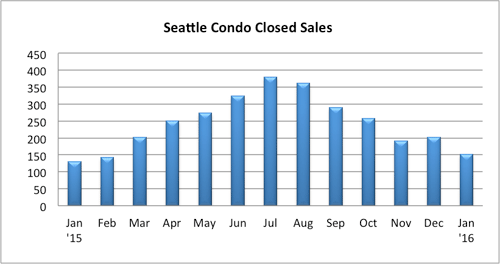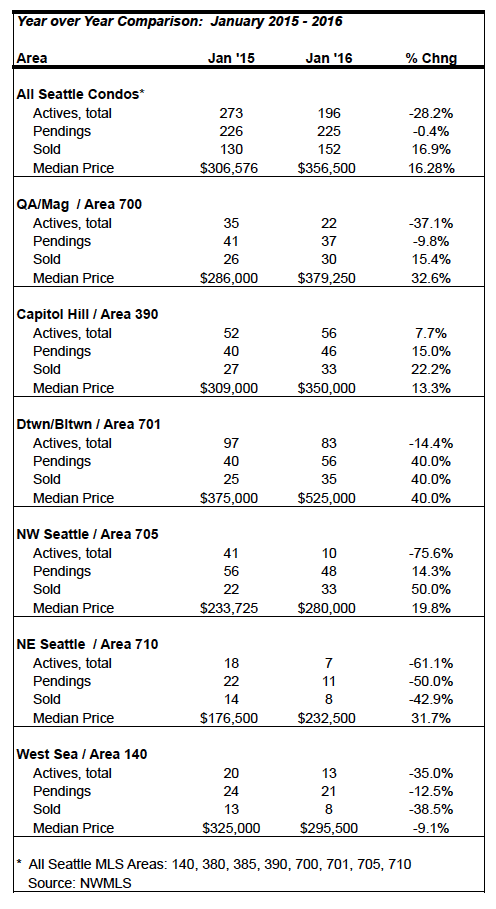 Source: NWMLS. Some figures were independently compiled by SeattleCondosAndLofts.com and were not published by the Northwest Multiple Listing Service.
________________________
© SeattleCondosAndLofts.com