The Seattle condo market continued to move forward based on February MLS results with a huge spike in the median sales price, low inventory levels and steady sales activity.
The Seattle citywide median price rose a whopping 28.22% over the same period last year to $259,000 which also represented a 7% one-month gain. With last month's results, the Seattle condo market has now realized year-over-year gains in value over 9 of the past 10 months. That's good news for condo owners who are finally seeing some improvement on their investment.
With the exception of the downtown area, there were double digit increases to the median sale prices throughout the city.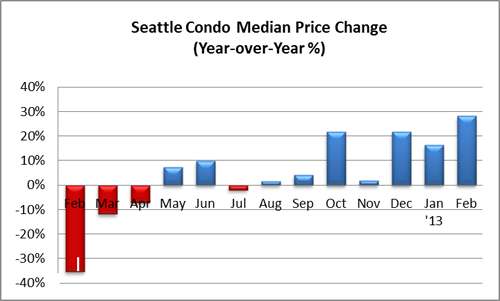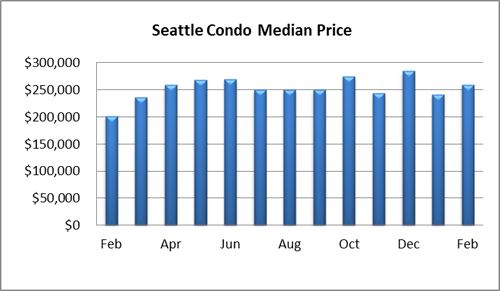 After four months of declining inventory we finally saw a turn around in the number of available condo listings, though only slightly, up just 10 units over January, but still significantly below 2012 levels by 47.5%.
If there was a negative aspect to February's stats it's the dip in the number of pending transactions (properties with accepted offers) to 244 units. That's down 3.9% from January and 3.2% from a year ago. The dearth of available properties combined with rising prices may be contributing factors to the drop in sales last month. Bucking that trend, however, were the Queen Anne / Magnolia, Capitol Hill and Northeast Seattle neighborhoods that realized increased pending sales volume in February.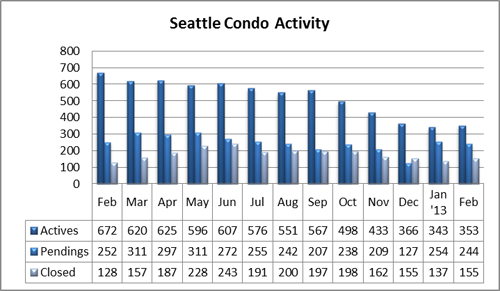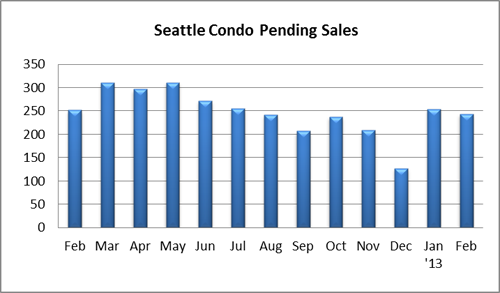 On the other hand, the number of closed sales rose 21.1% year-over-year and 131% over January to 155 units.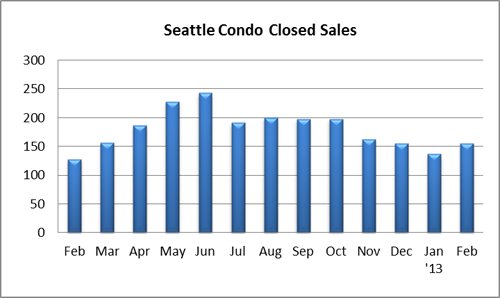 The inventory supply rate rose slightly from 1.3-months of supply in January to 1.4-months in February, yet still reflective of a strong seller's market environment. We will continue to experience this low level of inventory supply for the foreseeable future, and with that limited selection and an increasing number of multiple offer situations. Buyers be prepared, read our tips for buying in a tight condo market.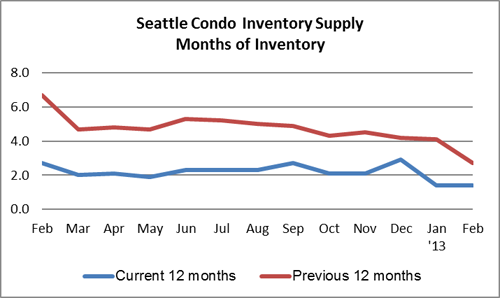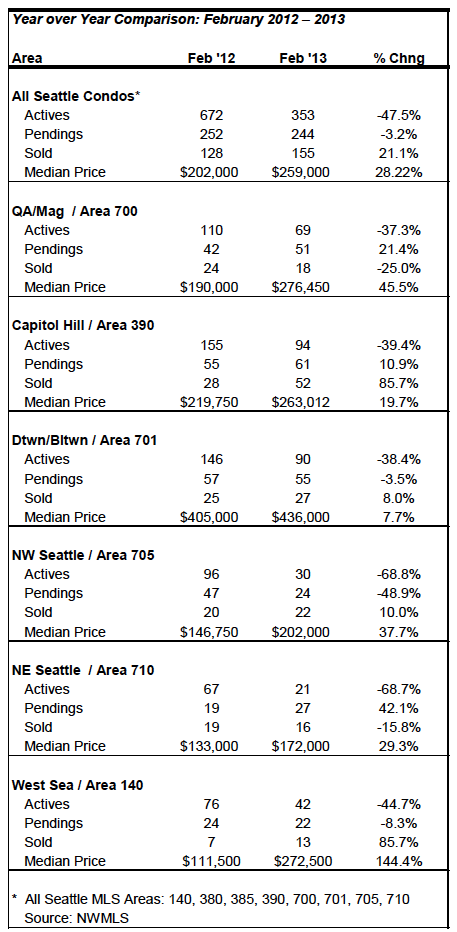 Source: NWMLS. Some figures were independently compiled by SeattleCondosAndLofts.com and were not published by the Northwest Multiple Listing Service.
______________________
© Seattle Condos And Lofts