After a drought of new condo construction that spanned four years between 2009 and 2013, condos are making a comeback…and just in time, too.
The massive Insignia Condo project on the edge of Belltown was the first out of the gate. Covering an entire city block, Insignia is on target to be the largest condominium in Seattle, perhaps in the entire Pacific Northwest.
On the opposite end of the spectrum is Solo Lofts in Ballard, which was the second condo project to break ground and begin pre-sales. Solo Lofts is a boutique condo with just 20 units available.
Recently, the Vik Ballard, broke ground and opened its sales office. Pre-sale will begin shortly and we will have more info soon. The Vik will be a rather large development, at least for Ballard, with 117 units.
I posted earlier that Laconia Development out of San Francisco had been started land use proceedings on its parcel at the prior Icon Tower site, as well as Lowe Enterprises who previously issued a press release on a First Hill location.
Now, in addition to those, it appears there are at least three additional projects that are on the horizon: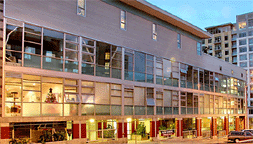 Carbon 56 is being "re-converted" back to condos, and will be up for sale, again. This 56-unit project in the South Lake Union area was converted from apartments to condos back in 2007. Unfortunately, Carbon 56, like a number of other projects, were victims of the Seattle condo crash that followed. The developer opted to lease out the unsold units, instead. I'll provide more info when its available.
Continental Properties, the developer of the Vik Ballard, is also moving on development of a large 400-feet tall condominium tower in downtown at 2nd and Virgnia. That's about 40-stories. This is the lot that's adjacent to Cristalla and One Pacific Tower.
Up on Phinney Ridge near Green Lake, Isola Homes, is proposing a 33-unit mixed use condo development at 68th and Greenwood Avenue. This project is in its early stages.
There are likely others, at least in the planning stages, and we'll be hearing more about those in due time. Stay tuned to Seattle Condos and Lofts as we'll provide information on new Seattle condo developments as they become avaialble.