The long awaited Insignia Condominium in downtown Seattle made its debut during a special VIP event this past weekend. Officially, the grand opening of sales center, located at 2200 6th Avenue (kitty-corner from the building site) will be on Saturday, September 21st.
As you enter the sales center, the lobby is reminiscent of the decor for lobby of the building, a sleek modern aesthetic. You'll find a scale model of the building, a built out model of a one-bedroom home, finish / color samples, video displays, and a map highlighting nearby amenities by walking distance.
Insignia and its developer, Bosa Development, is taking a different approach to sales and its offerings compared to what we've become accustomed to, particularly from the last slate of condo developments in the Seattle area.
Most apparent is that the high quality finish levels and appliances are standard throughout each home vs upselling additional upgrades. The only decision a buyer needs to make is layout, location and color scheme.
Insignia offers three color scheme options, all earthy tones – Sand, Island and Range. The model home features the Range color option, which comprises a darker palette. The refrigerator and dishwasher include front panels that match and blends with the kitchen cabinets, creating nice unbroken lines.
One thing noticeable about the model home is the size of the bedroom, it's quite large, a reversal of the trend towards tiny bedrooms that was common during the last building boom. Most units will include outdoor balconies and even the smallest of which are sizable, thus functional space. Absent, however, are fireplaces.
I've spoken with a number of other condo brokers regarding the ceiling height. Yes, they are lower at Insignia with the living and bedrooms around 8'8″ and likely in 7'8″ in the kitchen with the soffit. However, unless you're tall or comparing the ceiling height to other buildings, it may not be that noticeable.
Floor plan options include one-bedroom, one-bedroom + den, two-bedroom and two-bedroom + den homes. Prices begin from the $400,000s for one-bedroom units and from the $600,000s for two-bedrooms. Every home includes parking and storage.
Insignia experienced excellent response to its debut, I'm told a number of units have been spoken for already. Presently, reservations are being taken, though those will convert to purchase contracts very shortly. A 10% down payment is required.
Homes are available for pre-sale throughout the building. I mention this as prior developments offered a limited number of homes with each release, so the available units buyers could choose from were restricted. Again, a little different approach with Insignia and Bosa Development.
The project is being developed in halves with the south podium and tower currently under construction. The expected completion date is the latter half of 2015. A start date for the north tower is yet to be determined.
When completed, the 41-story twin tower complex will be the Northwest's largest condominium development.
View Insignia Condos listed for sale
We'll have more information shortly, so stay tuned!
Let our experienced condo specialists help you with your Insignia condo needs. Contact us to learn more.
Initial Pre-Sale Pricing:
One-bedroom & One-bedroom + den (Floors 2-8) – Podium Level
737 to 1,181 square foot
From the low $400,000s
The majority of the one-bedroom homes (and all the 1 + dens) are on the Podium level, most are located on the 5th & 6th Avenue sides.
One-bedroom & One-bedroom + den (Floor 9-27) – South Tower
773 to 792 square feet
From the high $400,000s
The tower only has two one-bedroom homes per floor, both facing south.
Two-bedrooms (Floor 2-8) – Podium Level
1,009 to 1,596 square feet
From the low $600,000s
Two-bedrooms (Floor 9-27) – South Tower
1,003 to 1,523 square feet
From the low $700,000s
Two-bedrooms, Two-bedrooms + den (Floors 28-40) – South Tower
1,003 to 2,311 square feet
From the high $800,000s
Level 40 is the Penthouse level with four two-bedroom + den homes
BUILDING AMENITY HIGHLIGHTS
Forty-first floor sky retreat and resident lounge
Seventh floor open-air park terrace with outdoor grilling area
Outdoor fireplace gathering area
Indoor lap pool and spa*
Steamroom and sauna*
Fitness atrium with yoga and pilates studio
Screening room with entertaining bar
Signature lobby by Mitchell Freedland
Outdoor pet retreat
Pet wash and grooming area
Bike storage with work area
Retail shops along pedestrian friendly street
* Proposed future addition to North Tower
DESIGNER RESIDENCES
One and two bedroom plans with dens in select residences
360 degree Views of the city, Puget Sound, Lake Union and mountain ranges
Designer interiors by Mitchell Freedland
Quartz kitchen countertops
Bosch stainless steel cooktop, oven and microwave
Bosch cabinet-front dishwasher
Thermador cabinet-front refrigerator
Sleek European-inspired cabinetry
Engineered hardwood floors
Marble or quartz bathroom countertops
Whirlpool washer and dryer
Walk-in closets in most residences
Private balconies or roof decks in most residences
Onsite storage for each residence
Targeted LEED Silver sustainable design
Renderings only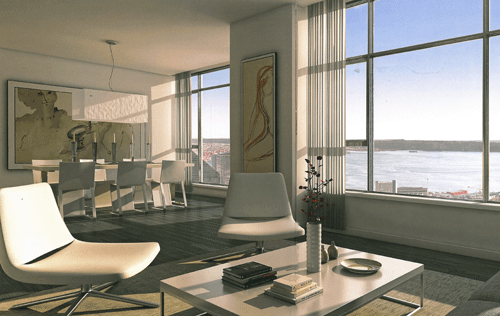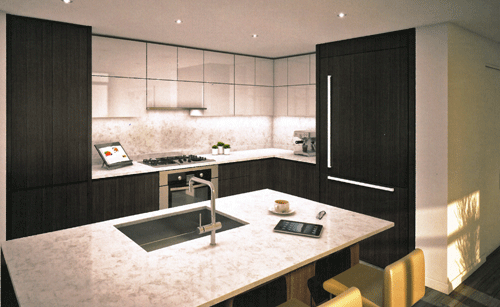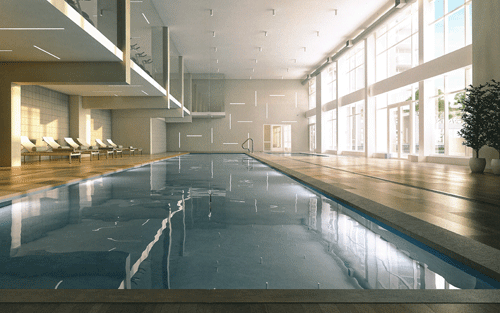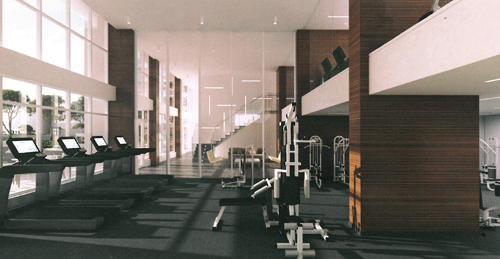 Renderings courtesy of Insignia
————-
Disclosure: SeattleCondosAndLofts.com & Keller Williams are not affiliated with Insignia or Bosa Development.