Overall, March turned out to be a decent month for Seattle's condo market despite the blip in the median sales price as unit sales velocity improved substantially.
The downtown core neighborhoods – downtown, Belltown, Capitol Hill & Queen Anne – saw their median sale prices drop last month, which lowered the citywide median by 2.56% year-over-year, and 11.6% from the prior month, to $285,000. Downtown/Belltown took the hardest hit, declining 14.7% from last year.
On the other hand, the outlying neighbohoods realized gains in their sale prices. Northwest Seattle (Ballard, Fremont, Green Lake), for example, increased 26.9% year-over-year.
And, while the one-month citywide decline of 11.6% from February to March seems significant…February's condo median sales price of $322,500 was a 5-year high. I suspect will see it begin to trend back up during the next few months.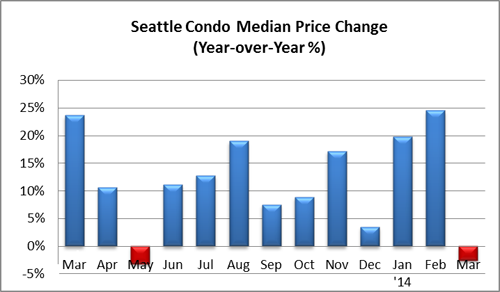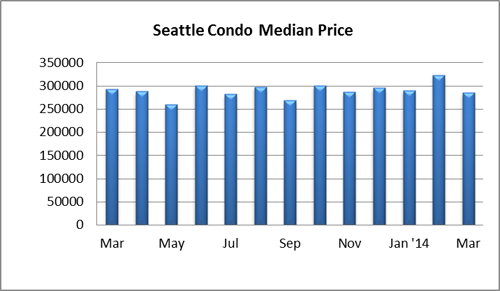 There were 326 pending condo sales transactions (properties with accepted offers during the month), reflecting a year-over-year and one-month increase of 6.5% and 30.9%, respectively. The 326 pending units last month was also the highest monthly total in the past 4 years.
The number of closed condo sales rose 41.8% to 207 units from the prior month, though that also reflected a year-over-year dip of 2.4%. Going forward, the closings for April should rise considerably given the number of pendings sales in March.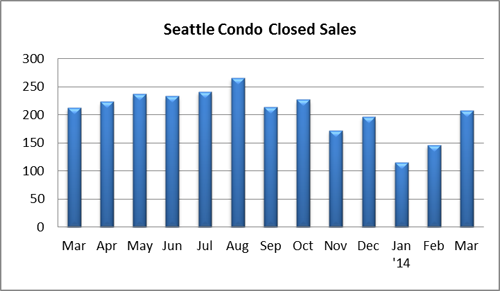 As we would expect, the for sale condo inventory has risen as we transitioned from winter to spring. Surprisingly, however, the 373 units for sale last monthly exhibited a one-month drop of 4.4%…though, a year-over-year bump of 4.8%.
With the reduced inventory and strong pending sales volume last month, the Seattle condo inventory supply rate reduced to 1.1-month of supply. That means, if no new listings comes on the market, it would take 1.1 months to sell out the current inventory. The months of supply is used to denote market conditions, with a 1-3 month supply being a seller's market, a 4-6 month supply a normal/balanced market and 7+ months a buyer's market.
Inventory supply will remain constricted until we start to see more constructon starts.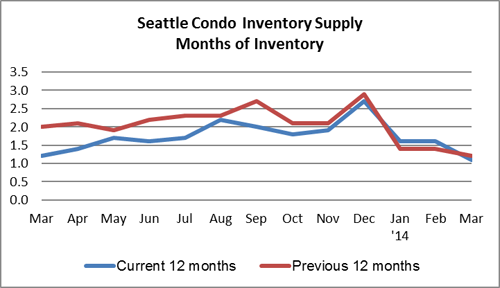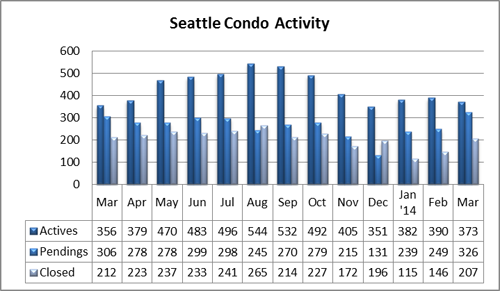 Source: NWMLS. Some figures were independently compiled by SeattleCondosAndLofts.com and were not published by the Northwest Multiple Listing Service.
________________________
© SeattleCondosAndLofts.com