The Puget Sound Business Journal recently reported on a new condo development planned on First Hill at 1321 Seneca, the site of the former SkyGarden development.
From a Lowe Enterprises press release: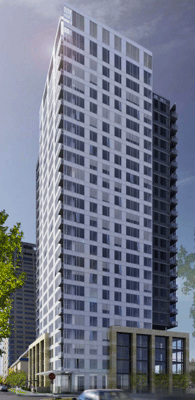 Lowe Enterprises Investors ("LEI"), a leading investment manager, and Alecta, Sweden's largest mutual pension company, have formed a joint venture to develop a high-rise residential building at 1321 Seneca in the First Hill area of Seattle, Wash. The venture plans a 24-story condominium tower with approximately 169 for-sale units at the fully entitled site. The property will be the first high-rise residential building developed in the First Hill neighborhood since 1982 and among the first in the downtown Seattle area since 2008.
Rendering courtesy of Weber Thompson.