January's Seattle condo market results reflected a great start for the new year. Median sale prices exhibited another month of year-over-year increases, though with a fewer number of condos sold.
The citywide median sales price rose 19.83% to $290,000 over last January, but slipped 1.7% from December. With the exception of the West Seattle area, which declined 8.1% YOY, condo values improved throughout Seattle.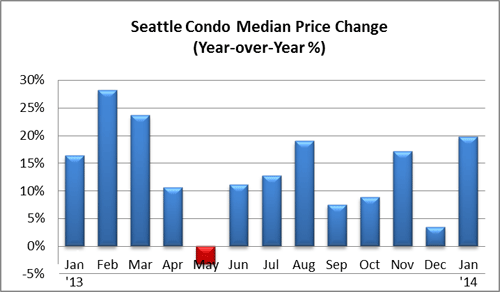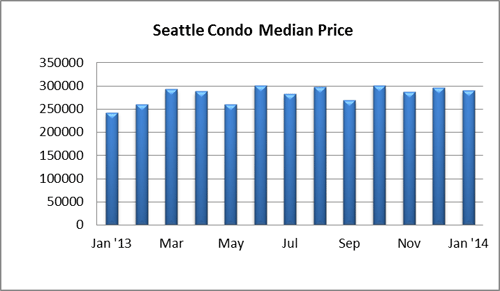 Seattle's condo inventory is finally starting to outpace the prior year's level, increasing 11.4% year-over-year to 382 units as well as a one-month bump of 8.8% over December. Cyclically, the number of available condo units for sale will continue to increase though Summer.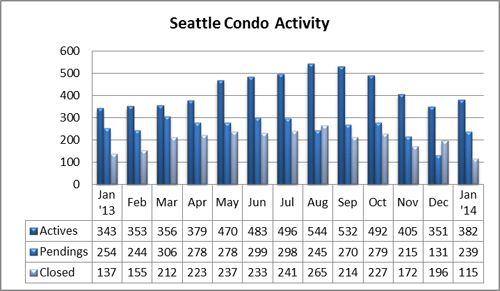 Although the number of condos for sale increased, the inventory supply rate reduced to a 1.6-month supply. By that, if no new listings are added to inventory, it would take 1.6 months to sell the currently available condos for sale. We use the months of inventory to determine the state of the market. Generally, 0-3 months of supply is considered a seller's market, 3-6 months a normal market, and 6+ months a buyer's market.
At 1.6 months of supply, Seattle remains in a tight seller's market and will remain so for the remainder of 2014. For reference, we've not been over a 3-month supply since January 2012.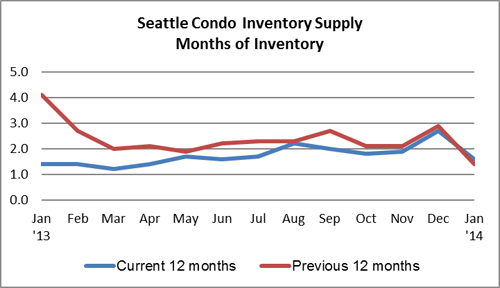 The number pending transactions, properties with accepted offers, reflected a one-month increase of 82.4% to 239 units over December, but dropped 5.9% from the same period last year. In addition, the number of closed condo units slid in January to 115, down 16.1% from last year and 41.3% from December.
Even so, we anticipate 2014 will be another solid year for Seattle condo sales given the lack of new inventory (earliest delivery will be Spring 2015) and a strong local economy. Rising prices and potentially higher interest rates could drive some buyers out of the market, however.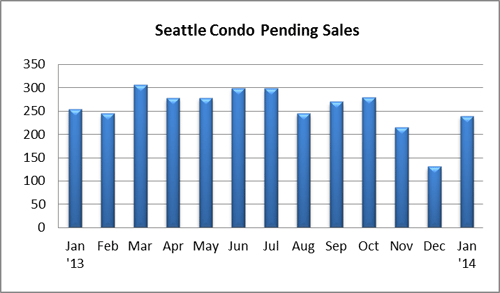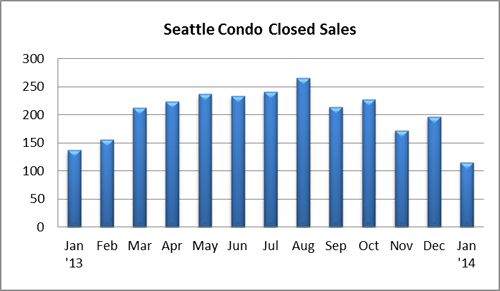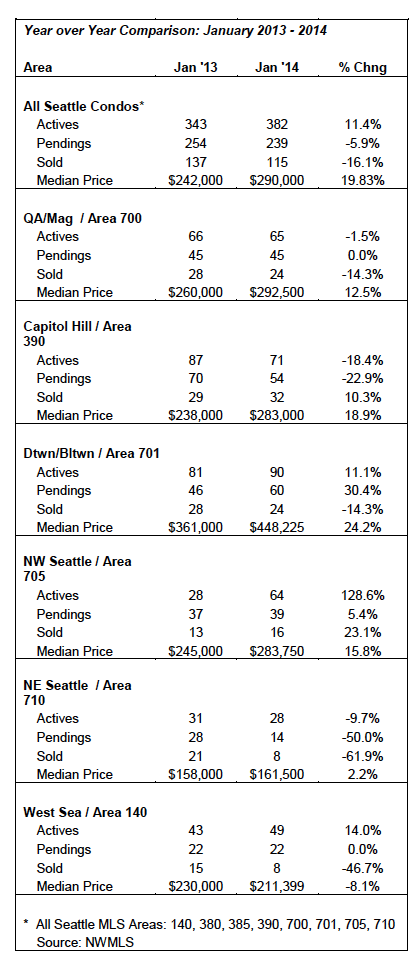 Source: NWMLS. Some figures were independently compiled by SeattleCondosAndLofts.com and were not published by the Northwest Multiple Listing Service.
________________________
© SeattleCondosAndLofts.com