The Seattle condo market fared well in October. Condo sales improved and prices remained steady as the market begins adjusting to the Autumn/Fall seasonal slowdown. The citywide median condo sales price of $299,200 was just 0.23% off from a year ago, though it reflected a one-month increase of 2.3%.
All areas of the city (MLS areas) saw median sale prices rise with the exception of Northwest Seattle (north of the ship canal, west of I-5), which dipped 11.5%. Downtown, Queen Anne / Magnolia and Northeast Seattle exhibited solid year-over-year improvement in sale prices (see chart at bottom).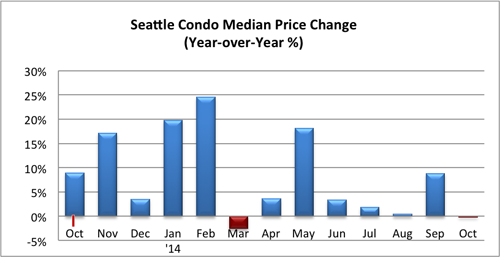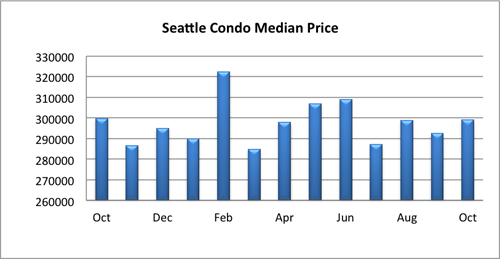 The number of available Seattle condos for sale (move-in ready), fell by 22.6% from a year ago and 12.4% from September to 381 units. The steep decline, combined with sales activity, reduced the condo inventory supply rate to 1.3 months. The months of supply rate is an indicator of market condition. A rate less than 3-months is a seller's market, a rate of 3-5 months is a normal market while a rate over 5-months is a buyer's market. Seattle's condo inventory supply rate has been below a 3-month rate since January of 2012.
This inventory rate only contemplates move-in ready condo units for sale and does not include pre-sale units that are available for purchase but will not be inhabitable until mid to late 2015.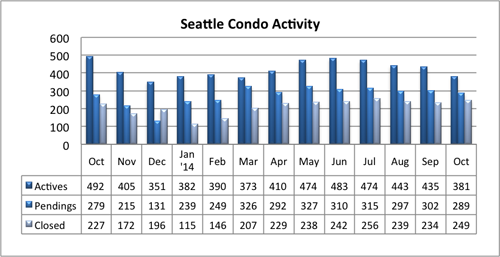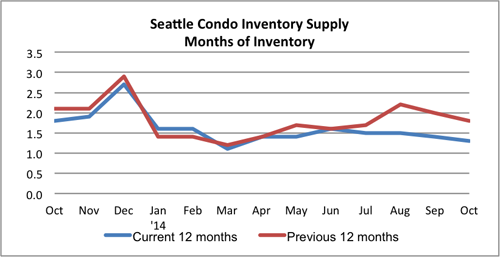 The number of pending condo sales (offers accepted) during October remained fairly steady at 289 units, reflecting a year-over-year improvement of 3.6% and a one-month reduction of 4.3%. Interesting observation, more condos sold this October then during the same period of the frenetic bubble years.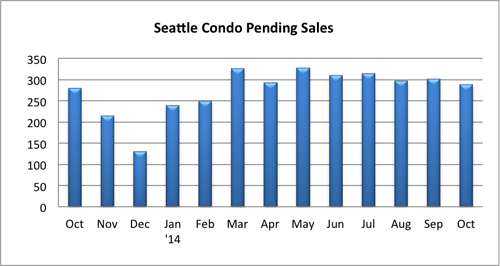 The number of closed Seattle condo sales rose last month to 249 units, increasing 9.7% over last October and 6.4% over September. With the dip in pendings last month, combined with the seasonal market slowdown, the number of condo sales will reduce as we close out the year. Though, I suspect we'll outperform last year's sales volume.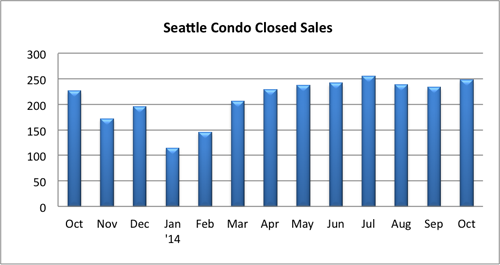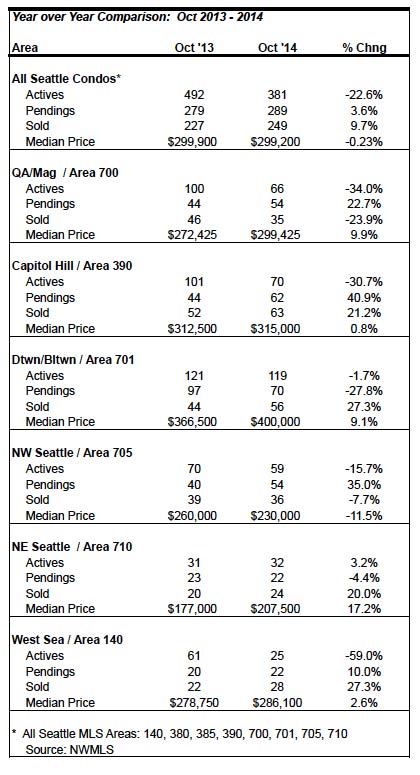 Source: NWMLS. Some figures were independently compiled by SeattleCondosAndLofts.com and were not published by the Northwest Multiple Listing Service.
________________________
© SeattleCondosAndLofts.com