It was a busy day for condo related news:
2201 Westlake (office building / Enso Condominium) receives LEED Gold Certification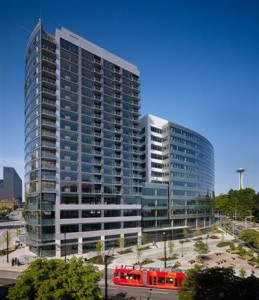 Adapted from press release.
Characterized by its innovative environmental and sustainable features, the 2201 Westlake development in South Lake Union now represents Seattle's first mixed-use and high-rise residential project to earn prestigious LEED (Leadership in Energy and Environmental Design) Gold certification from the U.S. Green Building Council.
Developed by Vulcan Real Estate, 2201 Westlake was designed and constructed from the ground up using sustainable development practices. As a LEED Gold-certified project, 2201 Westlake exemplifies sustainable innovations that promote energy and water efficiency, indoor environmental quality, eco-friendly materials selection and alternative transit options as part of a healthier workplace and living environment.
The project's sustainable features include proximity to public transit, bicycle storage, underfloor heating and cooling systems, use of recycled and rapidly renewable materials, low VOC paint and carpeting, drought tolerant landscaping, the recycling and salvaging of construction waste, plumbing systems that reduce portable water by 35% and an exterior glass curtain wall with low solar heat gain properties.
The Great Hole of Seattle (1 Hotel & Residences) to be filled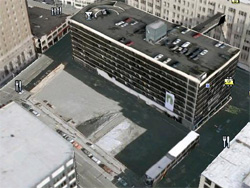 Full article from the Seattle Times: Starwood luxury hotel site becomes a parking lot
The pit, on Second Avenue between Pine and Stewart streets, was excavated in mid-2007 for the 1 Hotel & Residences, a proposed 23-story luxury tower. But work on the $200-million hotel and condo project stopped that fall, and the developer later acknowledged it couldn't get construction financing.
A spokesman for the site's owner, Connecticut-based Starwood Capital Group, said Monday that the hole should take eight to 10 weeks to fill. A Starwood affiliate applied last week for a city permit to develop a temporary parking lot on the property.
Eleven Eleven East Pike bulk sales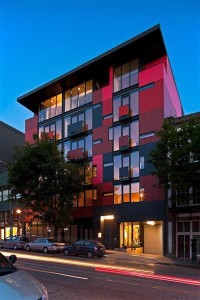 Full article from the Daily Journal of Commerce (subscription required): Kundig-designed lofts: Justen tries bulk sales
The Justen Co. is trying the bulk sales strategy to sell a third of the units at a new condominium project on Capitol Hill, Eleven Eleven East Pike. The project has 27 lofts designed by Seattle-based architect Tom Kundig of Olson Sundberg Kundig Allen Architects, ranging in size from 600 to 1,150 square feet.
Nine units are in the first release. They are between 612 and 793 square feet and are priced between $255,000 and $379,000 in the bulk program. That's 20 to 25 percent lower than the initial list pricing, according to Dean Jones, president and CEO of Realogics, which is marketing the project.
Under the bulk sales approach, buyers get a volume discount depending on the percentage of homes that are sold within each release. Buyers can join the bulk sale with a refundable deposit of $500 through the end of the month. Units must close by Nov. 30.