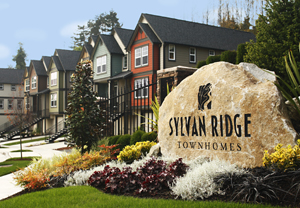 The next phase of construction at Sylvan Ridge Townhomes in West Seattle is under construction, with expected completion by mid-November. That would allow buyers to qualify for the $8,000 First-Time Buyers Tax Credit – but they have to act quickly.
"What people might not realize is that the first-time tax credit expiration date means that the deal must close by November 30th, 2009," explains Michael Miller, CEO of local real estate marketing firm, MCM Group. "It's taking 30 to 45 days for deals to close, so really the deadline for purchasers to qualify for this credit is right upon us. Buyers who want to take advantage of this should make their decisions and have their offers signed around by early next week at the very latest."
Sylvan Ridge has just two available new townhomes that are complete and ready to move in today. Two buildings are currently under construction with seven new townhomes, two of which have already been purchased. Building 27 is due for completion in late October, and building 28 in early November. Buyers of the homes in building 28 who make a decision by next week will still have time to customize the features with optional upgrades such as slab granite countertops.
"We partnered with a local interior finishes firm, Super Floors," says Tamea Duckworth, Sylvan Ridge Community Sales Manager. "They can provide the buyers with upgrade options and interior design consultation to upgrade or change several of our finishes at Sylvan Ridge. But once they start installing the interior finishes in building 28 next week, buyers will miss the chance to roll the upgrade costs into their purchase and their mortgage."
All townhomes at Sylvan Ridge feature two bedrooms, two bathrooms, den, powder room and attached garage. These zero-lot line townhomes are approved for VA and FHA financing, so qualified buyers can put as little as 3.5% down. Homes are priced from $289,950.
Located in West Seattle, these homes are just east of the new High Point neighborhood, offering buyers an easy commute to downtown Seattle and a myriad of choices for shopping, dining, entertainments and outdoor recreation. Sylvan Ridge is now in its third phase of construction, with over 70 homes sold and closed. When the community is complete there will be 178 townhomes.
Sylvan Ridge is located at 2733 SW Sylvan Heights Drive in West Seattle.
Website: www.sylvan-ridge.com