Press release.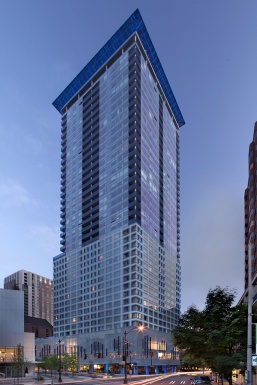 At a time when many regional projects are at a standstill and unable to secure financing, this loan renewal helps Olive 8 earn its distinction as an urban and sustainable condominium project that has been able to move forward as planned while continuing to be a desirable option for buyers.
Olive 8 is Seattle's first Leadership in Energy and Environmental Design (LEED) Certified (Silver) hotel/condominium building. Hyatt at Olive 8 occupies the first 17 floors with another 22 floors of luxury condominiums above. Of the 229 condominium homes, 51 have closed. A wealth of new research indicates green building is forward-thinking, offers many long-term financial benefits and is an investment that pays off in terms of lower energy and water bills, as well as healthier indoor air.
R.C. Hedreen President David Thyer says, "As the developer, it's not unexpected for us to think Olive 8 is unique and will hold its value in the long-term. But the extension of this loan syndication led by our long-time partner, U.S. Bank, reinforces our belief that this hotel/condominium combination in the heart of Seattle is a project with a strong future. We see it as a very positive sign in what has been a slow and challenging market." Olive 8 was designed by the internationally acclaimed New York City firm Gluckman Mayner Architects in partnership with local architect, MulvannyG2.
Minneapolis-based U.S. Bank's history of doing business with R.C. Hedreen dates back 15 years, with a variety of projects being financed over the years.
"We are proud to be involved with the construction of Olive 8, which shares our commitment to quality and environmentally-sound business practices that help sustain our resources and the environment," says John Swanson, senior vice president in commercial real estate at U.S. Bank. "Also, this a shining example of the fact that U.S. Bank is a strong leader within the banking industry, and that we continue to make loans and provide financing to projects like Olive 8, even in this difficult economy."
Due to its sustainable design and construction, which includes one of the largest green roofs in Seattle, Olive 8 is expected to use 23-percent less energy and 36-percent less water than a comparable non-green building. It is the first building in Seattle to participate in King County's Transfer of Development Rights program; in exchange for higher building rights, R.C. Hedreen paid nearly one million dollars toward the preservation of 284 acres on Sugarloaf Mountain in rural King County, as well as vital salmon habitat. The carbon footprint of the Olive 8 building will soon be reduced by 21-percent when Seattle Steam Company, which provides heating for the hotel, will begin using mostly biomass as fuel instead of natural gas. Olive 8 also features preferred parking spaces for highly fuel-efficient vehicles and outlets for electric cars in the underground parking lot.