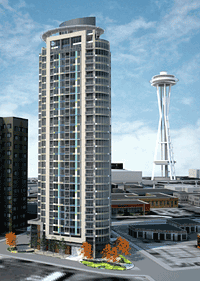 Laconia Development, the Bay area development firm who's planning to build two condominium buildings in Seattle, is rethinking those plans. Instead, Laconia may proceed with the projects as apartments. The two projects are Icon Tower, at 6th and Wall Street near the Seattle Center, and Seneca Towers at 8th and Seneca on First Hill.
According to the Daily Journal of Commerce, both projects were originally slated to begin back in 2007 but the slow market and lack of construction financing have impacted the projects.
Laconia expects to make a decision in the coming months and could begin construction on Seneca Towers by the end of the year.