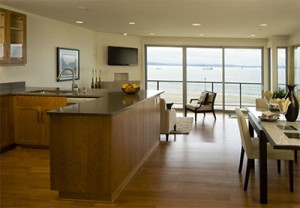 The 1350 Alki Condominium (website) project is one of the newer developments along Alki Avenue SW. This boutique condo features only ten homes with two units per floor.
These luxury homes feature:
2 or 3 bedroom layouts
Elevator that opens directly into the unit
Slab granite countertops and stainless steel appliances
Floor to ceiling windows providing views of the Sound
Wrap around decks
Hardwood floors with in-floor radiant heating
1325 or 1425 sq ft
Nine of the ten homes are still available, which range in price from $699,900 to $949,500. These prices reflect a recent price reduction between $40,000 to $60,000, depending on unit. On the other hand, these units have been on the market for nearly a year now.
One of the greatest benefit this development offers is its location along Alki Avenue. Just step outside the front door and you're right on the walk/jog/bike/rollerblading pathway along the waterfront, Alki Beach and numerous shops, cafes and restaurants.