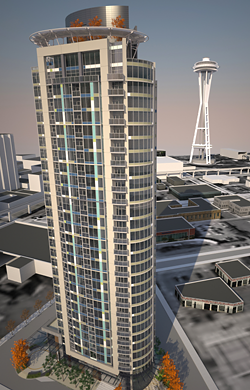 Laconia Development (fomerly Levin Menzies) received city-approval for the master-use permit of its 29 32-story ICON Tower. Designed by Weber+Thompson and Vancouver, BC – based engineering firm Glotman Simpson, the slender tower sits on a triangular 10,665 square foot parcel at Denny Way, Wall Street & 6th Avenue. Construction is slated to begin in early 2008.
"Making the structural and parking systems work effectively and finding ways to add saleable area to the project to offset the extra costs were the most challenging aspects," said Blaine Weber, who leads his firm's Urban Projects/High-Rise Team, which is designing 12 high-rise towers in Seattle.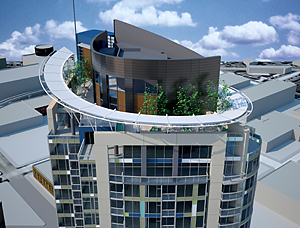 Dan Foltz, principal of Weber+Thompson explained that the project could not, for instance, rely on a traditional shear-core structural solution. In lieu of a shear core, an outrigger structural system provides lateral resistance while avoiding a perimeter moment frame. In addition, some mechanical parking helps offset the inefficiencies of the site.
ICON will have punched decks between the various juxtaposed forms, and pre-cast concrete architectural frame features will break the mass of each facade into more slender vertical and smaller-scaled elements, Foltz explained. The top of ICON will have a generous roof-top garden deck as well as a sculptural, iconic element that will allude to the Space Needle. This halo, which will be lit at night, is intended to be a beacon.
ICON will feature 224 283 "homespaces" ranging in size from 570 to 1,400 sq ft. The average "homespace" will be about 900 sq ft. No word yet on pricing or pre-sales, but we'll do a review once marketing begins and information about home designs are made available.
Renderings courtesy of Weber + Thompson