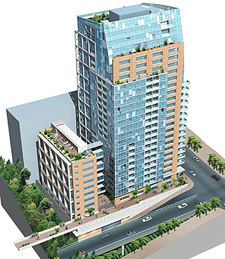 Levin Menzies, the developer behind Icon Tower, is planning another project on First Hill at 8th and Seneca. The $112 million two-tower project will feature 294 condominium homes aimed towards Gen-Xers, empty nesters and Asian immigrants accustomed to high-rise living and will incorporate a Feng Shui design. First time I've seen that demographic mentioned in condominium marketing, though, Levin Menzies has marketed to the Asian market with their San Francisco area developments.
The project will include a mixture of one-bedroom, two-bedroom and smaller studios ranging from 360 to 450 square feet in order to offer homes at a more attractive price range, no doubt taking a cue from Moda's success with smaller units. Prices are expected to begin in the upper $200,000s and range up to $1 million. It's still too early to know their exact pricing strategy, but say they start at $275,000 for a 360 square foot studio…that's $763/sq ft. Hefty. Moda's price per square foot was about $500, in Belltown even (granted the Moda is a low-rise frame building).
The design includes a 24-story tower and an 11-story tower. Interestingly, elevators will only be available in the 24-story tower with skybridges joining the two buildings. From the rendering the skybridges will be on every other floor. Residents in the 11-story tower will need to retrieve their mail from the 24-story tower, apparently because the distance to the 11-story tower is more than mail carriers are allowed to travel from the street.
Amenities will include two roof-top gardens, a theatre, fitness center, artwork, courtyard and a bridge connecting the complex to Freeway Park.
Completion is anticipated for 2010, along with Icon Tower.
Update Jan 2008: Came across these renderings of the smaller tower and it looks like these might be loft units, which would explain why the walkways are on every other floor. Just a guess.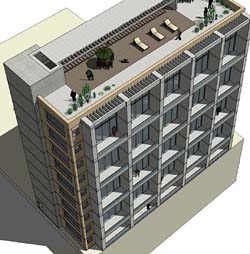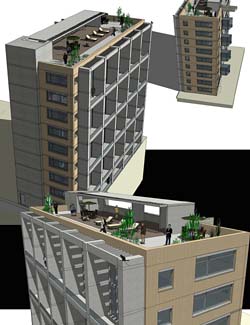 Image courtesy of MulvannyG2