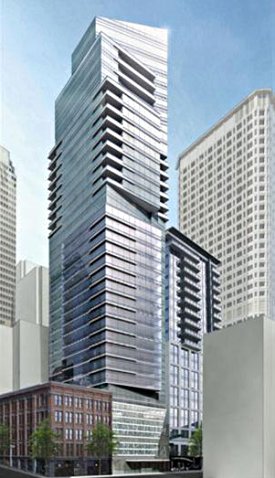 Who knew.
Listings for two 30th floor shells at the Ten Twelve First Avenue (1012 1st Avenue) project came on the market yesterday. According to the listings, 1012 1st Avenue is a 36-story tower featuring 219 hotel rooms and 25 luxury condominiums located on levels 23 through 35. The two 4,000 square feet shells are being offered for $1,750,000 a piece.
The 1012 1st Avenue development is located adjacent to Hotel 1000 / Madison Tower and the listings indicate the shells will be delivered in late 2011. Though, in searching the DPD website there's no information for this project (land use notices, bulletins or applications) so it seems rather ambitious to have the development approved, funded and ready for a 2011 shell delivery timeframe.
All that aside, should the tower come to fruition, the building will be an striking addition to the downtown landscape. Designed by famed New York architect Ismael Leyva, 1012 1st provides a departure from a number of lackluster designs being produced by the stable of local architects. Leyva also designed Heron and Pagoda Towers.
Though, I've been reminded that zoning codes will probably not allow the design in its current form from being realized due to the proximity to Hotel 1000 / Madison Tower. So, expect to see something else when, and if, the project is approved and developed.
Interestingly, Pb Elemental's website suggests the project is in permitting stage (they've since recategorized it as a "concept") and they even have their own vision for the parcel.
Update: Information from the Daily Journal of Commerce
Investors are unnamed but are from Seattle and the East Coast, financing is from Multi-Capital. Multi-Capital is also associated with the Heron / Pagoda project, but didn't have complete financing in place for that development.
Two-bedrooms are expected to be priced from $2,200 to $3,000 per square foot, even above the Four Seasons stratosphere.
Construction expected to start in 2010 with a late 2011 completion date. Though that information is coming from the developer and listing agent, it is unlikely that time frame will be met.
Update: Information from Seattle Times (9/14)
Listing agent Breffni McGeough is a principal in a four-person partnership seeking to acquire the property.
Very early stage, still looking for developer and hotel operator.
Which brings up a point, how in the world is the current listing even acceptable? They're accepting a reservation deposit for a development on a property they don't own, for a project that hasn't been filed with the DPD, which would need a zoning variance based on the current rendering, on a site which could be classified a historic landmark, yet anticipating a 2011 completion date.