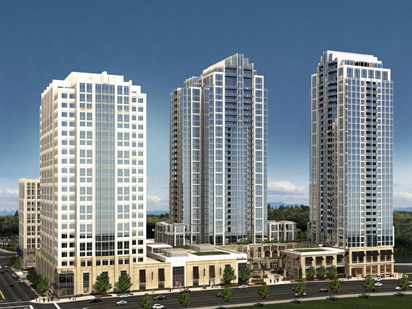 UPDATE: The Bravern residences have converted to apartments.
Developed by Schnitzer West, the Bravern Signature Residences (website) is one of several upscale high-rise condominium projects under construction that are transforming Bellevue's skyscape.
Located in the heart of downtown Bellevue (map) , adjacent to the Meydenbauer Center, the Bravern Signature Residences will encompass two 29-story towers featuring more than 450 residential condominium homes. The homes are divided into distinct formats, similar to 1 Hotel & Residences & AVA, which include City Homes, Condominium Estates and Penthouses.
The City Homes feature open one- and two bedroom units that range in size from 625 to more than 1,200 square feet. Prices start from the $400,000s to more than $1.5 million.
The Condominium Estates feature one, two- and three-bedroom homes that range in size from 1,000 to more than 2,000 square feet. The Condominium Estates are expects to be priced from $900,000s to more than $4 million.
The Penthouses offer spacious city living with homes ranging in size from 3,000 to over 5,000 square feet.
The Bravern has received over 200 priority reservations (homes may be reserved with a $10,000 refundable deposit). Until the sales center and model homes are completed later this year, reservations holders will be able to preview floor plans, finishes, views and introductory pricing at a private Preview Gallery. Currently, the Bravern is taking reservations in the north tower known as One Bravern Court. Homes will be released for sale this coming winter.
The residential towers are expected to be completed around winter of 2009/2010 and will be part of a larger project consisting of two office towers and signature retail stores and restaurants, including Neiman Marcus. Microsoft is expected to occupy the office towers.