Following Olive 8's lead Bellevue Towers is now offering a price protection guarantee to new buyers. This program guarantees that the price of a home purchased now will be appropriately adjusted at closing if similar homes are subsequently sold for less than the current list price.
In addition, Bellevue Towers is offering a limited-time rate lock promotion. For homes purchased in March and April they'll lock interest rates for free. Alternatively, buyers can apply the rate lock cost (approximately 1% of the purchase price) to buy down rates or apply it to closing costs.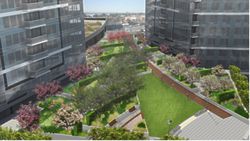 Bellevue Towers report they just poured the 38th floor and expect to top off the project in another two months.
Illustration of Bellevue Towers' roof top Urban Garden designed by Walker-Macy.