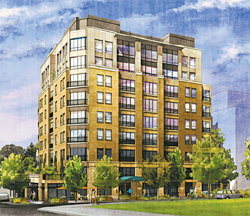 The Essex On the Park is the latest entrant into downtown Bellevue's luxury condo landscape. At a time when other Bellevue projects are being impacted by the market downturn (i.e. European Tower, Washington Square), Essex is moving forward.
The project has three things in its favor – (1) the smaller scale of the project, (2) it's backed by The Royal Group, the Abu Dhabi-based parent company of Essex's developer, Hydra Developments of Seattle, and (3) access to funding through The National Bank of Abu Dhabi.
Essex will be comprised of only 32 luxury condominium homes located adjacent to Bellevue's Downtown Park. The homes are spacious, ranging in size between 1,200 and 2,900 square feet and are being offered from $1 million to $4+ million.
A presentation center should be completed and opened to the public by year's end and will feature finish options as well as kitchen and bath vignettes. However, pre-construction reservations are currently being accepted by private appointment for interested buyers. Approximately, a quarter of the units have been reserved.
The developer anticipates razing the existing structure in September with completion and occupancy slated for the fall of 2010.
Essex is the first project for Hydra, which plans to develop up to 8 properties in the region before expanding to other parts of the country. Lease Crutcher Lewis is the contractor and Shugart Bates the architect.
Source: PSBJ, Seattle PI, Essex On The Park