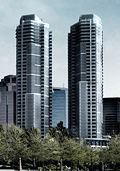 Update (9/07): Sales for South Tower homes have begun for early registrants. The public release is scheduled for September 21st.

Bellevue Towers is another condominium project that is re-shaping the heart of downtown Bellevue. But, unlike the other projects, Bellevue Towers may well become one of Bellevue's iconic buildings. At 42 & 43-stories, the sleek glass-enclosed towers will be among the tallest residential buildings in the greater Seattle area, not just Bellevue.
Situated at the corner of NE 4th Street and 106th Ave NE (map), the complex is located just two-blocks to Bellevue Square and the downtown park, and within short walking distance to the many office buildings.
One thing Bellevue Towers seem to do well is blend nature with modern, urban living. The complex incorporates a large eco-landscaped urban garden area that includes a lawn, a walking path, outdoor fireplace, a BBQ area, a patio area with tables and a dog run. Bellevue Towers is aiming for LEED-Gold certification which is the only condominium project I'm aware of doing so.
On the inside, the 5th floor amenities area includes a large great-room, dining room with kitchen, screening rooms, spa facilities and a fitness center with locker rooms. Though, it doesn't appear the fitness area is very large or as well equipped compared to other upscale properties.
When complete, the towers will encompass 535 studio, one-bedroom, one+den, two-bedroom, two+den and penthouse homes. Homes in the 42-story north tower are currently available for reservations and are about 75% filled. South tower homes are expected to be released this Fall. Homes are priced from the $500,000's for studios to over $2 million, averaging well over $600/sq ft. Homes priced over $1.2 million come with two parking spaces and homeowner dues are expected to be $.50/sq ft. Occupancy is anticipated for 2009.
The Bellevue Towers sales center is located in the low-rise office building directly south of the project; the presentation area and model unit are currently under construction. The project is being developed by Gerding Edlen and designed by MulvannyG2 and GBD Architects.