A couple of new condo developments are coming to Green Lake. With significant revitalization projects underway on the Northeast end of the lake, it's good to see new developments on the West side. Information is sparse, and subject to change, but this is what I've been able to gather so far.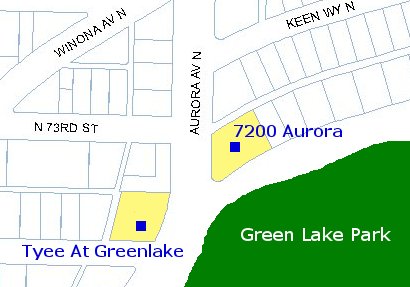 Tyee At Greenlake
Currently under construction at 7201 Aurora Avenue N, site of the old Twin Teepee's Restaurant, is Tyee At Greenlake. The 4-story project will include 24-units plus commercial space on the ground floor. Note: early information referred to Tyee as apartments but the developer's project summary report refers to Tyee as condos.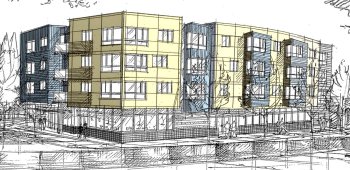 7200 Aurora Ave N
Proposed on the other side of Aurora from Tyee is a 4-story, 28-unit condo development at 7200 Aurora Avenue N. The project will incorporate retail on the ground level with a roof top deck for residents. The site is currently occupied by a Shell gas station so it'll be some time before this project comes to fruition.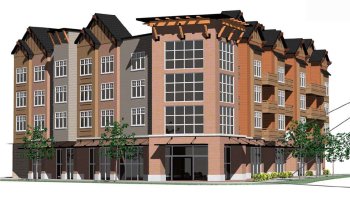 Both of these projects straddle Aurora Avenue with units facing Aurora. Other projects along Aurora tend to have a buffer (hallway) between the highway and the units to mitigate traffic noise, so these might be a tough sell. On the other hand, the location will draw people, especially for 7200 Aurora which is located directly across the street from Green Lake Park.
Nearby businesses include Beth's Cafe, The PCC, Uber Tavern, Duke's, BluWater Bistro, World Wraps, Aurora Suzuki and Stupid Prices. By the way, has anyone noticed the color scheme along this stretch of Aurora? It seems to have started with Stupid Prices' loud yellow paint color. Since then businesses along Aurora, from 73rd to 80th, have followed suit with facades awash with a bold color palette.