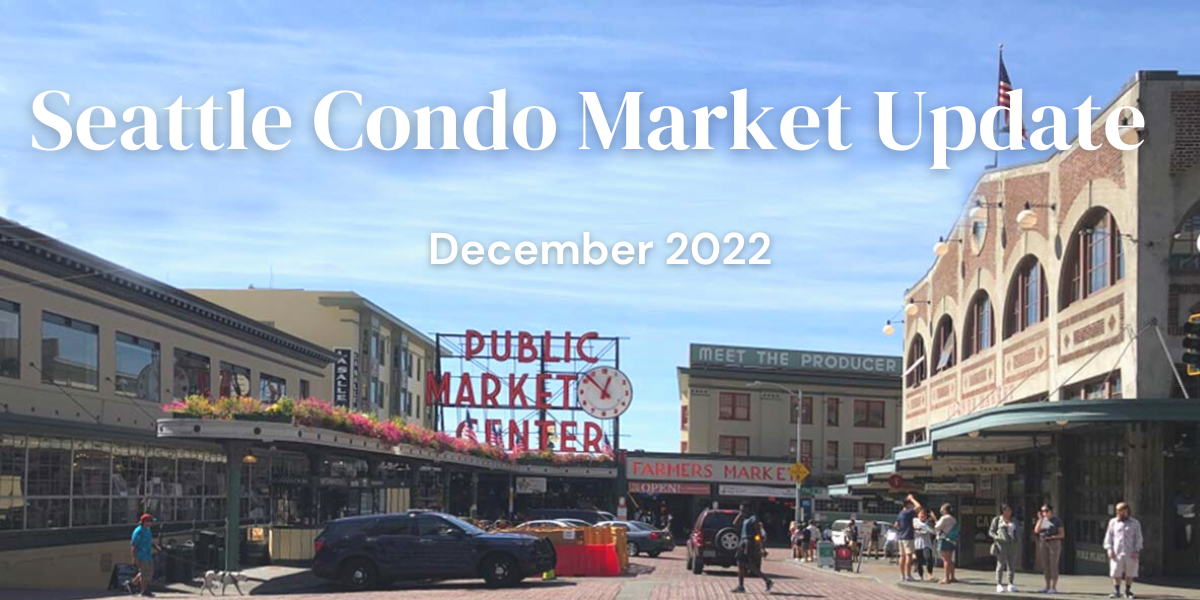 The year ended on positive note for Seattle's cooling condominium market. Unit sales activity and listings dropped as expected in December, but the median sales price bumped back up for the month.
Citywide, as a whole, the median sales price for Seattle condos increased 4.6% year-over-year (YOY) in December to $512,500. That also reflected a 6.7% one-month improvement over November. In 2022, the median was above $500,000 for most of the year.
By NWMLS areas, downtown (+7.7%), Queen Anne (+21.2%) and Northwest Seattle (+20.9%) realized higher YOY median selling prices. On the other end of the spectrum, Capitol Hill / Central (-3.7%), Northeast Seattle (-16.7%) and West Seattle (-19.3%) experienced decreases. See full results in this table at the end of the post.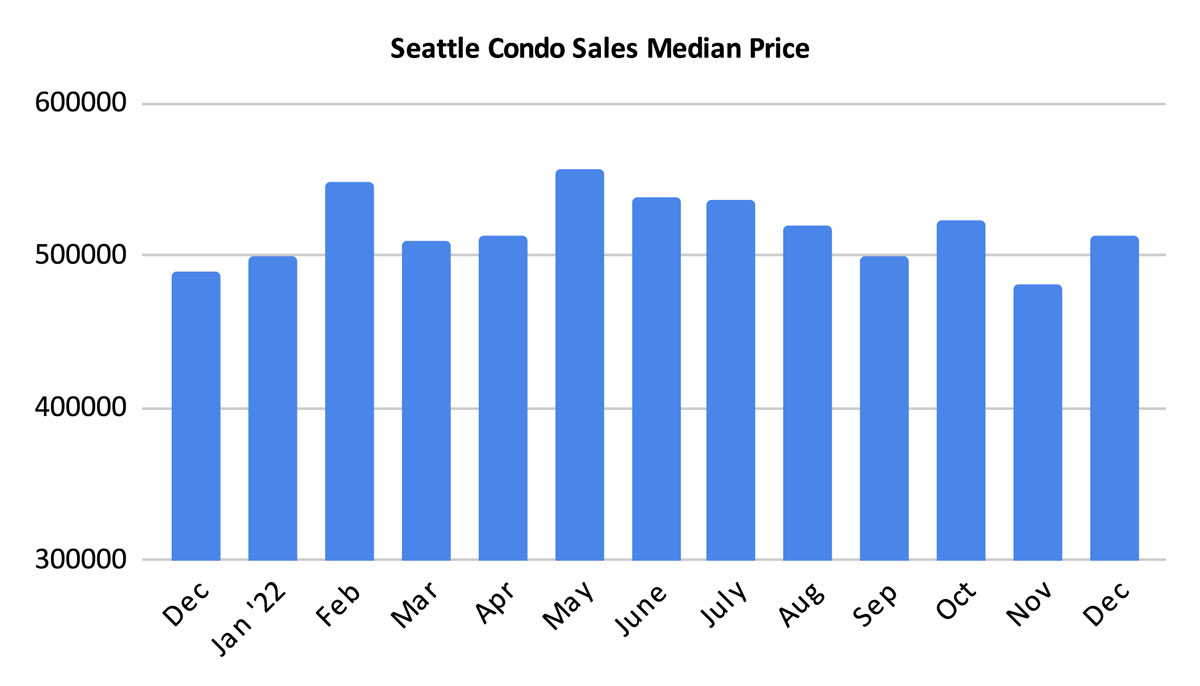 The number of active Seattle condo listings for sale reduced in December and ended the month with 359 units. This reflected 31.4% fewer listings than we had in November, but 45.9% more than last December.
However, we continued to see fewer new listings come to market compared to 2021. Sellers listed just 74 condo units in December compared to 137 for the same period last year.
Note, this is predominately resale listings rather than new construction listings. Developers only list a handful of the available new construction units for sale in the NWMLS, even though many more are available for purchase.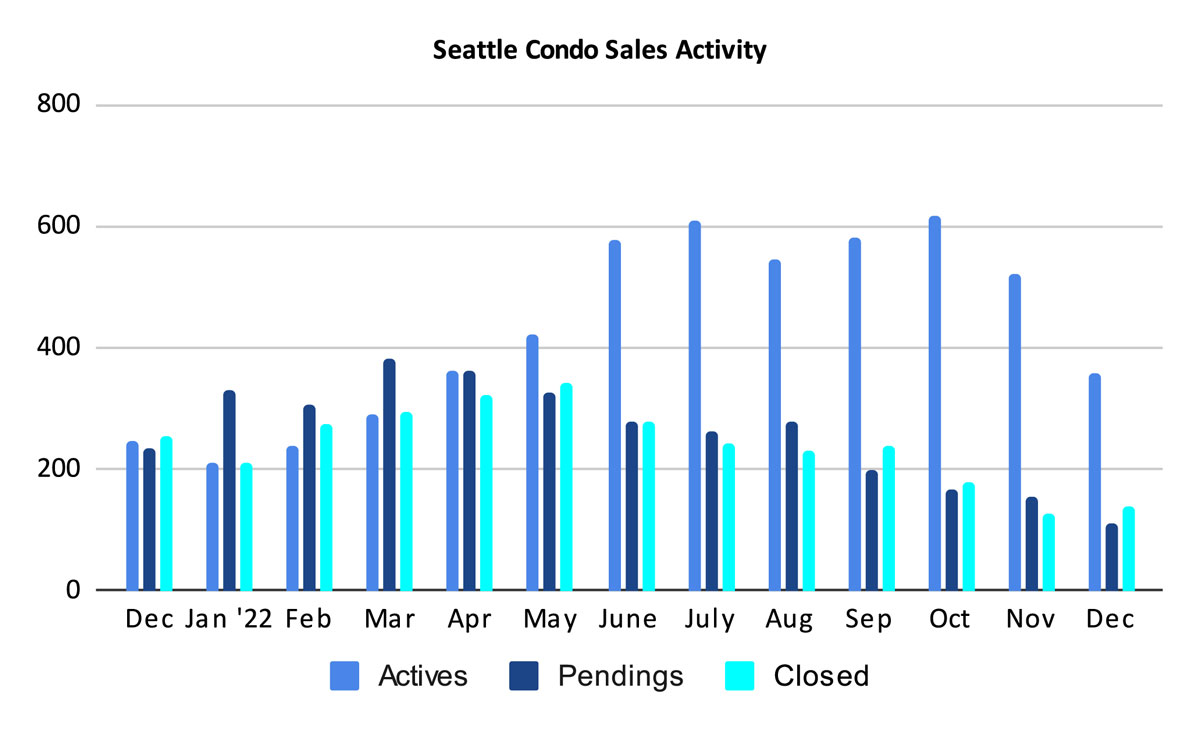 The dip in the number of active listings helped to reduce the inventory supply rate, which slid to 3.2-months of supply based on pending sales transactions. This keeps Seattle in a seller's market environment overall.
That said, however, Seattle is comprised of neighborhood micro-markets and the market conditions vary throughout the city. For instance, downtown, which has an excess of new construction and resale units available reflects a buyer's market environment.
On the other hand, West Seattle, North Seattle and the Queen Anne areas experienced tighter market conditions last month.
The inventory supply rate characterizes the current market conditions. A rate of less than 4 months of supply is a seller's market, between 4 to 7 months a balanced market, and over 7 months is a buyer's market.
We hear in the news, and anecdotally as well, the market softened during the latter half of 2021. But, that doesn't necessarily equate to a significant shift in the market, at least, not yet.
With the exception of one month, Seattle's condominium segment has been in a seller's market for over a decade. The last time we were in a true buyer's market…we have to go back to the tail end of 2010.
Nevertheless, the market is shifting and that bodes well for buyers as we navigate through this new year.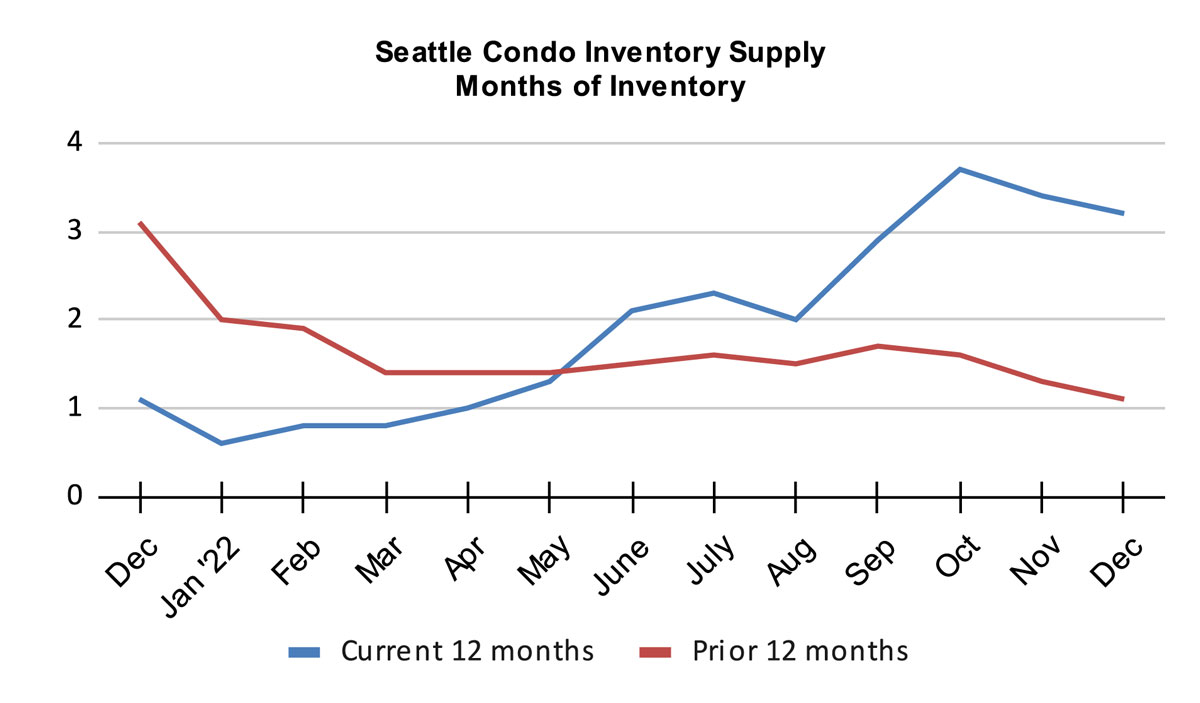 The number of pending sales transactions (condo listings under contract in escrow) dropped 52.6% YOY, and 28.8% from the prior month, to 111 units. This was the fewest number of pending sales since December 2018.
This is not surprising as the Seattle market is highly seasonal and December is the slowest month in the year for real estate sales. If our cyclical trends hold for the start of 2023, we will see pendings increase substantially over the winter and spring months.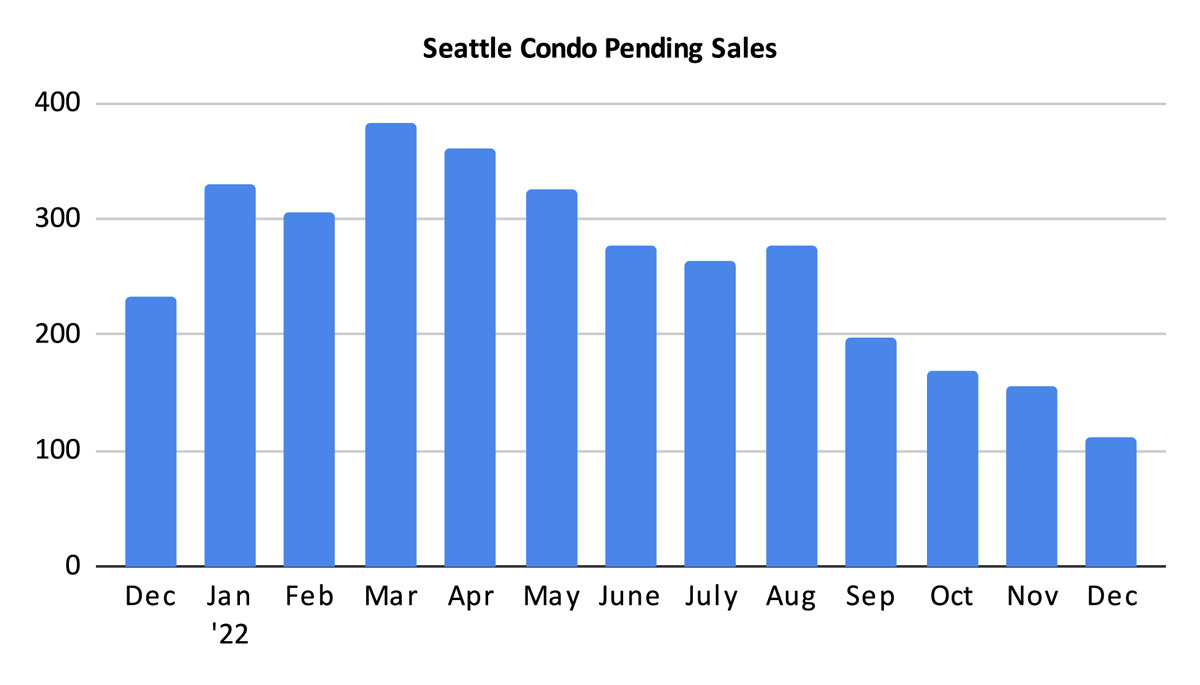 There were 140 closed Seattle condo sales in December reflecting a 44.7% YOY decrease and a 9.4% one-month improvement.
This number will likely drop in January given the lower number of pendings in December. Closings typically lag behind pendings by a month.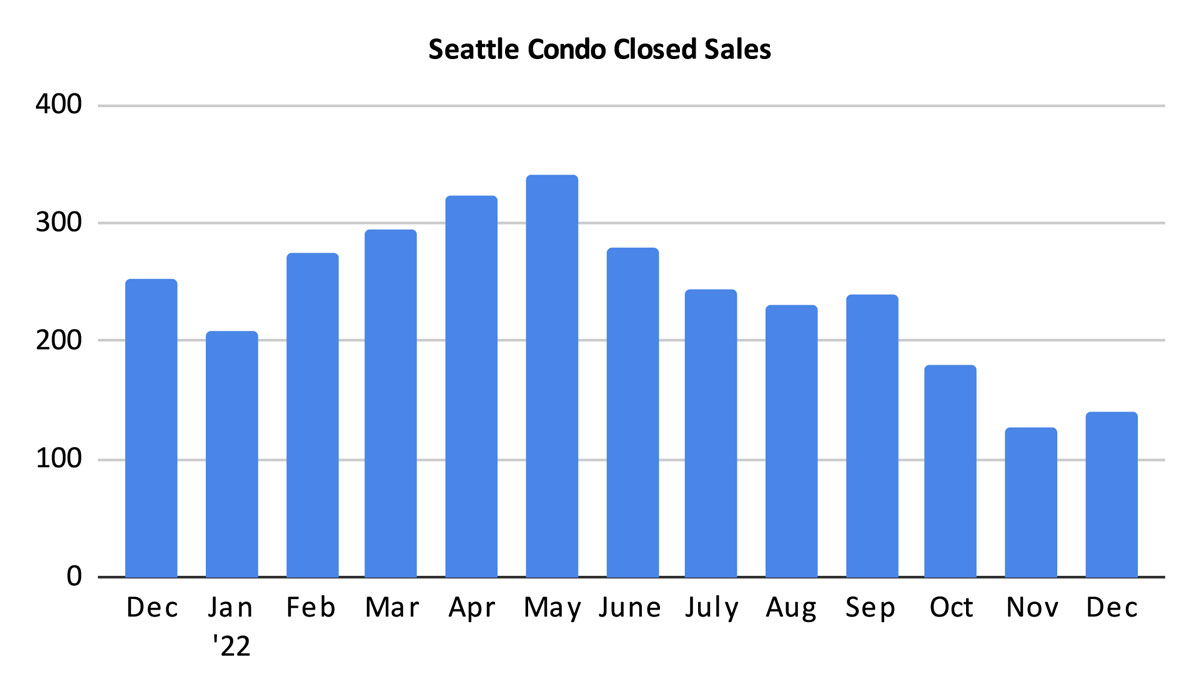 Historically, December reflects the low point in Seattle's real estate market. We typically have the fewest number of listings and sales. Fortunately, we ended the year on a positive note with higher median selling prices for the month.
As we venture in to 2023, the housing / condominium market will continue to shift. External factors such as the financial markets, interest rates and workforce corrections will further impact the real estate market.
For qualified buyers, the shifting market is beneficial, as buyers will have more options and potentially less competition. This may provide some leverage with sellers. Sellers, on the other hand, may encounter more competition and a softening market.
Though, buyers and sellers will encounter varying experiences as different Seattle neighborhoods can reflect vastly different micro-market environments.
Seattle Condo Market Statistics December 2022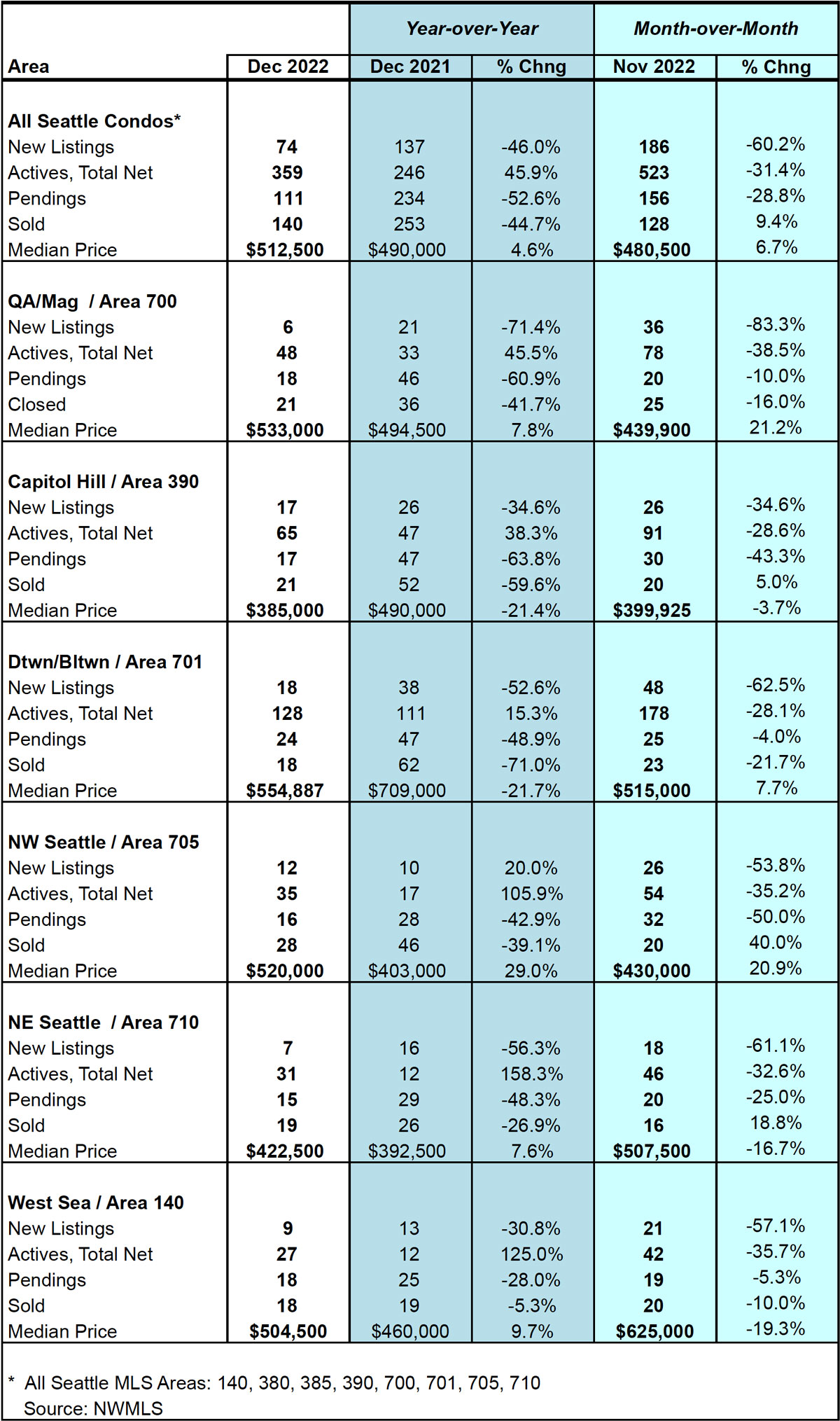 Source: Northwest Multiple Listing Service. Some figures were independently compiled by Seattle Condos And Lofts and were not published by the NWMLS.
© SeattleCondosAndLofts.com