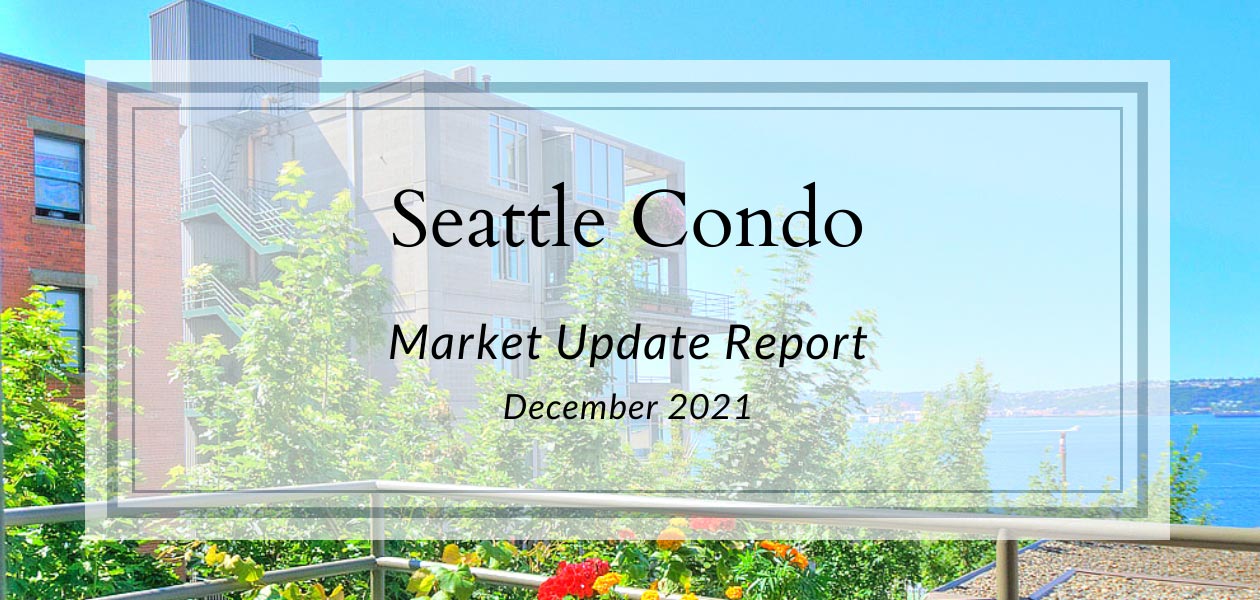 Seattle's condominium market ended 2021 on a high note. Selling prices and sales volume activity improved to close out the year.
Overall, the Seattle citywide condo median sales price for December was $490,000 reflecting a 5% year-over-year (YOY) increase compared to last December. That was 2.2% less than November, though December is historically the low point for the year.
By area, YOY prices rose throughout the city with Queen Anne/Magnolia and northeast Seattle exhibiting double digit increases of 22.9% and 14.6%, respectively.
There was one exception, however, northwest Seattle (e.g. Ballard), reflected a 7.4% dip in median sale prices for the month. See table at bottom of post for complete MLS neighborhood results.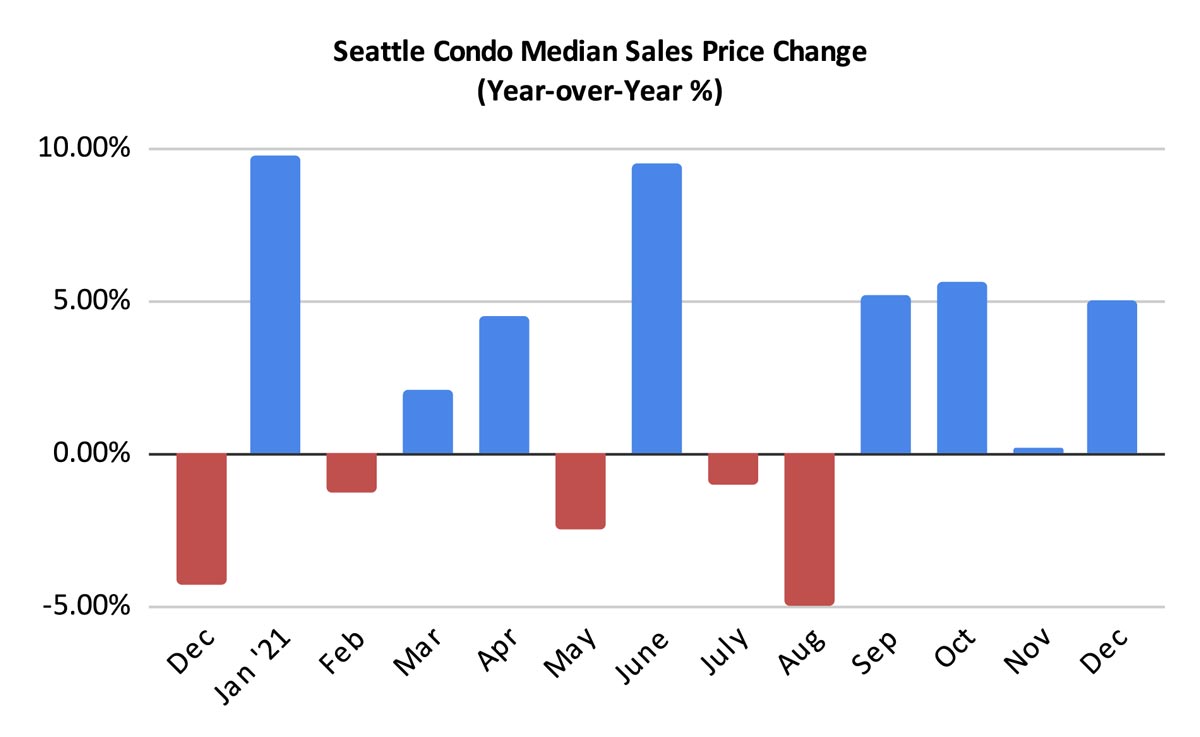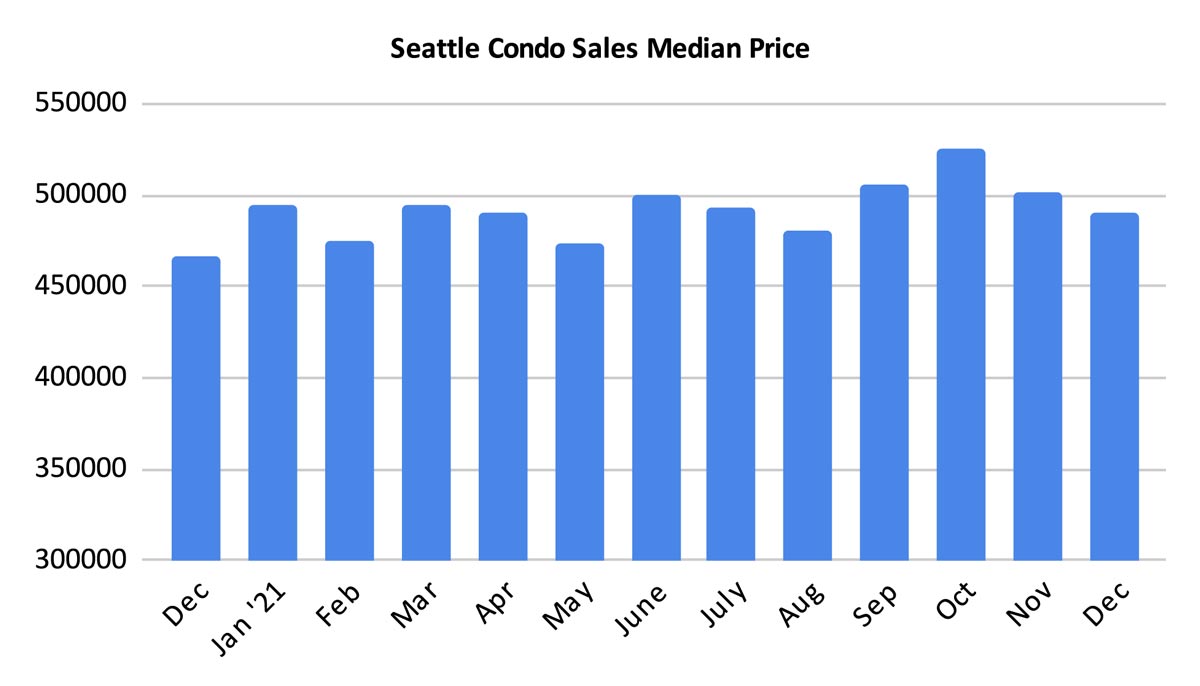 Seattle Condo Inventory Constricts
The number of NWMLS listed Seattle condos for sale continued to constrict with 246 active units available in December. That was was 57.8% fewer condos compared to December 2020 and 35.8% less than November. December typically has the fewest number of active listings due to the holiday season, shorter daylight and inclement weather.
The listing data we utilize comes from the NWMLS database of active condo listings. However, most new construction condo units are not listed in the NWMLS database. As a result, Seattle's actual condo inventory is quite a bit higher.
Contemplating available units at the recently completed Spire, Emerald and Koda, we exceed the number of units that were available last December. Though, this excess is confined to downtown Seattle. With little to no new condo developments in North Seattle, Queen Anne, Capitol Hill and West Seattle, inventory remains depleted.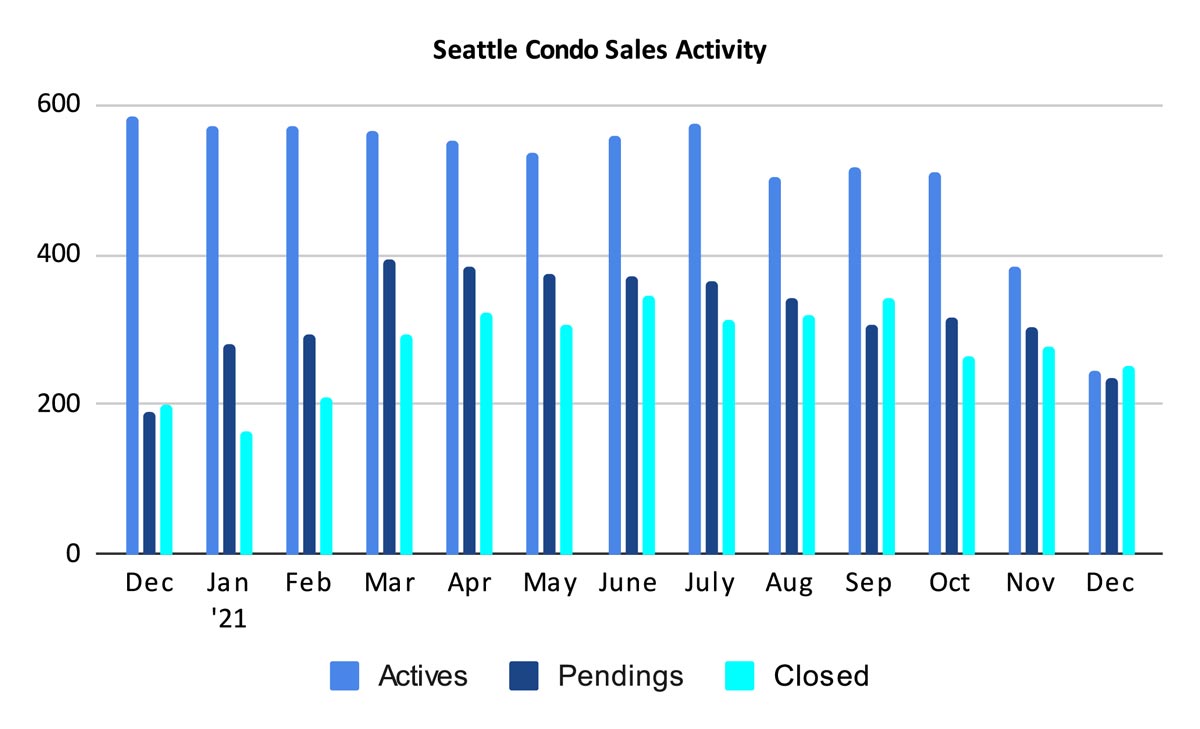 Seattle's Seller's Market Continues
And, that drop in inventory was highlighted through Seattle's condo inventory supply rate, which dipped to 1.1-months of supply in December. The last time the supply rate was this low was just before the outbreak of the Covid-19 pandemic in Seattle in 2020.
Fortunately, January markets a cyclical turning point in the market place with inventory starting to increase as we head into the peaking late winter / spring housing season.
The inventory supply rate characterizes the housing market based on sales volume to active number of listings, that is, how many months of inventory do we have based on the current level of condo sales. It's calculated by the number of listings divided by sales.
A supply rate of less than 4-months of inventory is considered a seller's market, a rate between 4 to 6-months is a normal/balanced market, and over 6-months would be a buyer's market.
The absorption rate is calculated the reverse of the inventory supply rate; the number of sales divided by listings. The absorption rate for Seattle's condo market in December was 95% based on pending sales transactions.
Aside from the blimp noted in November of last year, Seattle has remained steadfastly in a seller's market for the past 10 years. The limited number of new condo developments over the past decade being the primary factor.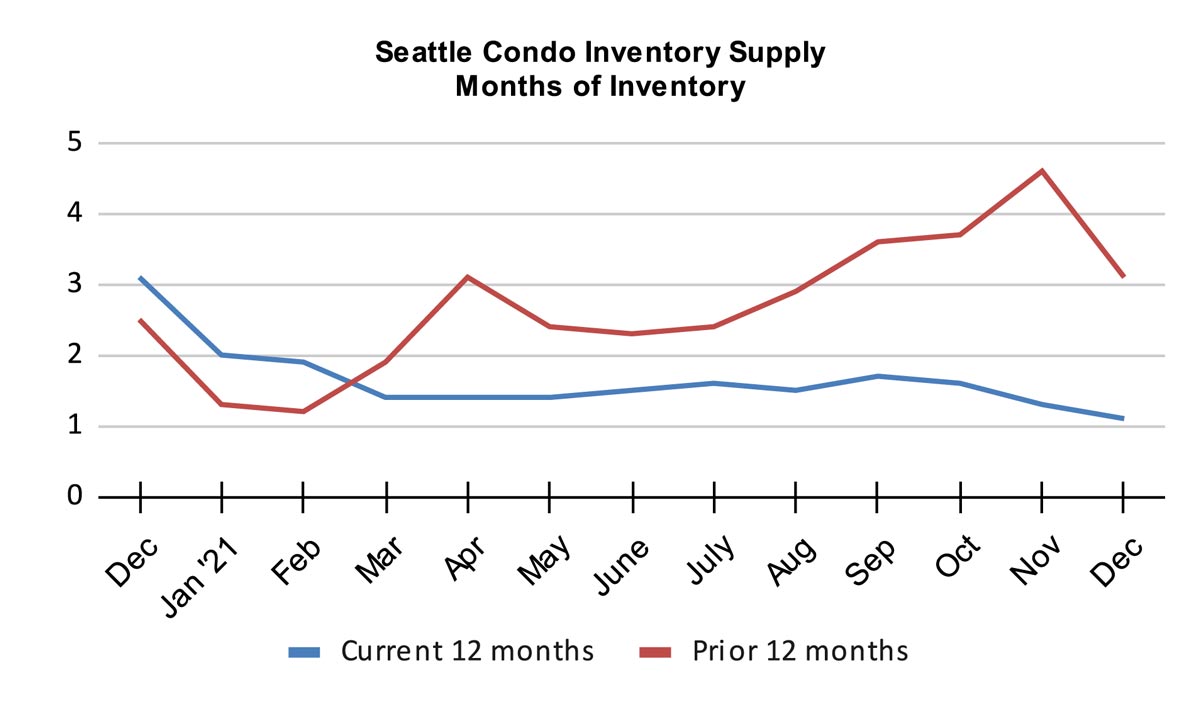 December Condo Sales Improves YOY
There were 234 pending condo sales in December, an increase of 23.8% relative to the same period last year. Pendings reduced 22.5% compared to November, but December is the slowest month of the year for condo sales.
We will see pending sales transactions trends upwards quickly with the start of the new year, provided we have adequate resale inventory to match buyer demand, particularly outside downtown.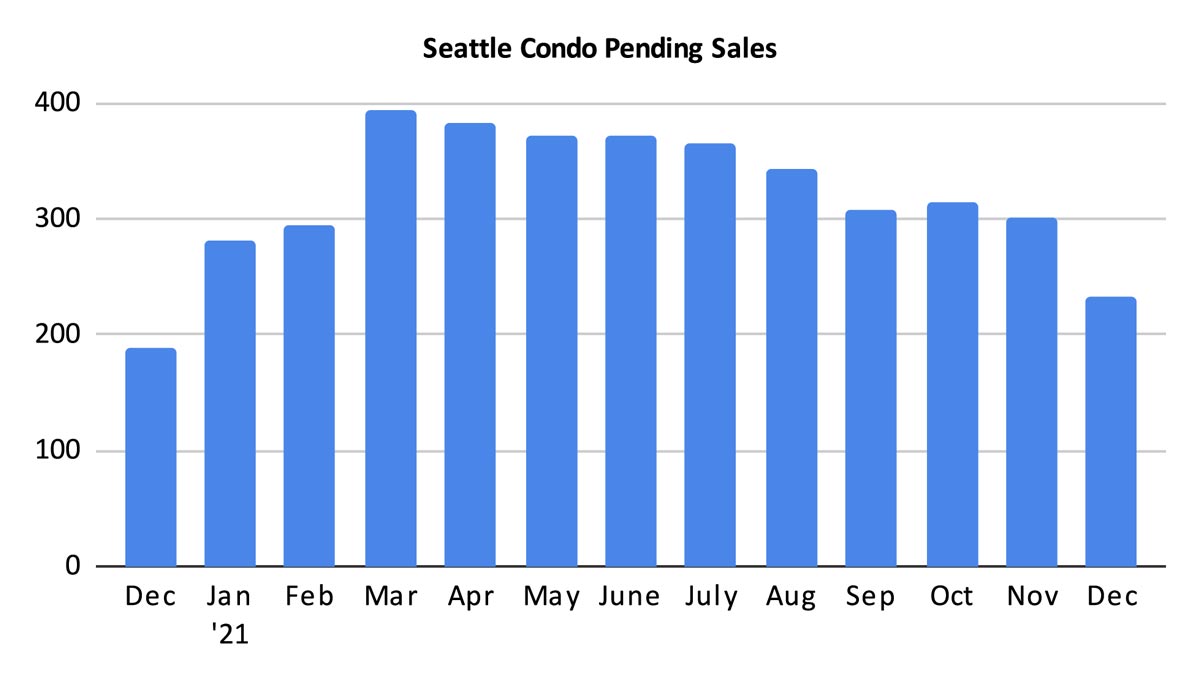 The number of closed condo transactions increased in December thanks to strong November sales activity (closings lag behind pendings by a month). There were 253 closings in December marking a YOY gain of 26.5%, though 9% fewer than in November.
Closings will start increasing in January and will continue throughout the first half of the year.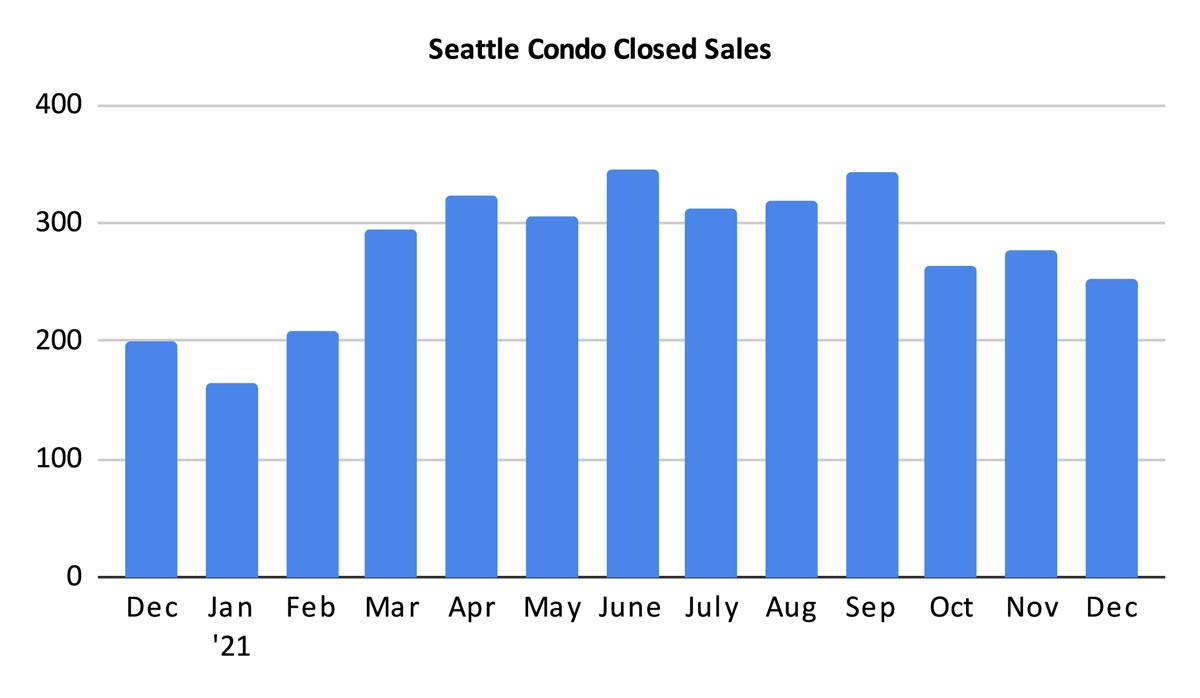 The Seattle condo market ended 2021 with a bang with higher selling prices and a greater number of sales compared the same period in 2020.
Going Forward
The results from December signal a great start to 2022. Historically, the start of a new year brings more listings, stronger sales velocity and rising selling prices.
For sellers contemplating selling your Seattle condo, the market is in your favor with low inventory / competition, heightened demand and improving values.
For buyers, our condo specialists will help you navigate a tightening condo market and stiff competition from other buyers.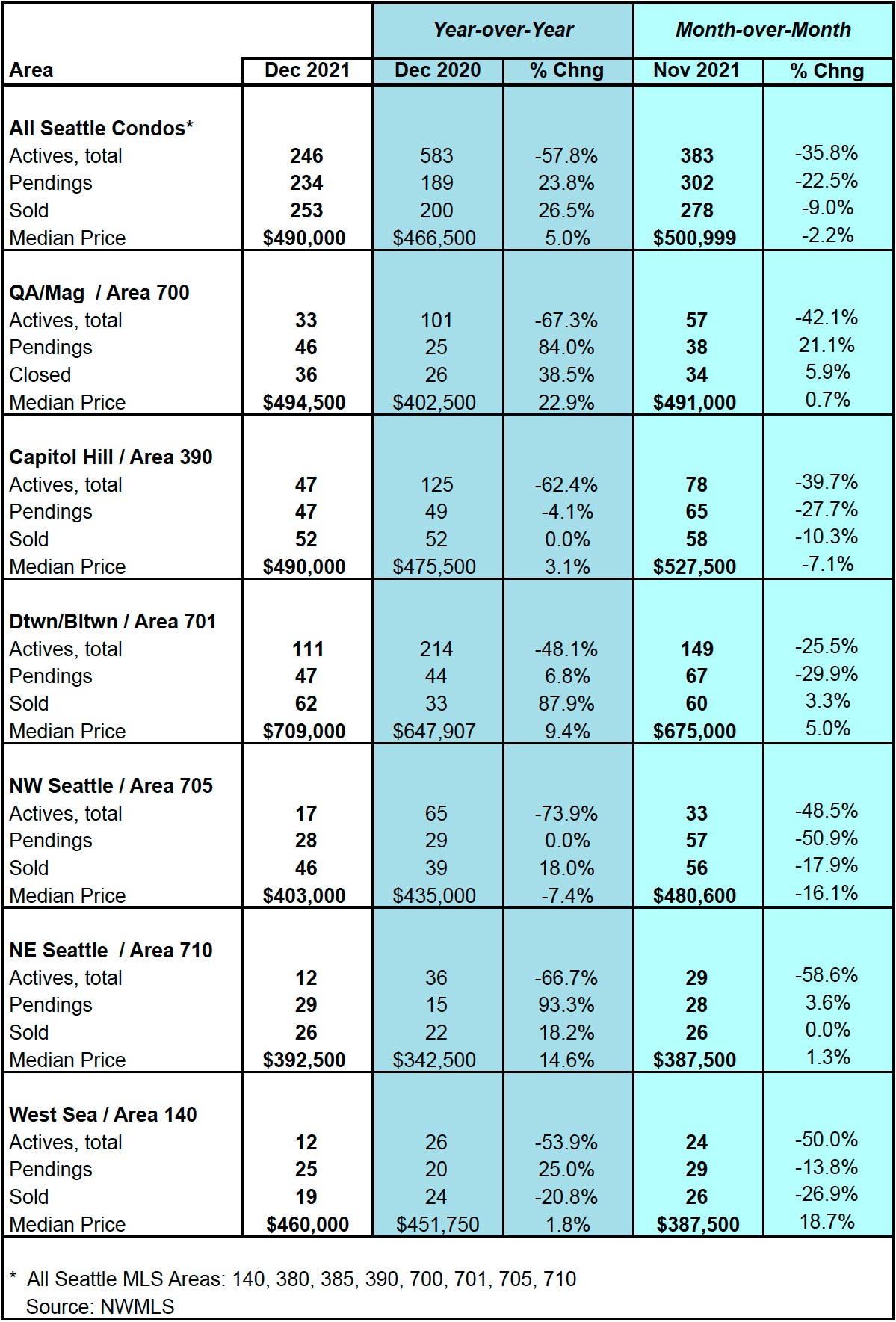 Source: Northwest Multiple Listing Service. Some figures were independently compiled by Seattle Condos And Lofts and were not published by the NWMLS.
© SeattleCondosAndLofts.com