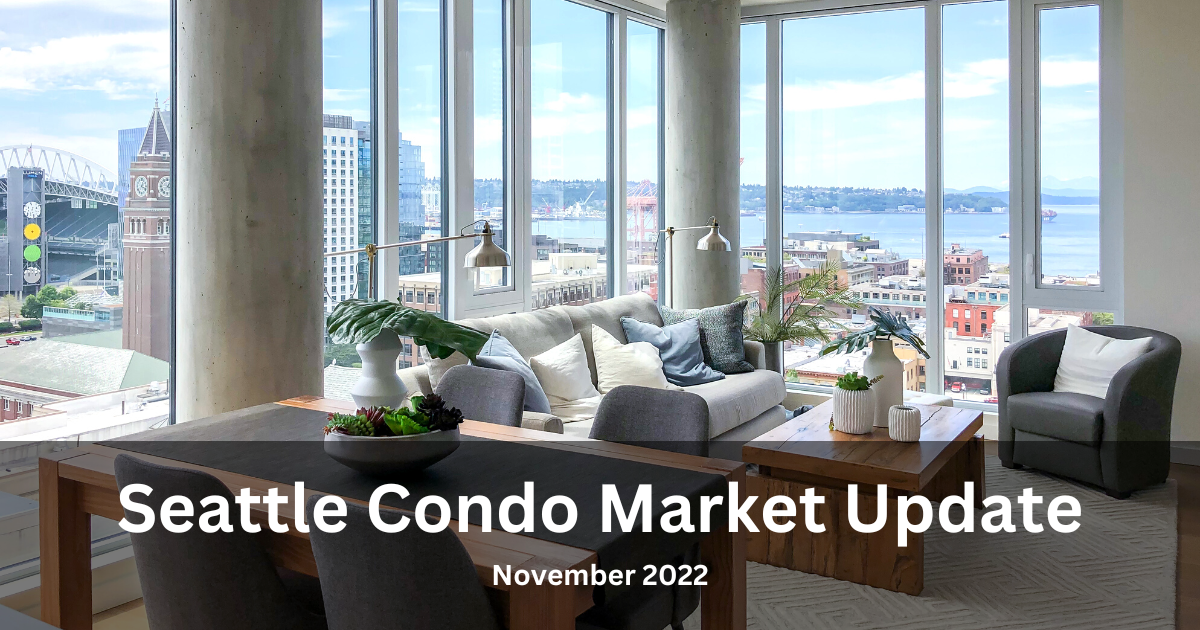 Seattle's condominium market experienced a fairly typical November. The Fall real estate season in the Pacific Northwest is usually punctuated with lower median selling prices, sales activity and inventory.
Selling Prices Slide Slightly
Overall, the Seattle citywide condo median sales price fell 4.1% year-over-year (YOY), and 8.0% from the previous month, to $480,500 in November. That marked the third consecutive month of YOY decline of the median sales price.
By NWMLS neighborhood area, the results varied widely. On one end of the spectrum, the condo dense downtown and Capitol Hill areas exhibited the largest YOY decrease of 23.7% and 24.2%, respectively. On the other end, West Seattle and Northeast Seattle saw significant increases in their median sales prices of 61.3% and 31.0%. And, Queen Anne and Northwest Seattle were just about 10.5% for the month.
But, when viewing the neighborhood results, the smaller sample size can significantly affect the median selling price, which is a combination of a shifted median midpoint and depreciation/appreciation.
Take West Seattle for example. In November 2021 only 35% of the condos sold were more than $500,000 compared to 68% this year. The greater number of higher priced condo sales, mostly along Alki, shifted the median midpoint upwards, not that condo prices rose 61.3% last month.
Looking at Capitol Hill, which decreased 24.2% YOY, the median was conversely impacted the lack of high end units and far fewer sales. Last November we had 3-times the number of condo sales with a handful over $1 million. This November, there were only 20 units sold and all were well under $1 million.
There is no question the housing shift has placed downward pressure on prices, though sample sizes and type/quality of unit also factor in. You can see the full neighborhood results in this table here.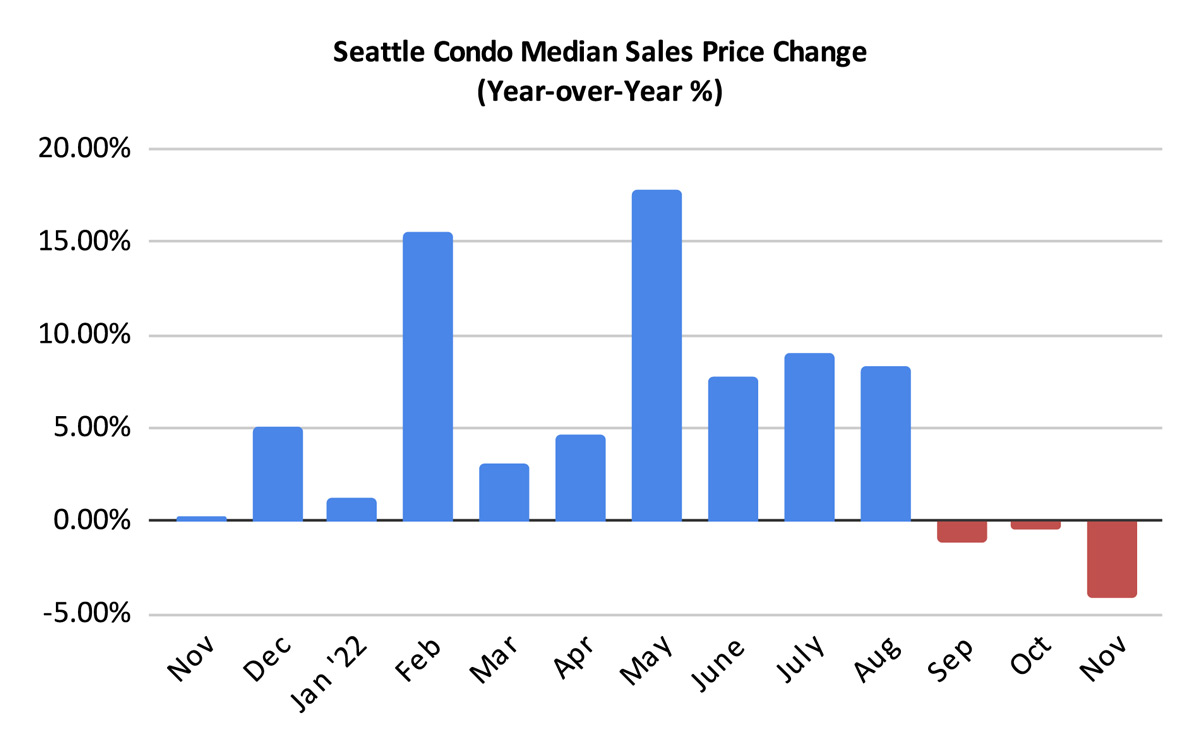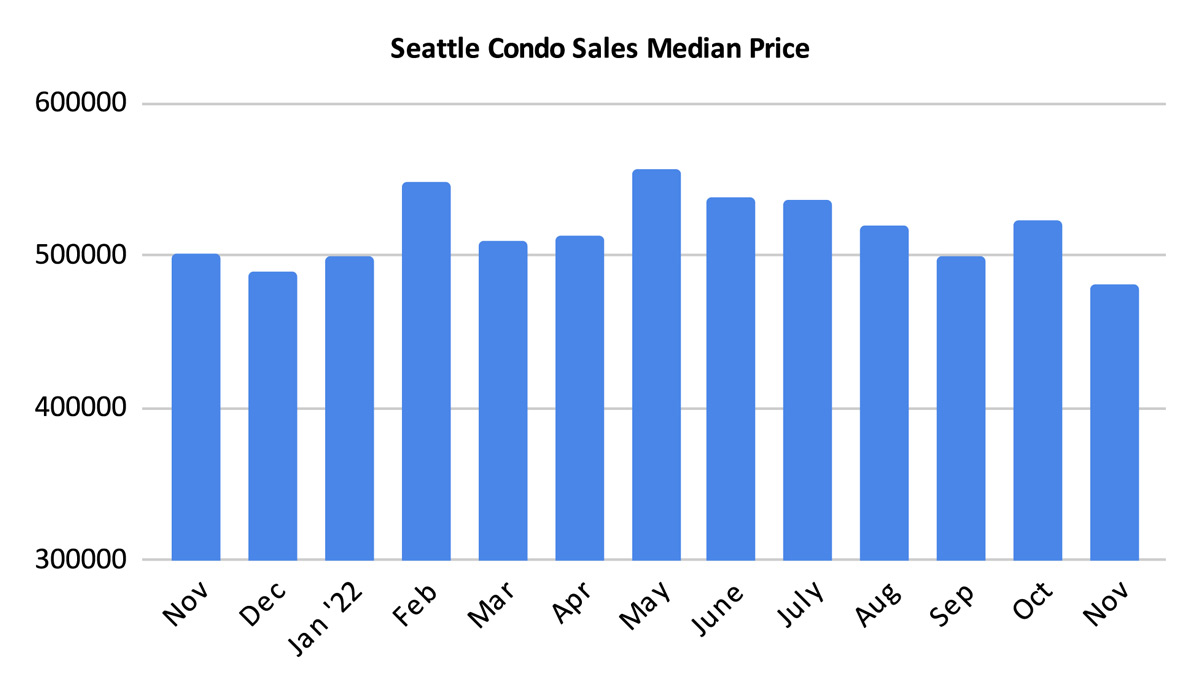 Inventory Dips But Remain Elevated
The number of active condo listings for sale in November dipped from the previous month by 15.4% to 523 units. Though, that also reflected 36.6% more than we had last November. For monthly trends, active listings historically reduce at year end as sellers contend with the weather and holiday season.
Even though there were more listings overall this November compared to last year, there were fewer new listings coming to market. In Seattle, sellers listed 186 units during the month compared to 225 units last year, or 17.3% fewer new condo listings.
In fact, new condo listings have been coming to market at a decreasing YOY rate for several months now. The increase in active listings is the direct result of drastically low condo sales rather than a glut of sellers selling. Buyers just aren't buying condos at the rate they had been.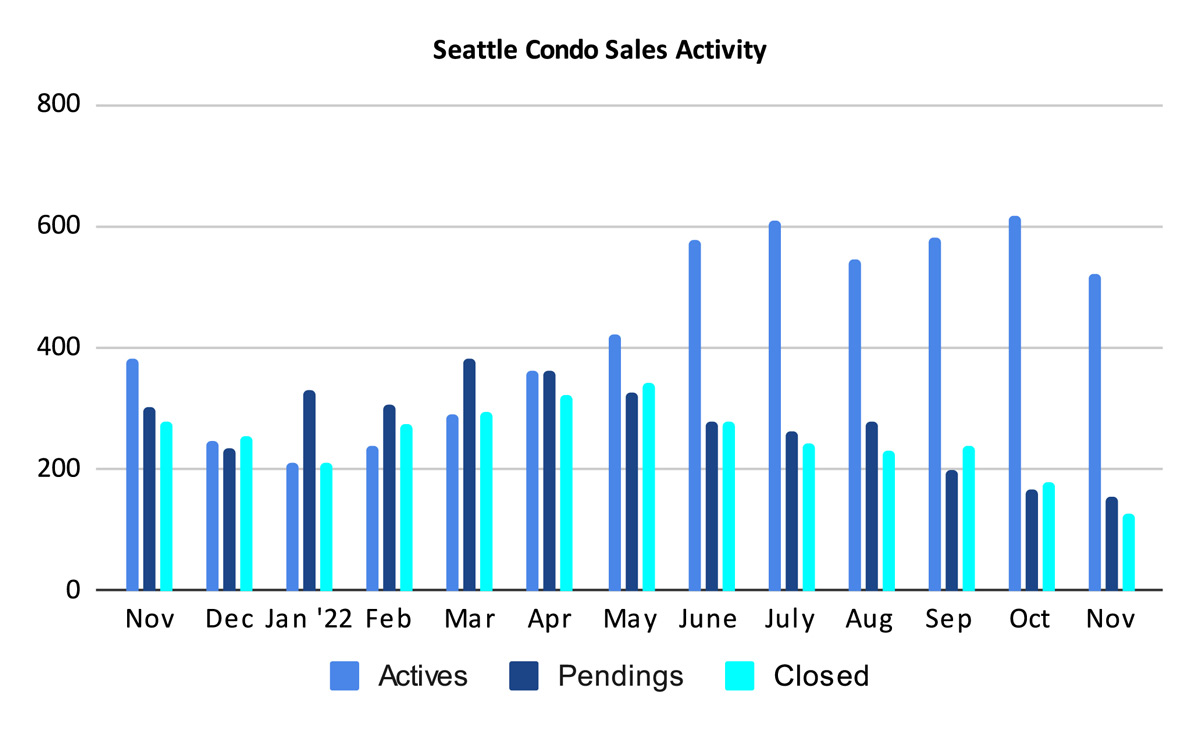 The inventory supply rate tightened just barely from 3.7 to 3.4-months of inventory in November. That kept Seattle at the cusp between a seller's market and a balanced market.
As noted with how median selling prices vary by neighborhood area, so does the inventory supply. North and West Seattle, areas with a smaller percentage share of condos, had tighter seller market conditions in November hovering around 2-months of inventory. Capitol Hill and Queen Anne were roughly at 3-months of supply, technically a seller's market.
On the other hand, downtown had a supply rate of 7-months of inventory based on NWMLS listed units for sale. That's definitely a buyer's market, and, more so when factoring in the unlisted new construction units.
The inventory supply rate characterizes the current market environment. A rate of less than 4-months would be a seller's market, between 4-6 months a balanced market, and more than 7-months is considered a buyer's market.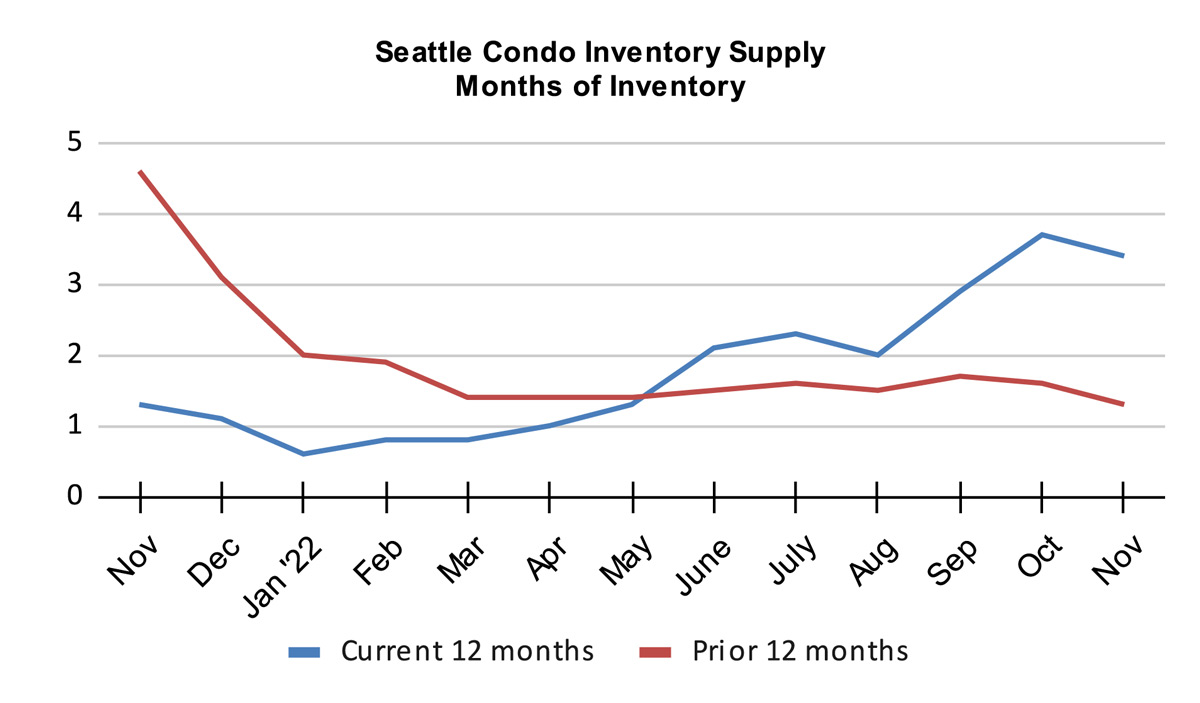 Condo Sales Plummet
As we anticipate with the seasonality of our housing market, the number of pending sales transactions (accepted offers in escrow), decreased further. The 156 pending units in November reflected a 48.3% drop YOY and a 7.1% dip from the prior month.
What's most significant about that is the lack of condo buyers in the market. Essentially, the number of Seattle condo sales dropped in half compared to last year.
Higher mortgage interest rates, tougher loan underwriting requirements for condominiums, uneasiness with the financial market and the fallout from the tech sector layoffs all contributed to sidelining buyers.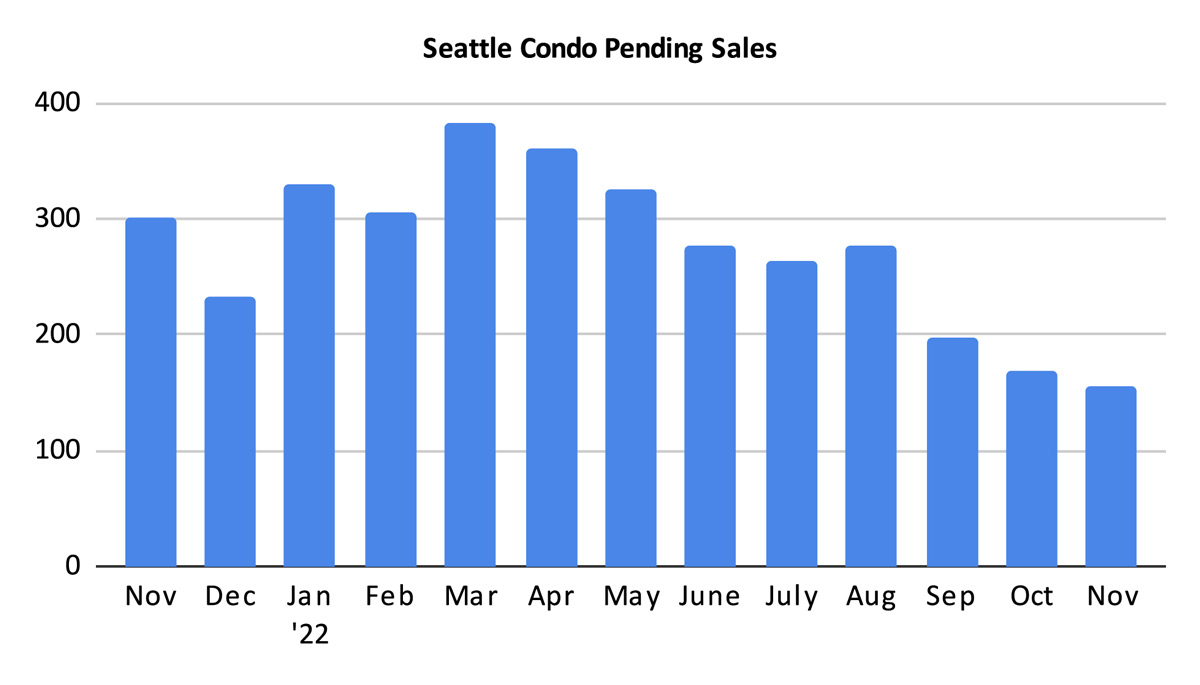 There were 128 closed Seattle condo sales in November, highlighted by a one-year and one-month decrease of 54% and 28.9%, respectively. Based on October pendings we expected the number of closings would reduce as it lags behind pendings by a month. We'll have similar results in December.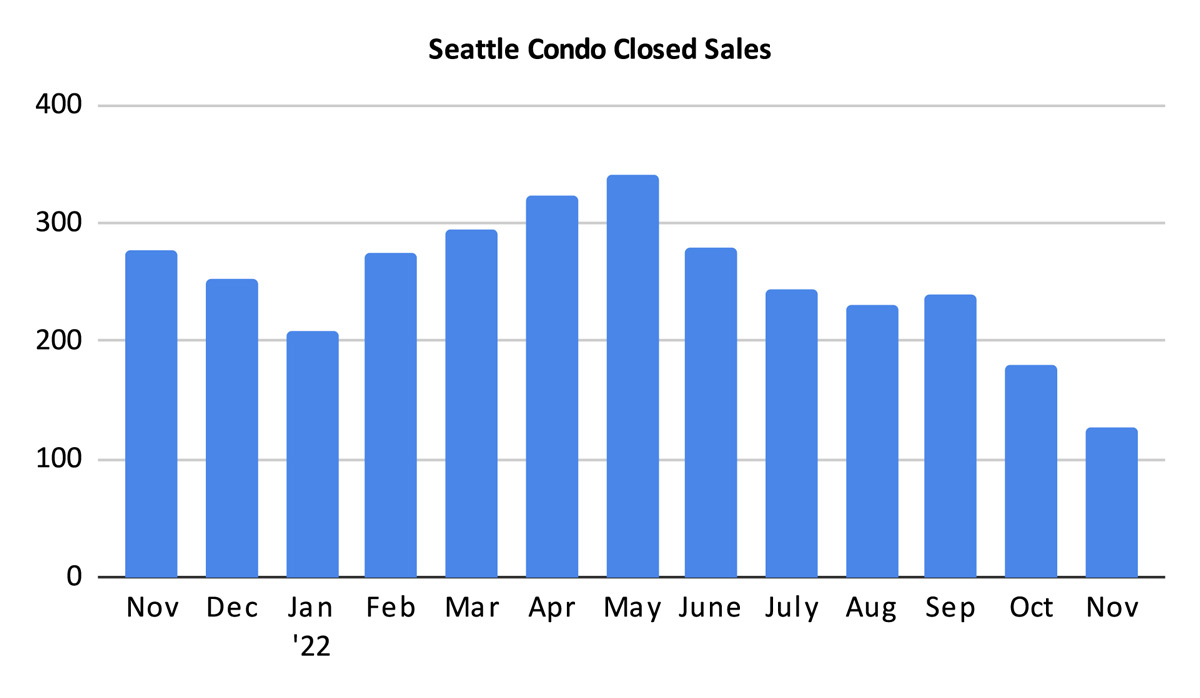 Recap & Outlook
November's condo market results were fairly typical for the season, yet also a bit untypical. The Fall season, particularly November and December, mark the slowest period for Seattle's real estate market. Historically, we experience fewer listings, fewer sales and lower median selling prices.
To that end, this November was rather unremarkable. Yet, this year's results, specifically the number of unit sales, was remarkable for how few there were, nearly a 50% year-over-year drop in condo sales. It wasn't just condos, single family home sales were also down 42% from a year ago.
Rising mortgage interest rates and uncertainly in the financial markets are weighing on potential buyers' minds. That's compounded by the layoffs in the tech sector as well. The condo buyer pool has shrunk.
Sellers were also restrained with fewer listings coming to market, many holding off until the new year, or until the market improves. And, that's with Seattle technically still remaining in a seller's market.
For qualified buyers who haven't been impacted by the market fluctuations and employment turmoil, they will likely find themselves in an advantageous position. They have less competition, more choices and a stronger negotiating position.
And, for sellers coming to market priced correctly and market ready (e.g. repairs made, repainted, cleaned and staged with professional photos, assessments paid, etc), they will still fare well. Or, at least, better than sellers who overestimate value and do little to prep the property.
Seattle Condo Market Statistics November 2022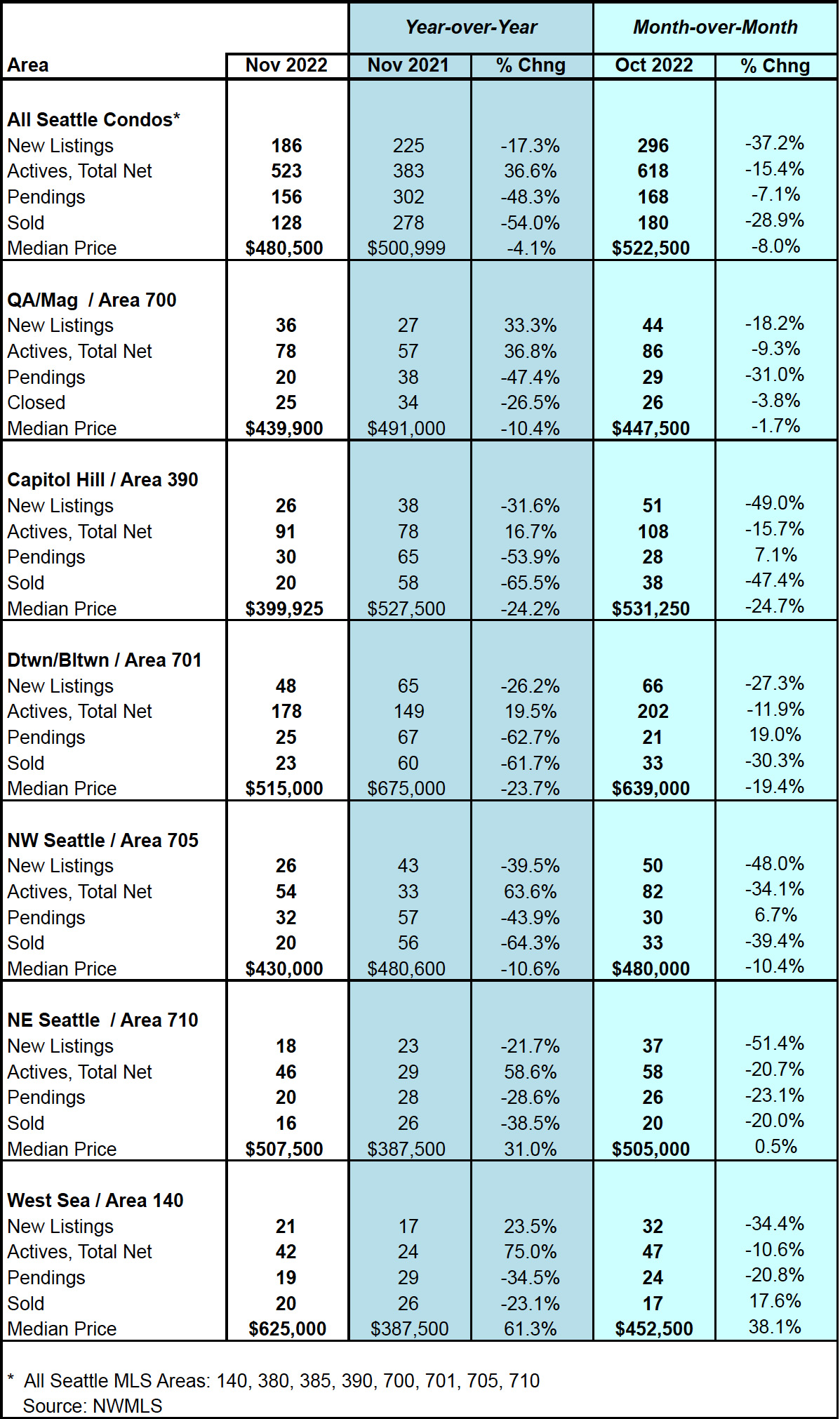 Source: Northwest Multiple Listing Service. Some figures were independently compiled by Seattle Condos And Lofts and were not published by the NWMLS.
© SeattleCondosAndLofts.com