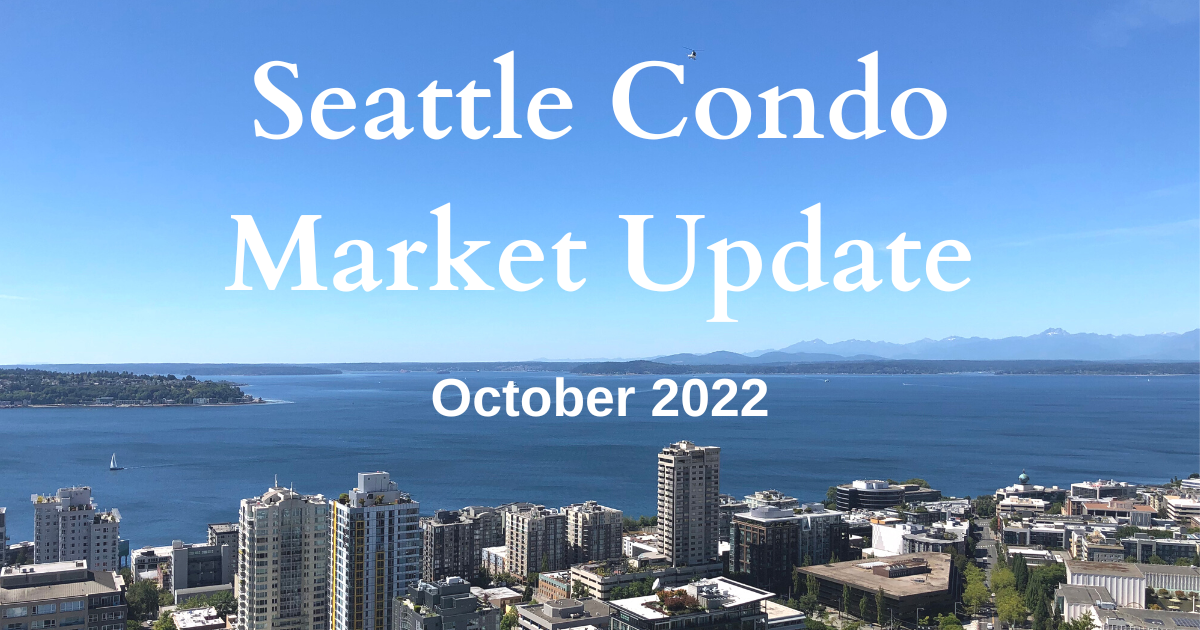 The Seattle condo market reflected mixed results in October – prices were stable, active listings rose (more on that later) as condo sales plummeted.
Condo Selling Prices Held Steady
The citywide Seattle condo median sales price was $522,500 in October, which was down just 0.5% year-over-year (YOY) but 4.7% higher than the previous month.
In looking at the YOY MLS neighborhood numbers, Capitol Hill / Central (+9.7%), Northwest Seattle (+3.3%) and Northeast Seattle (+24.7) realized increases to their median selling prices.
Conversely, Queen Anne / Magnolia (-14.8%), Downtown (-4.6%) and West Seattle (-19.2%) experienced YOY declines. See this table for complete October MLS neighborhood numbers.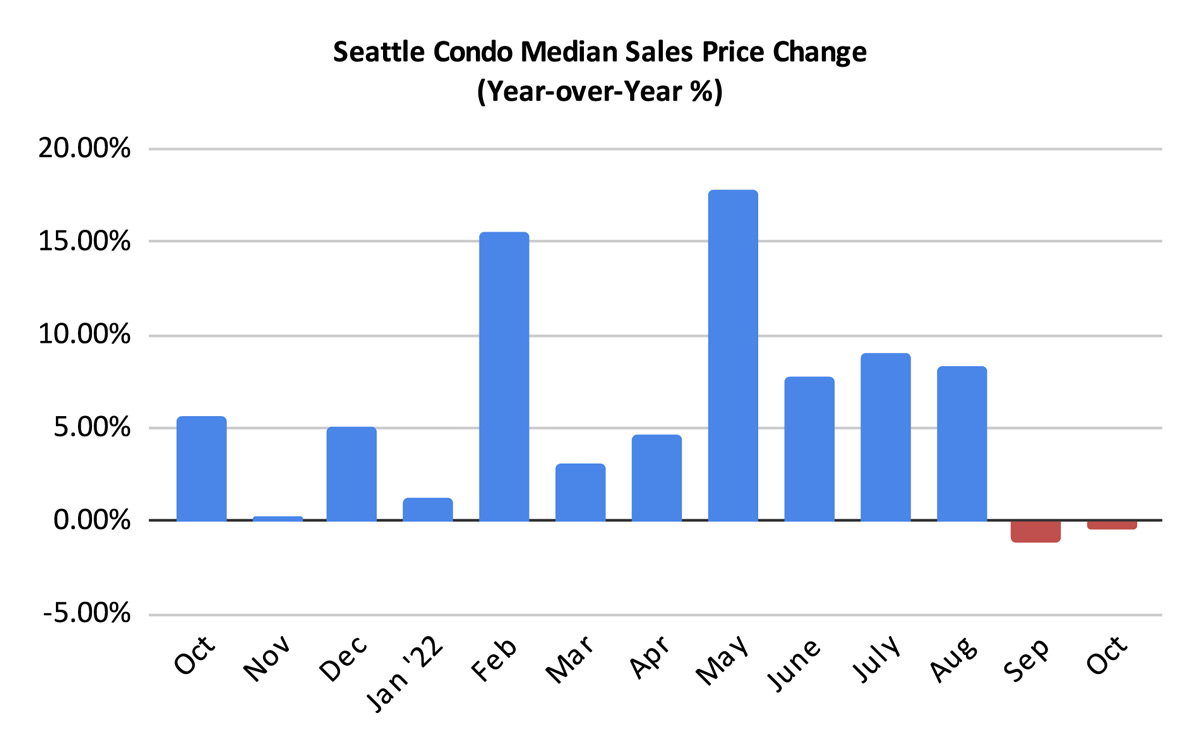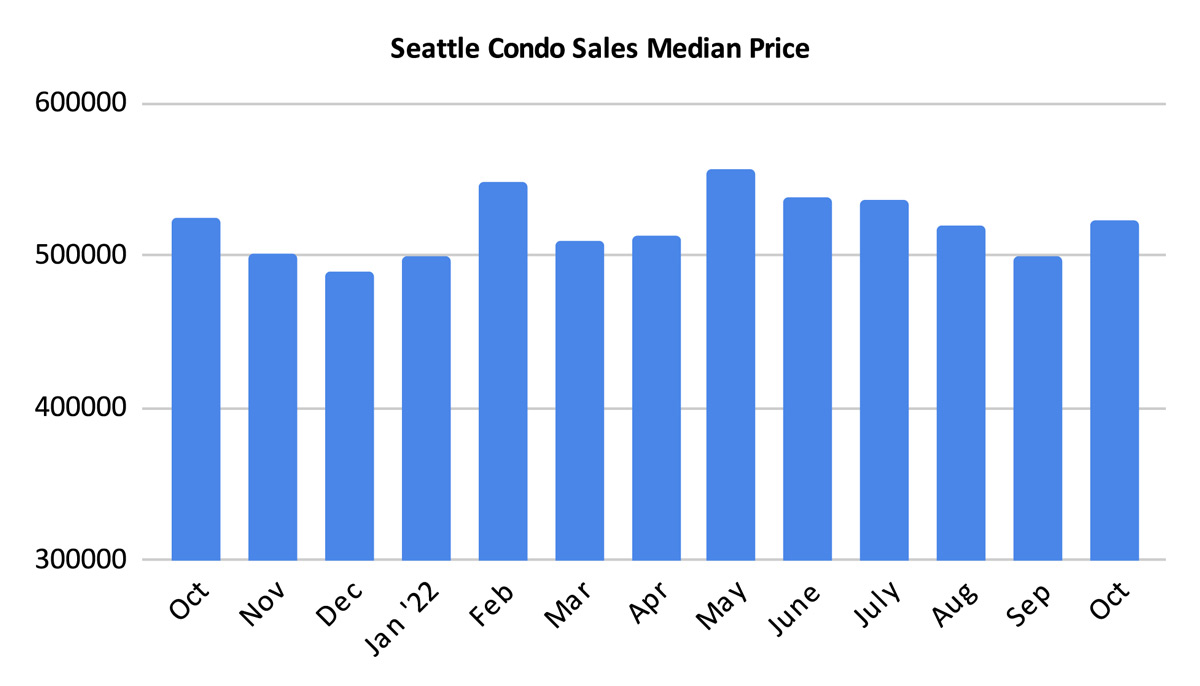 Inventory Rose As New Listings Reduce
There were 618 active Seattle condo listings in October reflecting a one-year increase of 21.2% and a one-month gain of 6.2%. The NWMLS determines the number listings for any given month based on the actives on the last day of the month. Therefore, it does not contemplate the overall number of condo units available for sale during the month.
We started October with 582 then added 296 new listings for a total of 878 units for sale. Pending sales, expirations and cancellations added up to 260 units, thus leaving us with 618 units at the end of the month.
We had roughly the same number of total listings last October (875) but a much more robust market with 365 units being sold, expired or cancelled. That left us with 510 at the end of October 2021. The drop in buyer demand resulted in greater inventory this year.
No doubt, rising mortgage interest rates, tighter condo underwriting guidelines and uncertainly about the housing and financial markets have sidelined condo buyers. Downtown Seattle condo sales that had been boosted by tech sector buyers will likely be affected by the current turmoil at downtown/SLU tech companies – Amazon, Meta/Facebook, Zillow & Twitter.
While we ended the month with more listings, the number of new listings continued to come on market at a declining rate. Last October sellers added 360 new listings in the month compared to 296 this year, a reduction of 17.8%.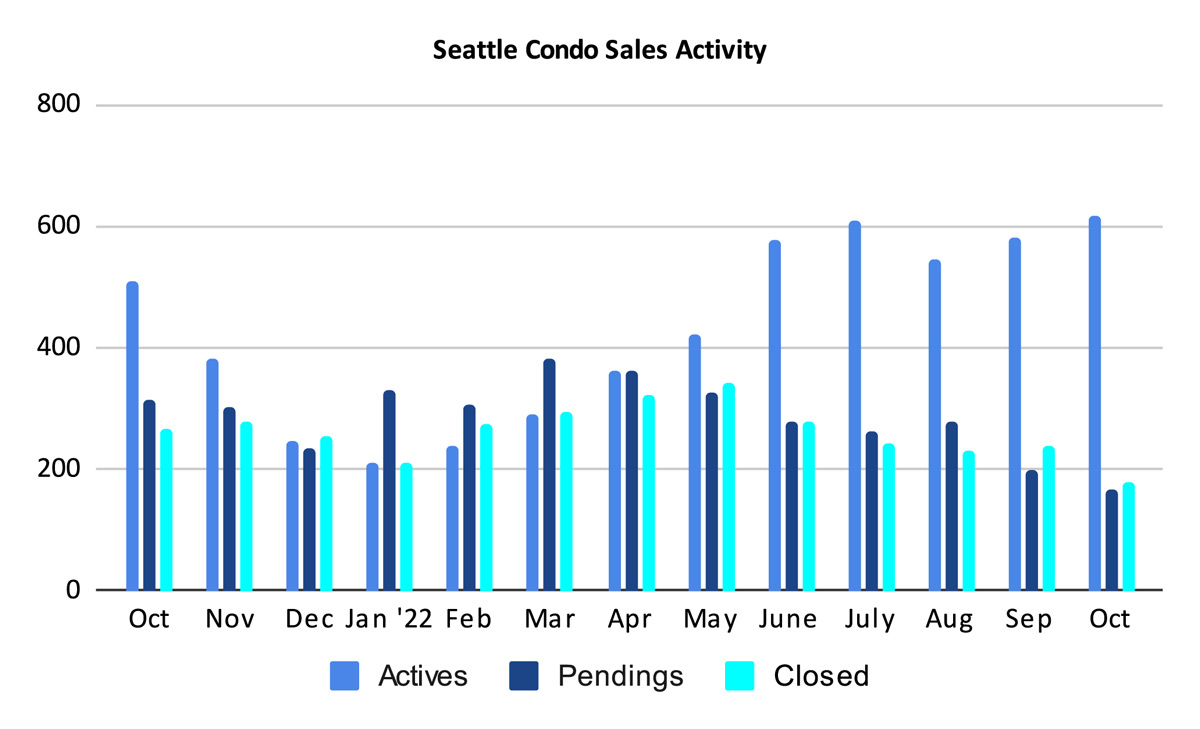 Fortunately, the decrease in new condo listings in October helped to offset the drop in condo sales. That, for now, still technically keeps Seattle in a sellers market. But, not for long.
The inventory supply rate in October was 3.7-months of supply, right at the cusp of a balanced/normal market. With the current trend I suspect we'll be in a normal market in November.
The inventory supply rate metric highlights the market environment (number of listings ÷ number of sales). A supply rate under 4-months of supply is characterized as a sellers market while a rate between 4-6 months would be a normal or balanced market. More than 7-months would be deemed a buyers market.
One thing to keep in mind is that while these are citywide figures, the inventory supply and market conditions will vary by neighborhood. Condo dense areas such as downtown, Belltown, Queen Anne and Capitol Hill will feel the effects of the market shift more profoundly than North Seattle.
Downtown, for example, has been in a buyers market for sometime now. In October, based on listed units, the downtown supply rate was at 9.6-months of supply…a buyers market. And, that doesn't contemplate the unlisted but available new construction inventory.
Another housing market characteristic metric, the absorption rate, dropped to 27% last month.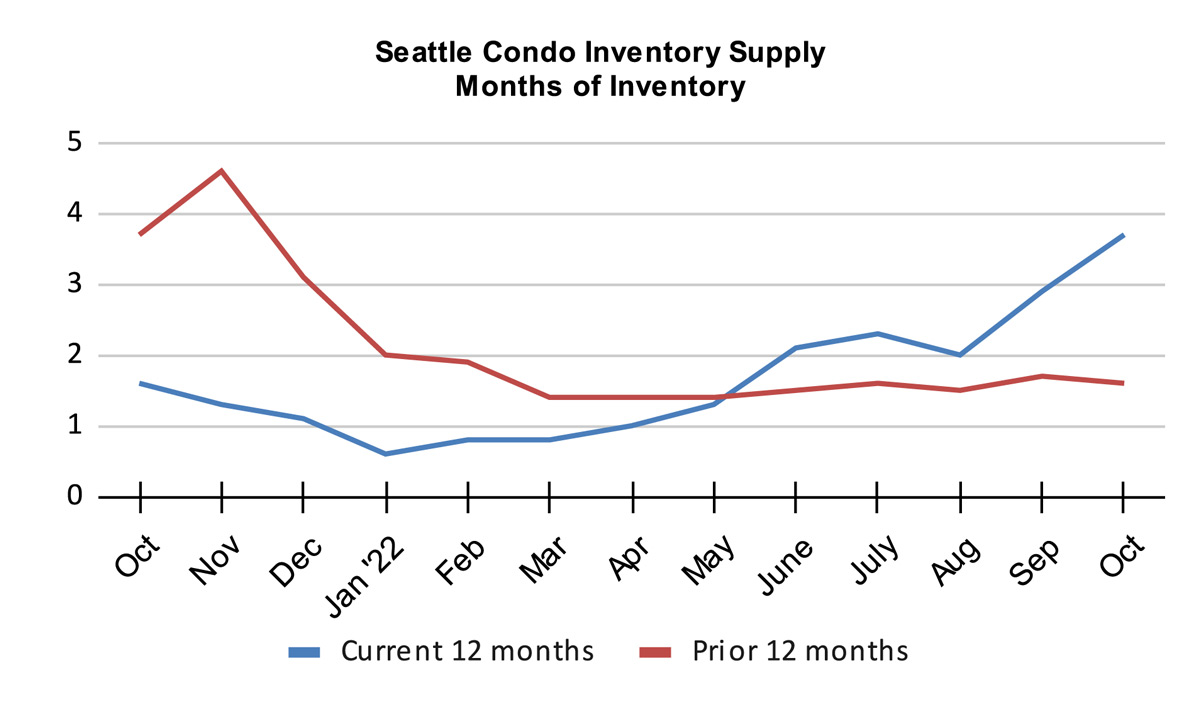 Condo Sales Slump
Seattle condo pending sales transactions (units in escrow) have been declining since peaking in the spring. The number of pendings dropped to 168 units in October, exhibiting a 46.7% YOY and a 15.2% one-month decline, respectively.
This was the fewest number of pending transitions since April 2020 when the effects of the pandemic on the real estate market began. With that said, the Seattle market is seasonal and we anticipate condo sales trailing off during the fall months.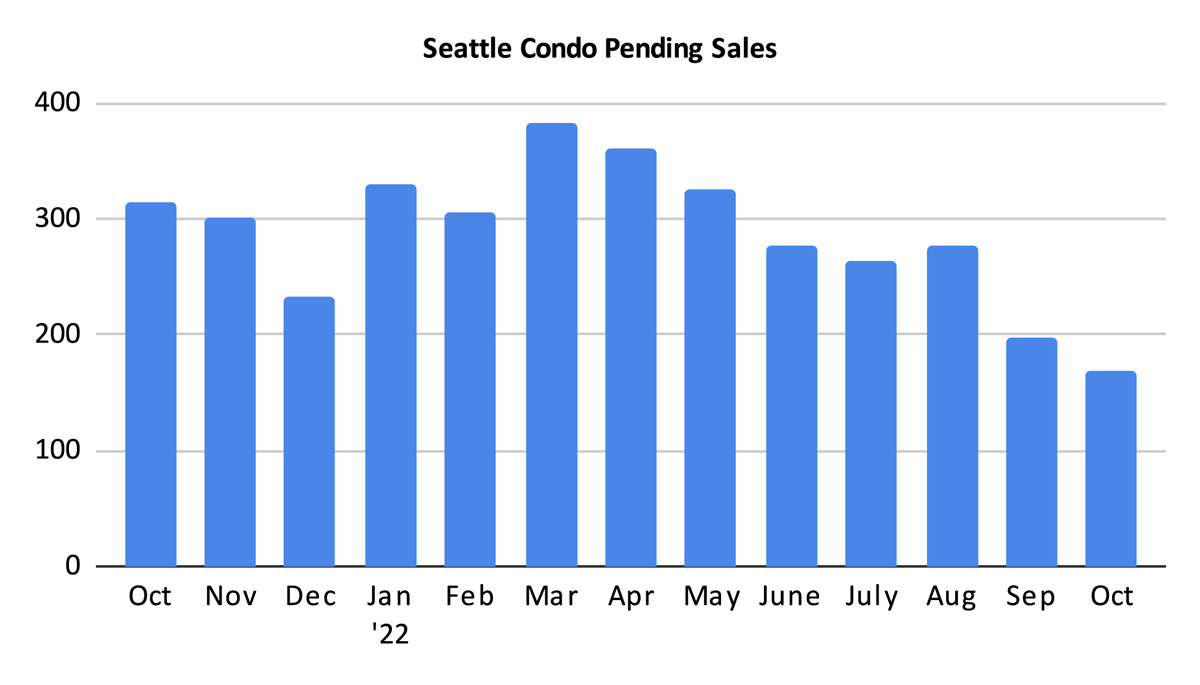 The number of closed condo sales also reduced in October to 180 closings, reflecting a one-year drop of 32.1% and a one-month dip of 24.7%. This was expected since closings roughly follow pendings by a month. It will be even lower in November and December.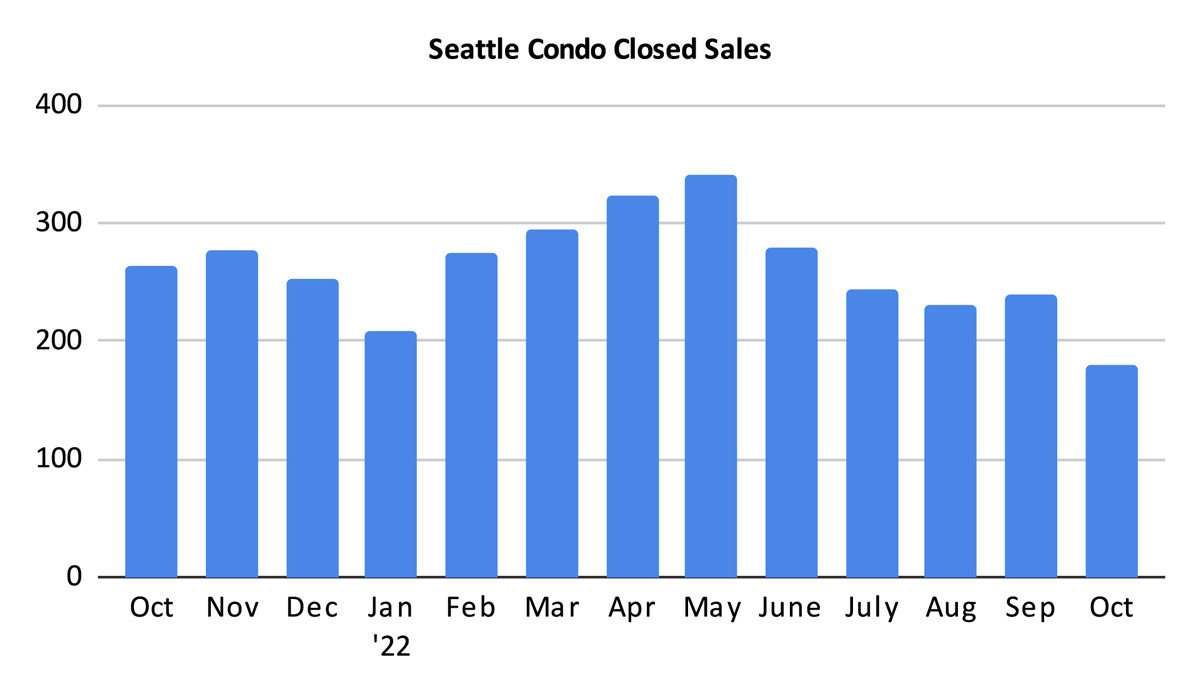 October reflected mixed results for Seattle's condo market. On one hand, median sale prices remained stable and even improved slightly over the prior month. On the other hand, buyers were weary of the market and took a breather. As a result, condo sales tumbled to its lowest level in over two years, which increased the supply of inventory.
Closing out the year, based on the cyclically nature of the Seattle market, condo sales and selling prices will trend down until January. Listings typically reduce as well with sellers waiting until after the holidays have passed to list.
Seattle Condo Market Statistics October 2022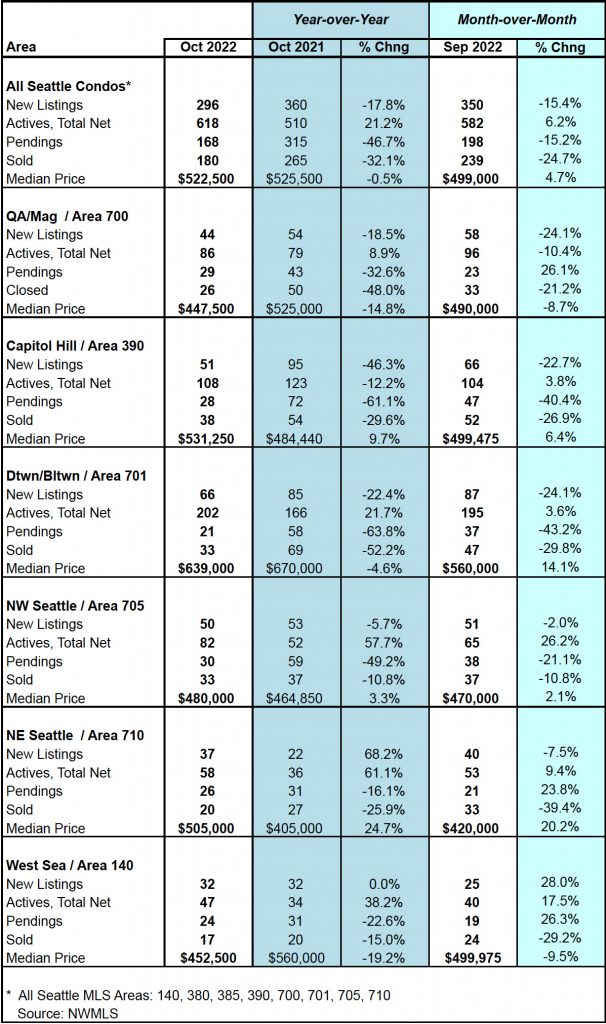 Source: Northwest Multiple Listing Service. Some figures were independently compiled by Seattle Condos And Lofts and were not published by the NWMLS.
© SeattleCondosAndLofts.com