As expected, closed sales increased last month buoyed by the rush to meet the original first-time home buyers tax credit deadline as reflected by a one-month increase of 4.8% and year-over-year jump of 58.2%. New pending transactions (those going under contract but not closed) also increased over last year by 37.8%, yet dropped significantly from October by 43.7%.
The citywide median condo price slipped 10.2% to $272,000 last month, which I mostly contribute to the original November 30th expiration of the first time home buyers tax credit. The considerable increase in the number of lower-priced sales shifted the median price point downward. In November 2009, 62.2% of all sales (120 units) were priced below $300,000 compared to just 48.3% in November 2008 (57 units).
The number of available listed units continued to decrease, down 7.9% to 1,230 properties last month. However, with the decrease in pending transactions (seasonal fluctuation, tax credit extension, economy), the inventory supply rate rose sharply from 4.9 to 8 months. Still, though, that's quite a bit less than last November's 12 month supply rate.
If recent history holds true, we'll see an bump in December's median condo price. For the past four years, the median price in December increased over November even with few sales.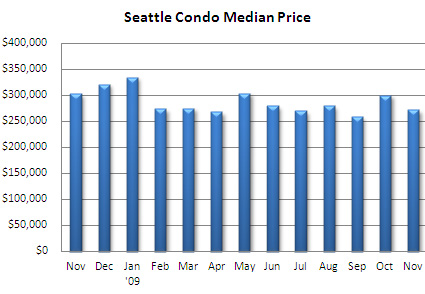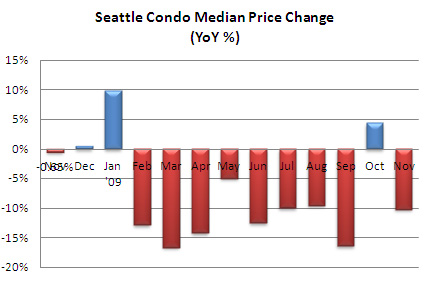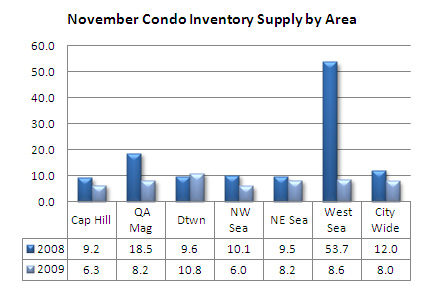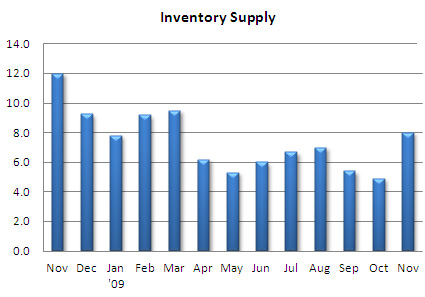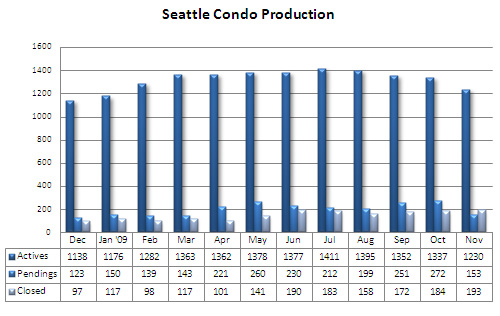 Source disclaimer: Most, though not all, information and statistics were complied and published by the NWMLS.